Dell today announced the launch of a new range of S Series monitors. The new S series monitors are available in 27-inch, 24-inch, 23-inch and 21.5-inch sizes.
Dell says its Dell S Series monitors will deliver an improved viewing experience and better colour accuracy. The panels of the monitors tilt up to 4-inch forward or 21-inch backward and behold images with full HD 1920 x 1080 (max) resolution in an ultra-wide 178/178-inch viewing angle.
"Designed by combining beautiful craftsmanship with seamless viewing experience, the S Series of monitors cater to the needs and requirements of our customers who want to match their lifestyle with the latest technology. With this addition to our vast line-up of monitors, we are living up to our heritage of packaging performance in neat and stylish designs", said Shishir Singh, Director, Product Marketing, Dell India.
The new S Series monitors feature advanced panel technologies which support ultra-wide viewing angles, while the new Image Enhance feature improves visual quality. Dell says the new monitors will help users tackle creative projects with efficiency. Dell Display Manager also aids productivity with fast access to software such as Auto Mode, which lets you select your preferred preset modes for specific applications.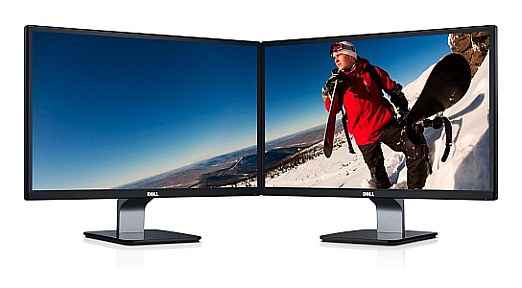 Detailed information:
S2740L 27" Monitor with LED
27-inch wide (69cm) VIS with LED backlight
Full High definition, 1920 x 1080 at 60 Hz
In-plane switching panel technology
178°/178° (vertical/horizontal) wide viewing angle
8million:1 (typical) mega dynamic contrast ratio
VGA, DVI-D (HDCP), HDMI and USB ports
S2440L 24" Monitor with LED
24-inch wide (61cm) VIS with LED backlight
Full High definition, 1920 x 1080 at 60 Hz
Vertical alignment panel technology
178°/178° (vertical/horizontal) wide viewing angle
High contrast ratio of 5000: 1 (typical)
8million:1 (typical) mega dynamic contrast ratio

S2340L 23" Monitor with LED
23-inch wide (58cm) VIS with LED backlight
Full High definition, 1920 x 1080 at 60 Hz
In-plane switching panel technology
178°/178° (vertical/horizontal) wide viewing angle
8 million:1 (typical) mega dynamic contrast ratio
S2240L/M 21.5" Monitor with LED
21.5-inch wide (55cm) VIS with LED backlight
Full High definition, 1920 x 1080 at 60 Hz
In-plane switching panel technology
178°/178° (vertical/horizontal) wide viewing angle
8 million:1 (typical) mega dynamic contrast ratio