This year's Computex in Taipei saw the launch of quite a few gaming laptops and desktops. While some of them are expected to head to India in the foreseeable future, others will remain a privilege to the local market. Even if that is the case, OEMs like Asus and MSI managed to wow us with their impressive display of gaming machines. In today's article, let's take a closer look at some of the best gaming laptops we saw at the annual trade fair. Let's get the ball rolling with Asus:
Asus ROG Strix SCAR III/HERO III
At Computex, Asus admitted that the line between the Scar and Hero models has been made thinner still now. The new Strix SCAR III/HERO III replaces the SCAR II/HERO II and brings with it a refreshed set of chips. More specifically, the SCAR III/HERO III gets Intel's 9th Gen Core series CPUs and NVIDIA GeForce RTX graphics. The SCAR III/HERO III is available in two screen sizes: 15.6 inches and 17.3 inches. For added personality, it gets a wraparound Aura Sync light bar, which is essentially a thin RGB light strip that around the base of the laptop to give it that "hovering" effect when placed on a table. It also comes in a new Glacier Blue colour, the line-up's first light colour.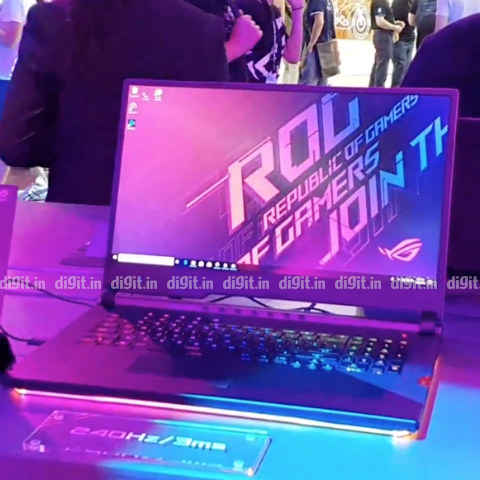 The SCAR III/HERO III comes with a new feature called ROG Keystone. It's an NFC-enabled digital key called ROG Keystone. It plugs into the body of the laptop and is capable of storing user preferences and profiles for laptop lighting and other settings. It can also grant access to a secret Shadow Drive that encrypts and hides important files. Asus' big trick for this year was the adoption of a much higher refresh rate. The display on the SCAR III/HERO III comes with a refresh rate of 240Hz and a response time of 3ms. We're not sure when Asus will bring the SCAR III/HERO III to India but we believe it was one of the coolest gaming laptops the Taiwanese electronics manufacturer had in store for us this year.
Alienware m15, m17
Though Dell did not introduce a new model, it updated its existing line-up of gaming laptops with refreshed internals. The Alienware m15 and m17 are two of them. Announced first earlier this year at CES, the two models feature new processors from Intel and NVIDIA's GeForce RTX series graphics cards. The two laptops come with an all-magnesium chassis, a re-engineered keyboard, glass-covered precision touchpad, SSD-only storage, and an RGB backlit keyboard with AlienFX for lighting control. Both laptops come with advanced gaming features like Tobii eye-tracking. They also get an Eyesafe-certified display to reduce stress on the user's eyes by reducing the emission of blue light.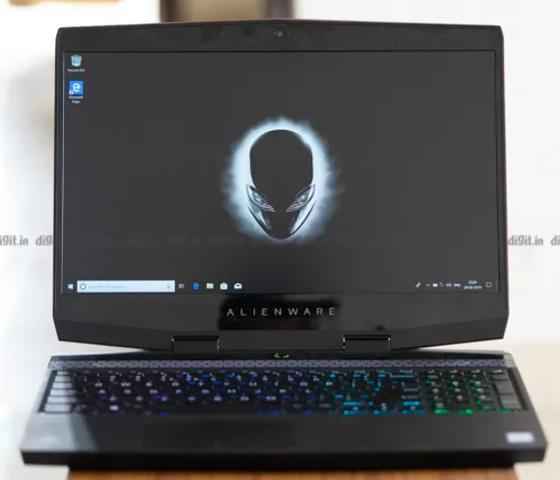 Dell is offering the Alienware m15 and m17 with a range of display options. One of them is a 4K OLED option (with DCI-P3 and HDR400) but it is available only on the Alienware m15. The Full HD IPS LCD panel, on the other hand, comes with a refresh rate of 240Hz. The Alienware m17 comes with only a Full HD resolution option but users can have it with either a 60Hz refresh rate or 144Hz. You can read our review of the Alienware m15 here. We thought it had a great design, a wide range of ports, and a colour-accurate display but extremely loud fans and hot keyboard areas.
Dell G3 15
Dell's G3 15 has in the past catered to those who want a mid-range gaming laptop but don't want to invest in an Alienware model. For this year's Computex, Dell gave it a new avatar that should make the laptop more attractive to such buyers. The new Dell G3 15 now sits in an Alienware-inspired chassis but retains the blue accents unique to the Dell G-series. Its internals get an update too. The Dell G3 15 is now powered by an Intel 9th Gen Core i5/i7 CPU and an NVIDIA GeForce GTX 10 series graphics card. It could be a GTX 1050, GTX 1650, or GTX 1660 Ti depending on the buyer's choice.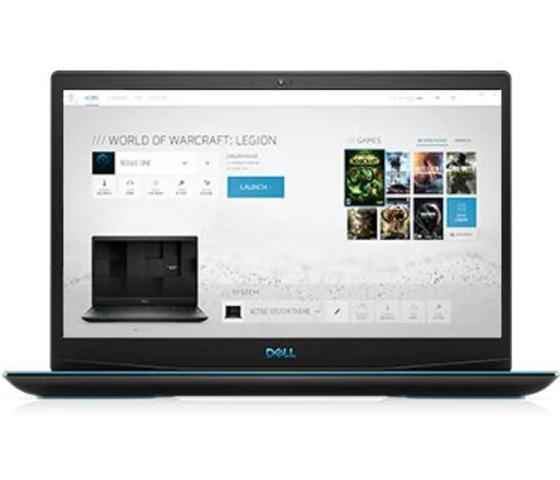 The Dell G3 15's display is a 15.6-inch LCD panel with a Full HD resolution. RAM starts at 8GB and can go up to 32GB when upgraded. Storage is handled by a PCIe NVMe solid-state drive along with a 1TB SATA hard drive. According to Dell, the new G3 15 gaming laptop starts at $799 (Rs 55,800 approx) but we have yet to receive word from the company about when it will make its way to India. At any rate, we thought it was a pretty cool upgrade though.

MSI GT76 Titan, WE65 Workstation
MSI's two biggest announcements this time around included the GT76 Titan and the WE65 Workstation. The GT76 Titan features a 17.3-inch display with a 144Hz refresh rate. The laptop packs 9th Gen Intel Core processors that can be overclocked to 5.0GHz. For graphics, the laptop is available with the Nvidia GeForce RTX 2080. For cooling, the device packs the Cooler Boost Titan. The company notes that this 4-fan and 11-pipe cooling design is capable of generating 2.25 times the airflow. Other features include the upgraded Kinner DoubleShot Pro which supports 2.5Gbps LAN and Wi-Fi 6.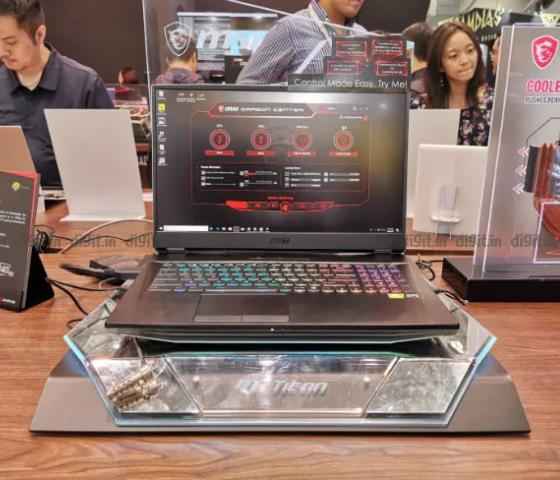 Calling it the first laptop in the world to be powered by NVIDIA's recently announced Quadro RTX 5000 graphics card, MSI showcased the WE65 Workstation (and the larger WE75 Workstation) at this year's Computex. The professional-grade laptop comes with a 4K display, glass touchpad, fingerprint reader, Windows Hello and TPM 2.0 crypto-processor technology. It also has a white backlit keyboard and Thunderbolt 3.0 compatibility. It's expected to sell in the US for $3,499 (Rs 2,44,601 approx).