Sony unveils new Vaio Duo 13 featuring Intel's latest Haswell chips and full HD IPS panel.
The Sony Vaio Duo 11 was somewhat of a disappointment, but Sony's not ready to give up on the design just yet. The Sony Vaio Duo 13 was just unveiled at Computex and it seems like Sony's R&D department has been rather busy correcting some serious wrongs.
For starters, the hinge design has been drastically improved. The display cabling has also been neatly hidden, making sure it's not exposed and vulnerable. The Duo 13 sports the same dimensions as the Duo 11, but still manages to incorporate a slightly better spaced keyboard thanks to the bezel being reduced to a minimum. One thing that many would equivocally like about the Duo 13 will be the fact that Sony's swapped out the plastic for Carbon Fiber as material of choice for the body.
As far as the insides go, the Duo 13 will be powered by Intel's latest Haswell chips and the display will be a full HD IPS panel powered by Sony's Triluminous technology. Sony's also bumped the rear camera to 8 megapixels on an EXMOR RS chip, which should theoretically yield better low light performance, while the front facing camera gets upgraded to 1080p with scratch resistant glass. A neat addition is the included digitizer and the fact that the Duo 13 has a dedicated slot for attaching the thing.
The Sony Vaio Duo 13 will be available right beside the Pro 11 and Pro 13 on June 9th for a retail price of $1400, which is slightly higher than the price of the Duo 11, but what you get in return is a far better machine, that at least on paper, justifies the 200 hike.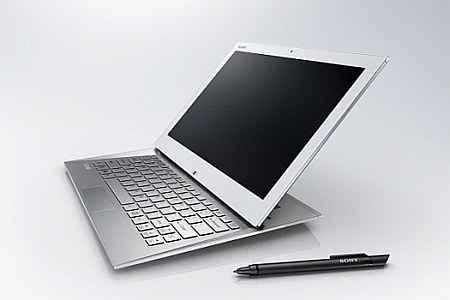 Sony Vaio Duo 13
Other Computex 2013 stories,
Sony unveils lightest Ultrabooks, Pro11 and Pro 13
Asus VivoPC, Fonepad Note, VivoMouse and Router RT-AC68U slideshow
Asus Transformer Pad Infinity slideshow
Dell shows off XPS 12 Ultrabook, XPS 27 AIO and XPS 8500 desktop
Acer Iconia W3, the first 8-inch Windows 8 tablet

Asus unveils ROG G750 gaming laptop, 31.5-inch 4K monitor and more

Toshiba unveils new 'Excite' Android tablets with Tegra 4
Toshiba launches PX35t AIO desktop, refreshes laptop range
Asus launches Transformer Book Trio, Pad Infinity, Fonepad Note & more
Acer unveils 8-inch Win 8 tab, Liquid S1 phablet and ultrabooks