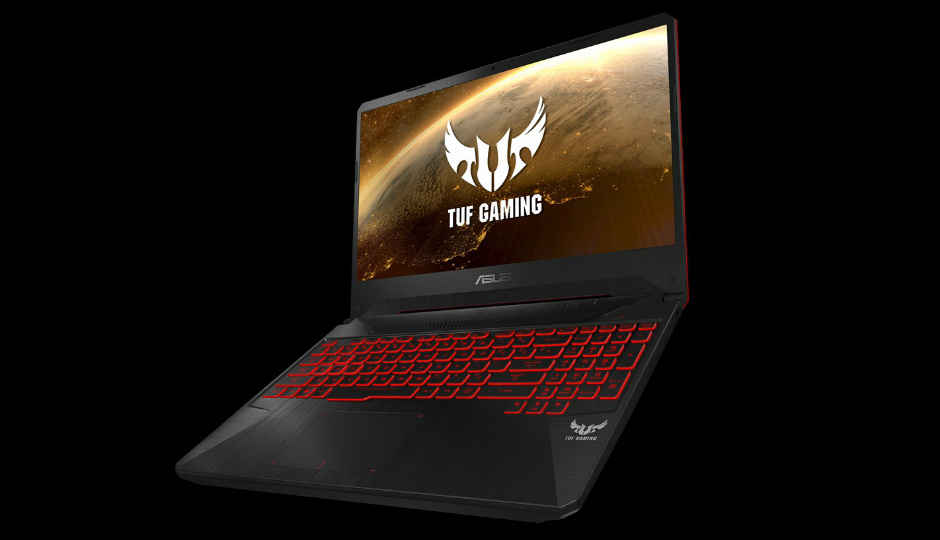 HIGHLIGHTS
The laptops ship with IPS-level FHD NanoEdge display, AMD Ryzen 5 3550H processor and Radeon RX 560X graphics card.
Highlights:
Asus has launched TUF Gaming FX505DY and FX705DY laptops.
Both the laptops ship with Radeon RX 560X graphics card.
FX505DY and FX705DY are claimed to have military-grade MIL-STD-810G standards for toughness.
Asus has announced two TUF Gaming laptops, FX505DY and FX705DY, which are powered by the AMD Ryzen 5 3550H processor, Radeon RX 560X graphics card and with up to 32GB of RAM in India. First launched at CES 2019 in January, both the laptops sport slim bezels around NanoEdge displays. Both of them feature Wi-Fi 5 (802.11ac) as well as onboard Ethernet, three USB ports, DTS Headphone:X technology for 7.1-channel virtual surround sound.
"The latest TUF Gaming Laptops set standards in durability and performance. Determined to provide the most immersive and powerful experience to our tribe of passionate gamers, the latest TUF range packs in the features like AMD Ryzen processor, Radeon RX graphics and a lot more. We are affirmative that India's passionate gamers would appreciate our latest offering and look forward to a positive response," Arnold Su, ROG & PC Head of ASUS India, said in a statement.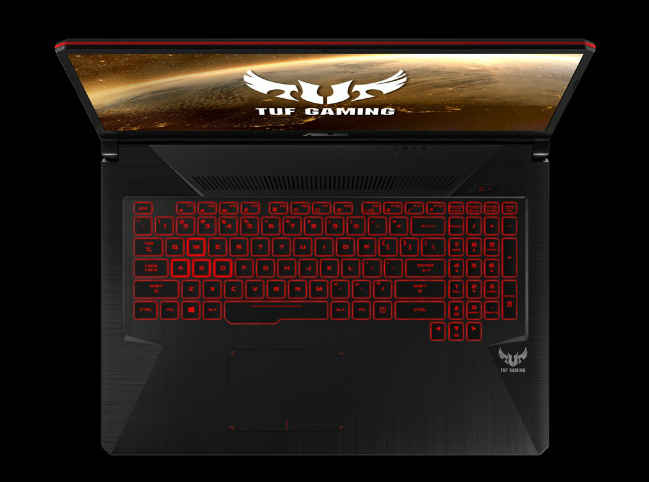 Asus FX705DY
Build
Both FX505DY and FX705DY are claimed to meet military-grade MIL-STD-810G standards for toughness. Asus says that the laptops have undergone strenuous testing ensuring that they can withstand extreme environments, ambient vibration as well as accidental knocks. "Both models shrug off short drops to a desk, and FX505DY is certified to survive higher falls. The hexagonal design on the bottom of the laptops adds structural rigidity and deserves some of the credit for their toughness," Asus said.
TUF gaming laptops keyboards have 'HyperStrike' keyboard deck, which is basically a desktop-inspired layout with separated blocks of function keys and a full numeric keypad. In addition, there's a wider space bar, offset arrow keys, curved key caps, and highlighted WASD keys. The keyboard is backlit as well; while the with Red Matter versions of the laptops have red lights, the Gold Steel models feature customisable RGB lighting. The RGB colors and effects can be tweaked with the Armoury Crate utility, which unifies functions like lighting control, system monitoring, and configurable game profiles.
Hardware
Both the laptops have Ryzen 5 3550H processor. The chip has four cores and eight threads which are claimed to deliver "capable performance" for popular games and everyday work. To conserve power and give an extend battery life, the laptops utilise Vega-based integrated graphics that are said to provide seven hours of Full HD video playback on FX705DY and nearly six hours on FX505DY.
The TUF Gaming laptops are fitted with specially-designed thermal solution, the HyperCool technology, which keeps the CPU and GPU cool with independent fans and keep internal temperatures in check. Asus says that the fans help special anti-dust tunnels on the edges of the housing to catch and direct particles out of the laptop to prevent them from clogging up the cooling.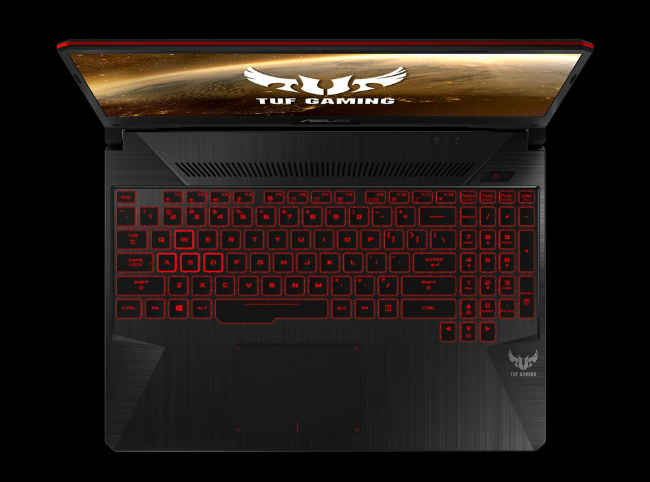 Asus FX505DY
TUF gaming laptops differences:
The FX505DY comes with a 15.6-inch non-glare IPS-level FHD a full HD display with a refresh rate of 60Hz. The laptop is offered in two storage configurations: One with up to 128GB SSD and a 1TB SSHD, and the second with only 1TB SSHD. The model ships with a 48WHr, 3-cell Li-ion battery and it weighs 2.2kg. The 128GB SSD + 1TBSSHD storage model is priced at Rs 64990 and the 1TB SSHD variants costs Rs 59,990. This laptop is available on Amazon.in.
The FX505DY features a 17.3-inch non-glare IPS-level FHD a full HD display with the same refresh rate of the FX505DY. It is only offered in one storage configuration, that is, with 1TB SSHD. This model ships with a 64WHr, 4-cell Li-ion battery and it weighs 2.7kg. The laptop costs Rs 69,990 and will be available on both online and offline channels.
Related Read:
ASUS launches GPU-optimised servers and workstations for AI and Edge Computing at GTC 2019