ARM has been trying for many years to create a chip that would allow it to break into the PC space. After numerous failed attempts, the Cortex A76 might finally be the answer to the company's prayers
Softbank-owned British chipmaker ARM has released its roadmap for upcoming chips, that seems to squarely take shots at Qualcomm's bid to dominate the client PC space. The next generation of chips will be designed specifically for the PC and laptops, running Windows on ARM. The first step towards this is the ARM Cortex A76 chip that was announced at Computex last year.
ARM Cortex A76 is projected to match the performance of a 7th generation Intel i5 processor but with 1/3rd the power consumption at peak performance. The 7th generation Intel Core i5-7300U, which ARM makes the comparison against, has a Thermal Design Power (TDP) of 15 watts while ARM's Cortex A7 is projected to achieve the same compute performance with just a TDP of 5 watts. ARM also says the Cortex A76 delivers 35 percent more power than the Cortex A75, the core used in Qualcomm Snapdragon 845 and 850 processors and a 40 percent boost in battery performance. We've seen some leaked benchmarks of the Snapdragon 850, which reveal some very disappointing numbers.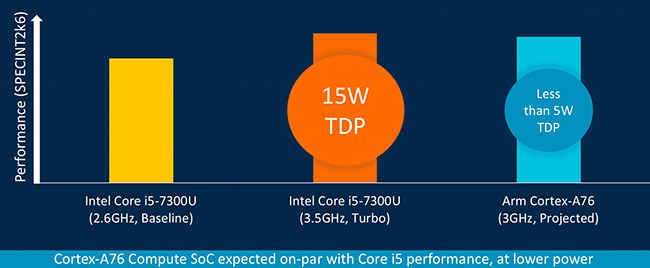 Along with sharing numbers on Cortex A76, ARM has disclosed two new chips in their roadmap. Codenamed Deimos and Hercules, the chips will be manufactured on 7nm and 5nm process respectively. ARM expects to have Deimos in the hands of OEMs by the end of 2018 whereas Hercules will make it to partners by 2019. Commercial devices with the above chips should make their way into commercial products by 2019 and 2020 respectively. ARM says that Deimos is supposed to deliver 15 percent performance boost with Hercules improving power and area efficiency by another 10 percent.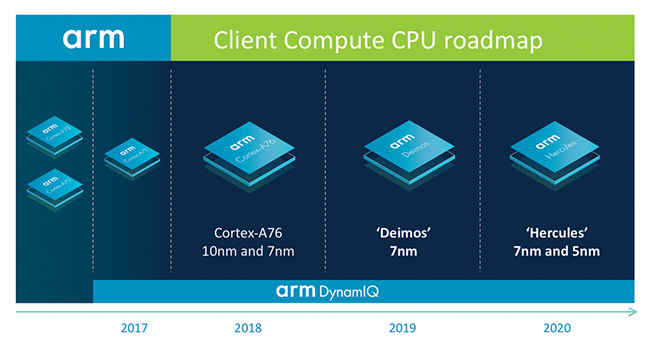 Both ARM and Qualcomm are now in the race to deliver processors for client PCs, ultrabooks and generally machines that would be in the $200-600 range for tablets and laptops. Qualcomm powered laptops and tablets from Samsung and Lenovo are expected to be available in the international markets by the end of 2018.
ARM and PC have a long and rough history together. There have been a number of attempts to power Windows-based machines using ARM's technologies, but every effort so far has failed. First, it was due to the 64-bit ARM chipset being placed on tablets and laptops that ran on a specially coded, 32-bit version of Windows (Windows RT anyone?) and later, it was due to the chips not being powerful enough. Even now, the Cortex A76 which promises both power and performance improvements is being compared to an Intel processor of last year. Regardless of the projected numbers, the proof of ARM's efforts will lie in the actual performance numbers of the devices that finally ship to customers later this year.