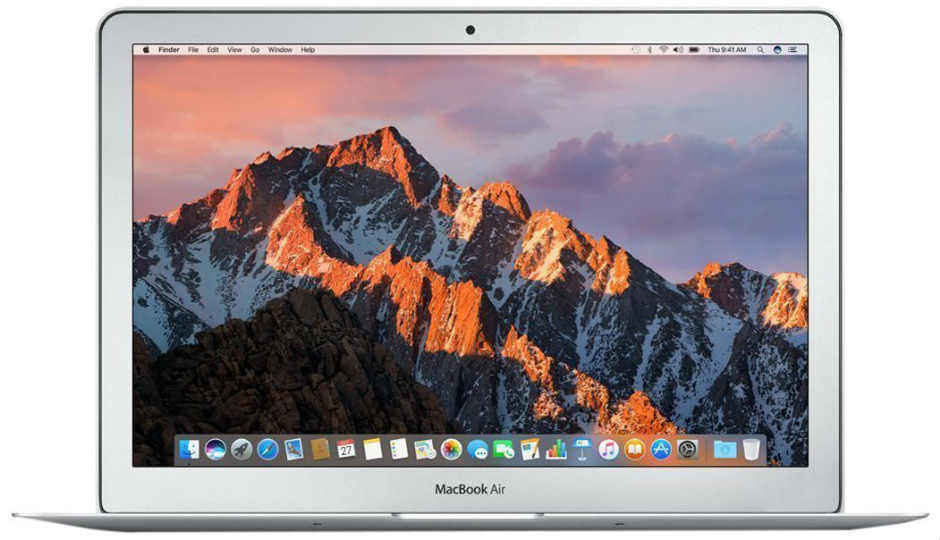 HIGHLIGHTS
​Apple is rumoured to launch refreshed MacBook Air laptops this year.
There have been various reports and even a Geekbench sighting of the new rumoured Apple MacBook Air (simply called MacBook), which the company is expected to unveil this year. Now, you can add another report to the list as there has been a passing reference to "new inexpensive notebooks" by Apple. A new Digitimes Research report, via 9to5Mac, casually mentions that shipments of Quanta Computer, a Taiwan-based notebook computer manufacturer, will rise well over 10 million units in Q4, thanks to the orders for Apple's new inexpensive notebooks. The research report is based on Compal Electronics overtaking Quanta Computer as the top notebook ODM in Q2 2018.
There are no additional details that reveal anything more about the new 'inexpensive' Apple laptop. However, the new report suggests that the company could unveil the device soon, maybe in Q4 this year. The research states, "Despite a cut in orders from Dell, Compal will see a dramatic ramp-up in orders from HP in the third quarter. But Quanta's shipments are expected to also rise above 10 million units in the fourth quarter thanks to orders for Apple's new inexpensive notebooks."
Back in March, another report by Digitimes tipped that Apple might be working on a new entry-level MacBook. It was reported to be an all-new 13.3-inch entry-level MacBook with the same 2560 x 1600p resolution as the last year's MacBook Pro. The company was said to source the display panels from a China-based supplier, but due to some issues, Apple has reportedly decided to go with LG, which was said to be providing the panels in April.
Additionally, as per another report from July, the upcoming MacBooks could be powered by Intel's eighth-generation of Kaby Lake Refresh processors, which are manufactured using a 14nm process and were launched in the second half of 2017. It was earlier speculated that Apple will power the upcoming laptops with Intel's Canon Lake chips that are based on the 10nm process, however, as Intel is reportedly facing delays transitioning to the 10nm process, Apple has decided to use Kaby Lake Refresh processors instead. As per the report, the refreshed new MacBook Air laptops could be powered by the 7th Gen i5 and i7 processors with base clock speeds between 1.6GHz and 1.9GHz, and max Turbo Boost speeds between 3.4GHz and 4.2GHz.
Apple also recently announced its new 2018 lineup of MacBook Pro laptops, which are powered by Intel's latest 8th gen Core processors and feature a Touch Bar. The new MacBook Pro comes in 13-inch and 15-inch display sizes, with the latter being the more powerful variant. The 13-inch MacBook Pro is powered by an 8th Gen quad-core Intel Core i5 and Core i7 CPUs with clock speeds going up to 2.7GHz and 4.5GHz respectively with Intel Turbo Boost. It comes with The GPU is still the same Intel Iris 655 with 128GB of embedded DRAM and one can choose from storage options of up to 2TB. The price of the base model stays the same at Rs 1,49,900.
The 15-inch MacBook Pro with is now powered with 8th Gen six-core Intel Core i7 and Core i9 CPUs with up to 32GB DDR4 RAM. The latest CPUs come with a base clock of 2.9GHz, and can go up to 4.8GHz with Intel Turbo Boost. It comes equipped with a 4GB AMD Radeon Pro and Apple has kept the base model's price the same at Rs 1,99,900. You can learn more about the laptops here.