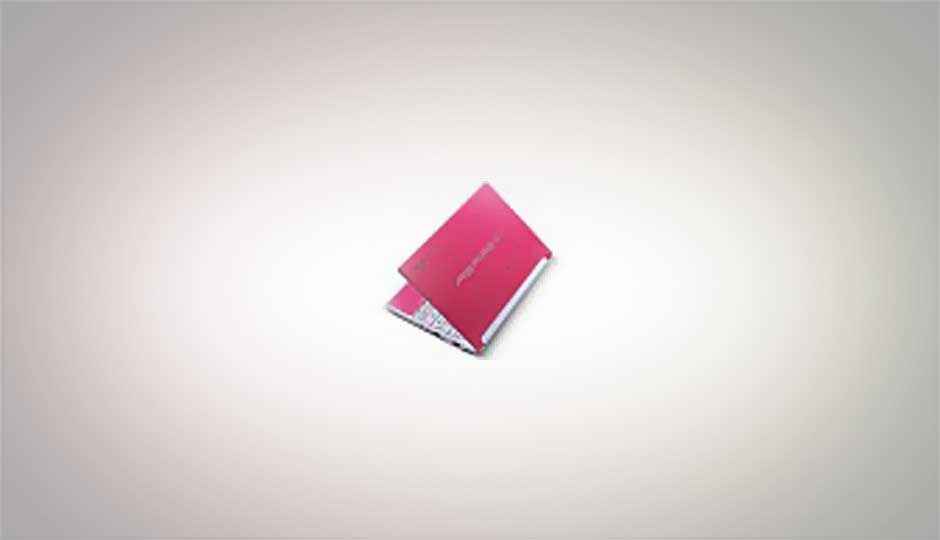 Acer has launched yet another model of its popular Aspire One netbooks in India, hoping to capture another demographic with the new name, and new colours. Called Aspire One Happy, the good ol' Acer netbook offering is now available in four "adorable" colours with equally mushy names. The new model also brings with it a pre-loaded dual operating system, allowing users to boot either Windows 7 or Android.
The 10.1-inch Aspire One Happy netbook is available in "Candy Pink, Lavender Purple, Lime Green and Hawaii Blue." Bearing much the same form factor as the Aspire One D260 and 532h, the AO Happy weighs 1.25 kg, and is just 24mm thick. It is powered by a (now rather outdated) Intel Atom N455 1.66GHz processor and Graphics Media Accelerator 3150 chispet onboard. We wonder which of the manufacturers will bring the AMD Fusion SoC to Indian netbooks first, with Toshiba's NB550 looking promising.
[RELATED_ARTICLE]Other specs remain much the same as last time, except that even though Acer Aspire One Happy sports the Android operating system, ostensibly for quicker boot times, internet and mail access, and digital media consumption, it doesn't have a embedded 3G wireless modem like its predecessors, the Aspire One 532h and D260. We'll let you know the version of Android operating system as soon as Acer gets back to us. Do not expect Market support though.
The Acer Aspire One Happy bears an End User Price (EUP) of Rs. 16,376, and an MRP of Rs. 17,999 (same as the D260).