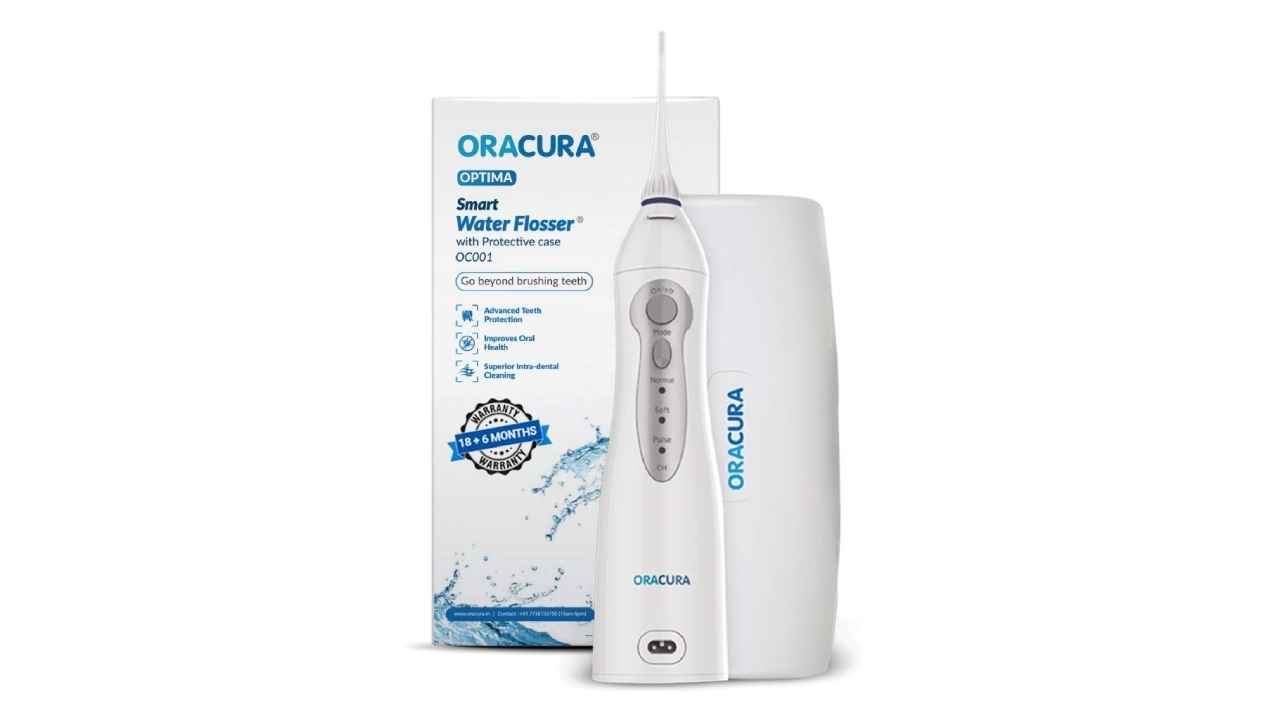 You have decided to enhance your oral healthcare regime and are wondering about all the tools you must add to your care arsenal. A water flosser can be a great help in removing food particles stuck between your teeth and eliminating bacteria before it hardens into plaque. Water flossers are easy to use, can clean hard-to-reach areas, and help improve gum health. Worry not for here are a list of water flossers available on Amazon that you can choose from to elevate your oral care routine.
ORACURA Smart Water Flosser OC001
ORACURA Smart Water Flosser OC001 is a portable and rechargeable water flosser that has a longer life with its battery. It comes in low noise modes and an ultra-fine water jet spray. It operates on three modes, each to suit the different needs of the user – the Soft Mode for first-time users, the Normal Mode for advanced cleaning and the Pulse Mode to comfortably massage one's gums. The product comes with a protective travel case. There is a blue water reservoir with a 150ml capacity and also a 360-degree rotary nozzle. The service offered is good – the handle comes for a year and the accessories for 6 months minimum.
Philips Sonicare Airfloss Pro Rechargeable Water Flosser
Philips Sonicare Airfloss Pro Rechargeable Water Flosser comes with a lithium-ion rechargeable battery that lasts for two weeks with a single charge. It is more effective than string floss with its microdroplets technology and triple burst technology. The entire oral cavity space can be collected within a period of 60 seconds. The high-performance nozzle makes it effective, and cavities are not allowed to set in. It has triple burst customization for the spray, and the reservoir can be filled with either mouthwash or water.
Caresmith Professional Cordless Oral Flosser
Caresmith Professional Cordless Oral Flosser effectively removes plaque and tartar buildup in the treated areas. It runs silently and reaches hard-to-reach areas with ease with the help of the high-speed jet spray. The brush has a removable nozzle and can thus be used by multiple family members. There are three pressure settings to suit people with different sensitivities. The 300ml water tank is detachable and easy to clean. The Caresmith Professional Cordless Oral Flosser is quite light, tipping the scale at 340 grams and is also easy to grip and operate.
Oracura Water Flosser
Oracura Water Flosser comes in four low noise operation modes. It has an ultra-fine jet spray and a strong pulsation mode which massages and stimulates treated areas. It is a portable brush that reaches even the most hard-to-reach areas. It has a rechargeable lithium-ion battery which is claimed to last for up to 15 days after a single charge of 2-3 hours. It comes with a combination of five tips, including Ortho, Perio and Tongue Scraper. It is a waterproof brush with a 200-ml water tank capacity for flossing use – the water can be refilled from the top or at the side. It comes with an LED indicator and a 360° rotary nozzle for easy control of water. It is ideal for cleaning around one's braces, crowns and bridges too. It removes plaque and keeps away bad breath.