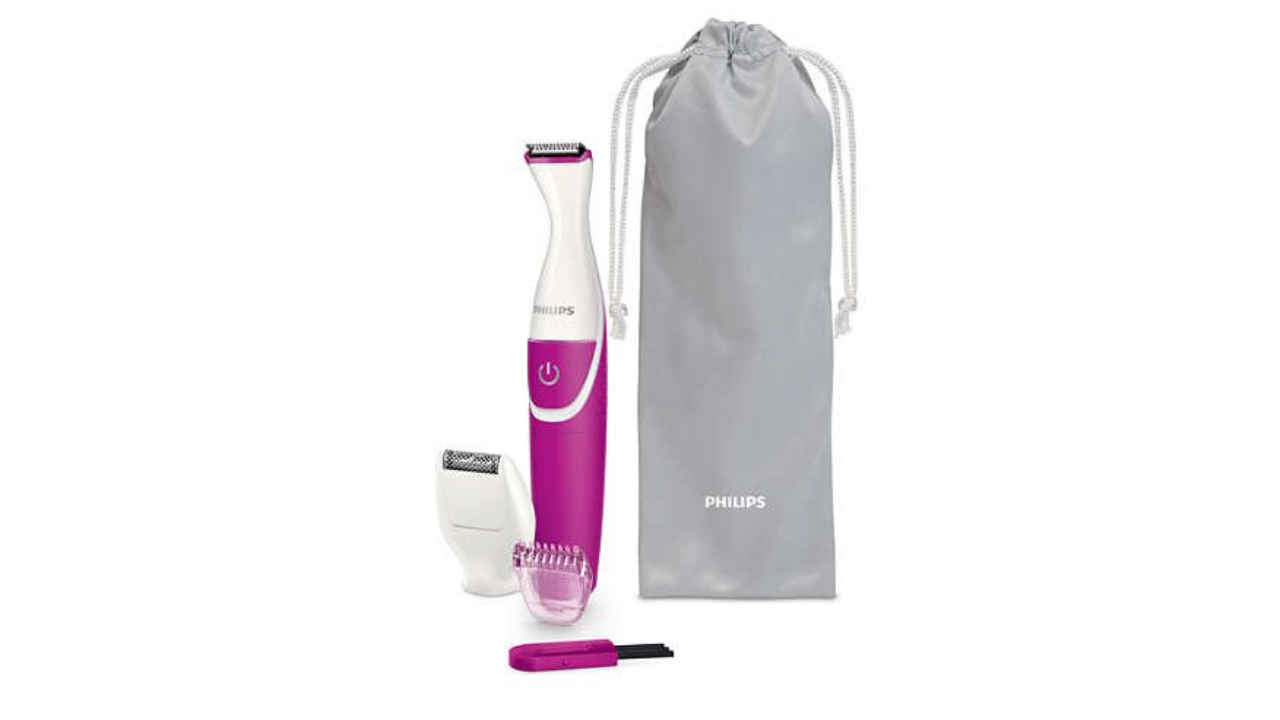 Indian women live such a hectic life that they don't have the time or energy to visit the beauty parlour every week. But it's very important to keep yourself well-groomed! You might be surprised to know that you can do so without stepping out by getting one of the following trimmers mentioned here.
SWARG 5-In-1 Electric Epilator Women Hair Removal Trimmer Shaving Machine
If you are fed up of using a different trimmer for different body parts, then here's the perfect trimmer for you. This budget-friendly trimmer has five accessories that will help you groom your eyebrows, upper lip, sideburns and all other delicate parts. It has good-quality blades designed to make sure your skin remains silky smooth and without any cuts. It comes with a small brush to clean out the hair from the trimmer blades and keep it going for a long time. The trimmer is made from high-quality plastic and is ergonomically designed as well as durable.
Philips BRT382/15 Cordless Bikini Trimmer
If you are looking for a brand that has years of experience in manufacturing high-quality grooming products, then you can't go wrong with Philips. The Philips BRT382/15 is a cordless bikini trimmer that has a claimed battery backup of 30 minutes. It has four length settings with a trimming range of 0.5 to 10-mm and has rounded teeth to prevent accidental cuts ensuring a smooth trimming experience. You can use the included click-on comb to trim hairs to a 3mm length and then use the mini shaving head to get the clean look after trimming. This Philips trimmer is ergonomically designed to ensure that you don't have any trouble navigating around the bikini area, making it the go-to option for all your grooming needs.
Lifelong LLPCW30 Rechargeable Eyebrow, Underarms and Bikini Trimmer
If a long run time is your priority, then you probably can't go wrong with this one. The Lifelong LLPCW30 is a rechargeable trimmer with a claimed battery backup of up to 60 minutes after an overnight charge. You can use it to maintain your bikini region, eyebrows or underarms and give yourself a clean shaved look using the multiple attachments provided. It also comes with swappable combs to get different length trimming. It has rounded teeth for smooth and irritation-free trimming and shaving experience. The trimmer is waterproof, which means you can use it even in the shower and clean it easily using tap water.
GADGETRONICS Rechargeable Instant Painless Body Hair Remover Trimmer
If you are looking for a compact and lightweight trimmer that you can carry around easily, then your search might end here. This good quality trimmer from GADGETRONICS is a cordless rechargeable trimmer that can help you trim body hair easily and quickly. Its stainless-steel blades and textured ceramic discs should make sure it's easy to style yourself. You can use it to trim the hair from your eyebrows, armpit, hands, legs, fingers, and more without worrying about cuts and bruises. The battery packed inside is claimed to deliver an operating time of up to 30 minutes after an 8-hour long charge. This heavy-duty cordless trimmer doesn't require much attention when it comes to maintenance and can be cleaned easily.