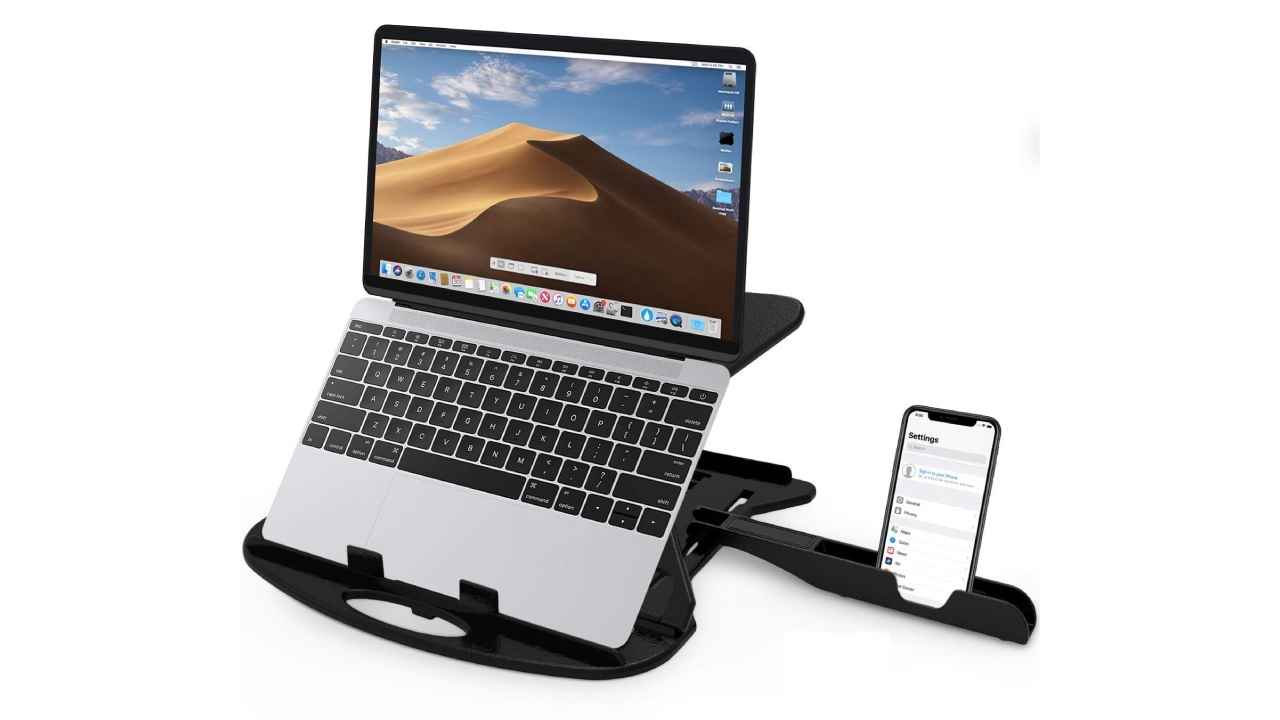 A laptop stand that comes with a phone holder can be a massive convenience for professionals. These stands can hold your laptop at a comfortable viewing angle while keeping your phone secure. If you are considering purchasing a laptop stand equipped with a phone holder, ensure to keep a couple of things in mind. First, make it a point to go for only those models that prevent overheating. Second, shortlist those stands that have a strong build and body. Following are a few good options of laptop stands on Amazon that come along with a phone holder:
STRIFF Adjustable Laptop Stand
The STRIFF Adjustable Laptop Stand features a sleek and strong plastic frame that can be easily folded and carried around. Since it can withstand a maximum load of up to 25 kilograms, it is well-suited for most laptops available in the market. To prevent your laptop from overheating, the stand comes equipped with large cut-out vents that allow air to circulate from all sides. To ensure you can get a clearer, glare-free view, the STRIFF Adjustable Laptop Stand has a total of seven height-adjustable options. Moreover, the stand also features a phone holder through which you can keep your phone near you at all times.
STRIFF Laptop Stand
The STRIFF Laptop Stand has a Z-type design and is made of sturdy material, supporting up to 10 kilograms of weight. Since it is lightweight and compact, you can carry it anywhere with you, making it travel-friendly. It has built-in stand legs, where you can place your keyboard, ensuring your desktop remains neat. Since it has an ergonomic design, this laptop stand can help correct your posture and give relief from eye strain and shoulder aches. In addition to these features, the stand also offers a holed panel to ensure optimal ventilation takes place, keeping overheating at bay. Its stability is further enhanced with anti-slip rubber pads that protect your device from accidental falls.
Dyazo Adjustable Laptop Stand
Thanks to its hollow back design, the Dyazo Adjustable Laptop Stand makes sure that your device receives an uninterrupted flow of air. It ensures the heat doesn't remain trapped, giving way for minimal overheating. With a total of seven adjustable heights ranging from 2.7"-6.7", the Dyazo Adjustable Laptop Stand makes sure you always have a clear and glare-free view of the screen. Featuring a lightweight design made of ABS plastic, the stand is sturdy and portable. It can support most laptop models, including MacBook Pro, Microsoft Surface, Lenovo, Acer, Pixelbook, Dell XPS, HP, and ASUS, taking its versatility to the next level!
Lyrovo Laptop Stand Holder
The Lyrovo Laptop Stand Holder has anti-slip rubber pads that can protect your device and desk from scratches. To meet different height adjustment needs, it provides a total of eight angles from which you can pick the ideal one. Coming in an ergonomic design, the stand helps in improving your posture and easing the pain in your shoulder and waist. Plus, with holes on the panel, it prevents overheating of your laptop and ensures optimal heat dissipation. The Lyrovo Laptop Stand Holder features a built-in phone holder, allowing you to keep your phone near you in a convenient way. Since you can set up the holder in four simple steps, it provides a seamless installation experience.