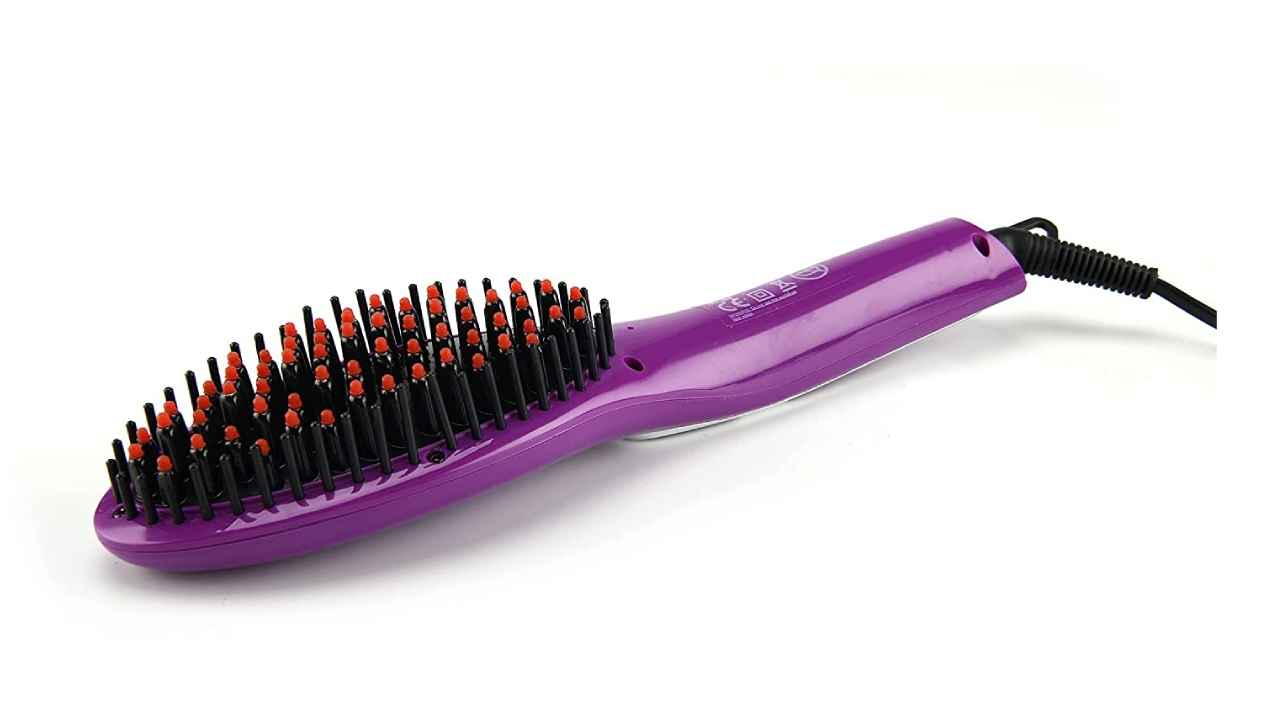 Are you searching for ways to make your hair look softer, shinier, and silkier? Well, look no more as ionic hair brushes are here to save the day! These devices leverage the power of ionic technology and push negative ions directly into each strand of hair. Once these ions get activated from the brush's heat, the ionic balance gets restored, paving the way for straighter hair. In simpler words, ionic hairbrushes eliminate frizzy hair, giving you the gift of smoother and silkier hair! Moreover, they also help seal split ends and style lustrous locks, making it an all-in-one solution for most of your needs. But before you go ahead and buy the first model you see available on the market, make sure to keep a couple of things in mind. These include shortlisting only those variants that offer top-quality bristles and a sturdy build. Following are a few good options of ionic hairbrushes on Amazon that can help you get lustrous locks.
Conair Infiniti Pro Paddle Brush Styler
The Conair Infiniti Pro Paddle Brush Styler offers a total of three types of bristles – one for detangling, one for enhanced glossiness, and one for hair styling control. Powered by an ion generator, the device can eliminate frizzy hair and rejuvenate it, giving it smoothness and silkiness. Featuring temperature control as well, this brush gives you the freedom to choose between three options – high (for thick hair), low (for fine hair), and cool (for locking in the look). Being a high-performance device that runs at a power of 600 watts, the Conair Infiniti Pro Paddle Brush Styler ensures quick and efficient results. Apart from these, some of its other unique features are its ergonomic body and lightweight design.
iGRiD Hair Straightener Brush
The iGRiD Hair Straightener Brush comes equipped with multi-tier bristles that help prevent scalding and overheating of the scalp. It works on an ionic generator that can coat your hair, giving you a silky and natural lustrous look. Plus, it also helps repair dry and damaged hair over any split ends. Thanks to its wider comb design, this brush applies minimal friction, reducing hair damage. The iGRiD Hair Straightener Brush can get heated up within 20 seconds using PTC heating technology. Moreover, the mechanism ensures even heat distribution, which can quickly turn curly hair into straight hair in just a few minutes! It also has built-in temperature modes- low temperatures for fine and bright hair and high temperatures for rough hair. In addition to these features, the brush also boasts a flame-retardant plastic frame, a unique design, and an auto-off function.
Rozia Pro Roller Hairbrush
The Rozia Pro Roller Hairbrush comes in a lightweight and ergonomic design with a textured, one-piece handle for eliminating hair catching and pulling. Its bristles can tenderly de-knot tangled strands by distributing natural oils, lubricating each of your hair strands with care. It has been designed to create volume at the root, a bend in the middle, or a nice curl at the bottom, allowing you to get the style of your preference! Its vented ceramic barrel allows hair to pass through easily and heat up during blow-drying. This translates to a perfect, speedy, and consistent blowout every time!
One Step 3-in-1 Styler
The One Step 3-in-1 Styler has a 360° swivel cord through which you can carry out free movements without having to worry about twists or knots. It is powered by a ceramic heater, which helps diffuse heat more evenly over the scalp at closer contact without harming your hair, thus, giving faster results. The negative ions released by the brush surround each hair strand, which helps eliminate static and frizz. This ultimately results in the nourishment of damaged hair and reduction in split ends! Offering three adjustable heat levels, the One Step 3-in-1 Styler is ideal for different hair types. It also has an ergonomic handle, massage points for a relaxing experience, and multiple airflow vents.