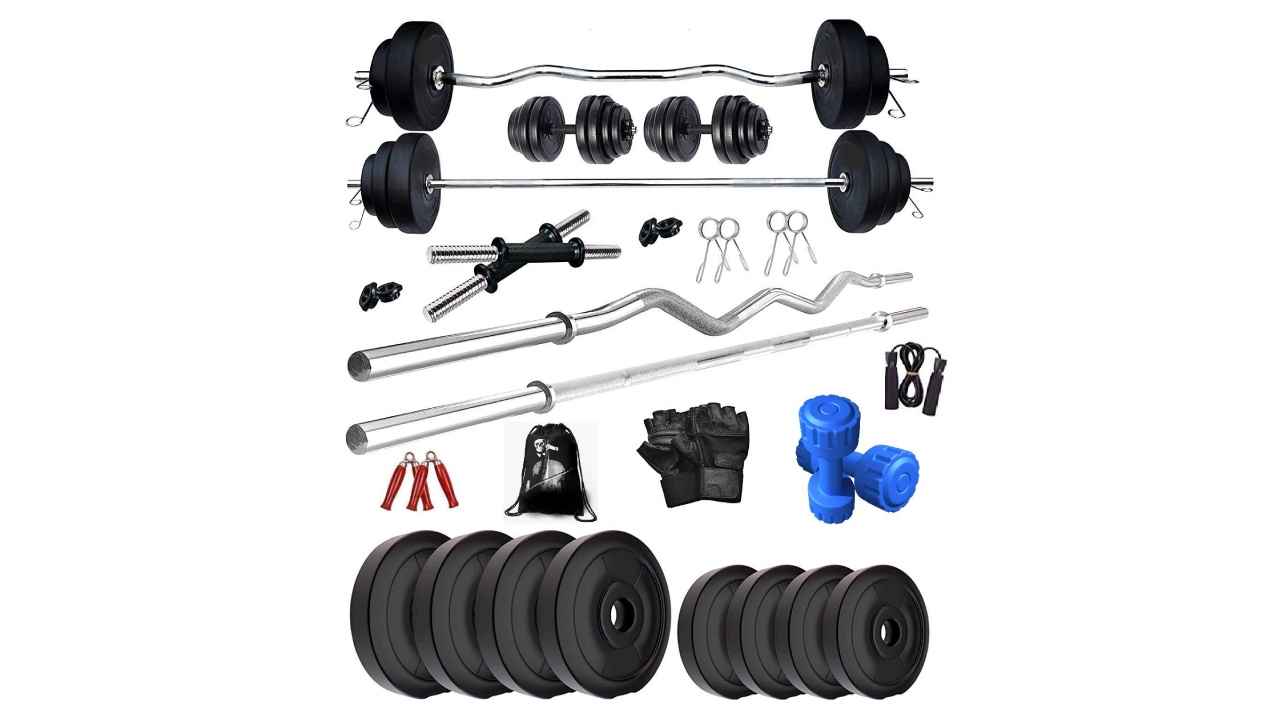 Many people believe that working out from home is next to impossible. But there's a way through which you can work out without leaving the comfort and safety of your home. You can do so by investing in a gym set but finding a decent one won't be easy. So to help you out, here's a list of some of the best home gym sets available in the market.
Lifelong PVC Home Gym Set
This home gym set by Lifelong is a popular option that you should consider if your priority is a 10kg adjustable dumbbell set. It is an ideal choice for multiple types of weight training as this home gym set includes 3 feet curl rod, two 14-inch dumbbell rods, 10 kgs of PVC weights (2.5kg x 4), skipping rope, hand gripper, pair of weight locks and a pair of gym gloves. Each of these items is made from good quality material and are sturdy and durable. The Lifelong PVC home gym set is pretty easy to assemble and comes with 4 screws to prevent weights from slipping out while exercising. So if you are looking for a home gym set to improve your cardiovascular health, check this combo out.
BodyFit BF-30KG Leather Combo
Another excellent home gym set perfect for multiple weight training, thanks to the different types of equipment it includes. For weight training, this gym equipment combo from BodyFit includes weights with a total weight of 30 kgs, two pairs of weight locks, a 5-feet straight rod, a 3-feet curl rod and two 14-inch dumbbell rods. Apart from these, the gym set also includes a skipping rope, a gym bag, a pair of hand grippers and gym gloves, making it the ultimate combo for your home workout sessions. The weights are made from high-quality PVC, and the rods are made from high-grade non-slip material to prevent any mishaps during your everyday workout. It is pretty easy to set up and maintain, making it a great deal for fitness enthusiasts.
Gold Fitness Leather Combo-Wb Home Gym Kit
Gold Fitness is another good brand name for manufacturing good quality durable gym equipment, and this home gym set is no exception. This home gym set from Gold Fitness includes almost everything you will need to improve your cardiovascular health and that too without burning a hole in your pocket. It consists of four 5kg plates, four 2.5kg plates, single 5 feet straight bar, a 3 feet curl bar, two 14 inch dumbbell rods, a hand gripper, a pair of leather gloves and 2 pairs of weight locks and screws to keep the weights in place resulting in safe and secure home workout. When it comes to quality, Gold Fitness has made sure to leave no stones unturned and used high-grade PVC in weights along with non-slip rust-free material for rods ensuring the longevity of equipment.
Kore PVC 10 kg Combo
This is a great combo for fitness enthusiasts who don't like missing their training routine even when skipping the gym. The Kore PVC, 10kg combo, includes everything you will need to keep your body fit and healthy like a punching bag, a 5-feet straight rod, a 3-feet curl rod, two 14-inch dumbbell rods, four 2.5kg weights, a skipping rope, a pair of gym gloves, a hand gripper and a pair of weight locks and two pairs of screws to keep the weight intact while exercising. This gym set helps in building up your muscles, stamina, endurance and good metabolic rate. Kore has used good quality, durable and anti-slip materials while manufacturing these products for a better lifetime and low maintenance, making it a good choice for all the fitness freaks out there.