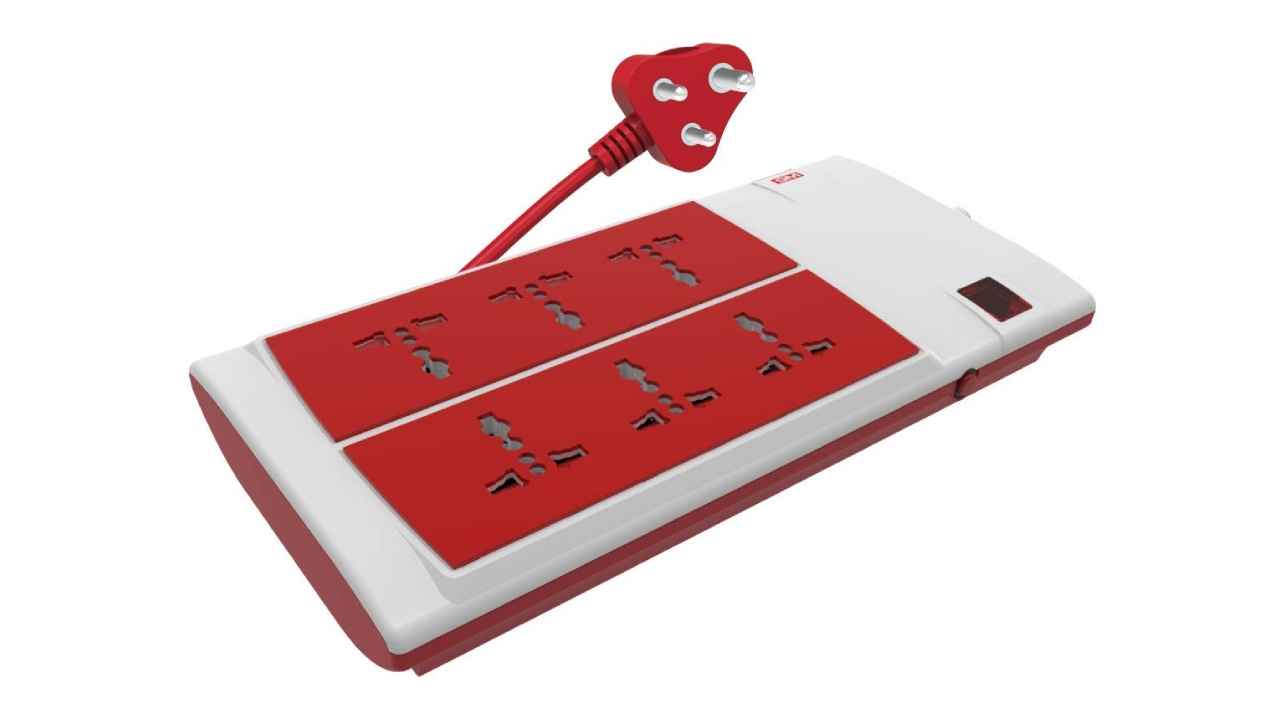 One of the best ways to safeguard appliances at home is to invest in a surge protector. Not only are these convenient in that they act as wall plug extensions, but they also offer surge and spike protection. Having a surge protector extension board always helps you out. Say you want to plug in your laptop, but the cable won't reach your table, so you can simply plug in an extension cord and charge your devices. Using appliances that stay put and plugged in all the time, such extension boards are quite handy as you can plug in multiple devices simultaneously. So, here are some of the top extension boards with surge protectors that can help you safeguard your gadgets and other electrical appliances.
Goldmedal Curve Plus 205101 Plastic 240 i-Strip LED Spike Guard Adaptors
Here is an extension board with six plug points. You can use each of these for a different appliance and don't have to worry about things overheating or shorting. It has surge protection built in the plug adaptors so that you can plug in six things at once without thinking about whether it can handle the load or not. It also has a power button, using which you can cut off power or bring it back, depending on what needs to be turned on. Incidentally, the strip spike has universal plugs, meaning you can use imported gadgets with international plugs, and they will fit easily into the sockets.
Belkin Essential Series 8-Socket Surge Protector Universal Socket with 6.5ft Heavy Duty Cable
Here is an extension board that puts a focus on convenience. For one, it has 8 sockets, so that you're never out of space for all your important gadgets. Apart from that, it has a 6.5-foot long cable, which is quite handy, as you can plug it into one of the unused plugs at home and then use the extension board as the main plug unit. This allows you to get more out of a single socket at home and use of some of those inaccessible, behind-the-bed sockets found in Indian homes. It comes with a power on/off switch, and also a surge protector so that your electronic devices don't fall prey to shorting or blowing up.
GM 3059 G-Power 6+1 Spike Adaptor with Master Switch, Indicator, Safety Shutter, International Sockets & Surge Protector
This 6+1spike adapter comes with 6 international sockets and 1 master switch. It has a power level indicator, which tells you the available power and whether or not it is optimal for the attached gadgets and plugs. There is also a master switch, which turns the spike strip off. To keep you and your devices safe, it has a thermal overload trip that powers off your system, which saves all connected devices in the event of a severe overcurrent or when the surge protection is disabled. You can press the red button to return to safe function mode. The Spike guard is equipped with 3 high power MOVs to protect the equipment connected to it from transient and switching spikes and surges. All in all, this is a must-have in the modern home.
Bajaj 4-Way Spike and Surge Guard with 2m Wire
If your home or office space requires a spike strip but not all that many sockets, then this option from Bajaj is the right pick for you. It comes with 4 plug points and a long 2-metre cable. It packs an Inbuilt fuse that protects connected devices from damage in case of a sudden surge. The power cable itself is made of a fire-resistant material and is quite durable. It also comes with a switch to control the current flow and decide when you want to switch things on. Even in case of rains and thunderstorms, this spike stripe will keep your appliances safe. Overall, this is a cost-effective option that will suit users on a budget.