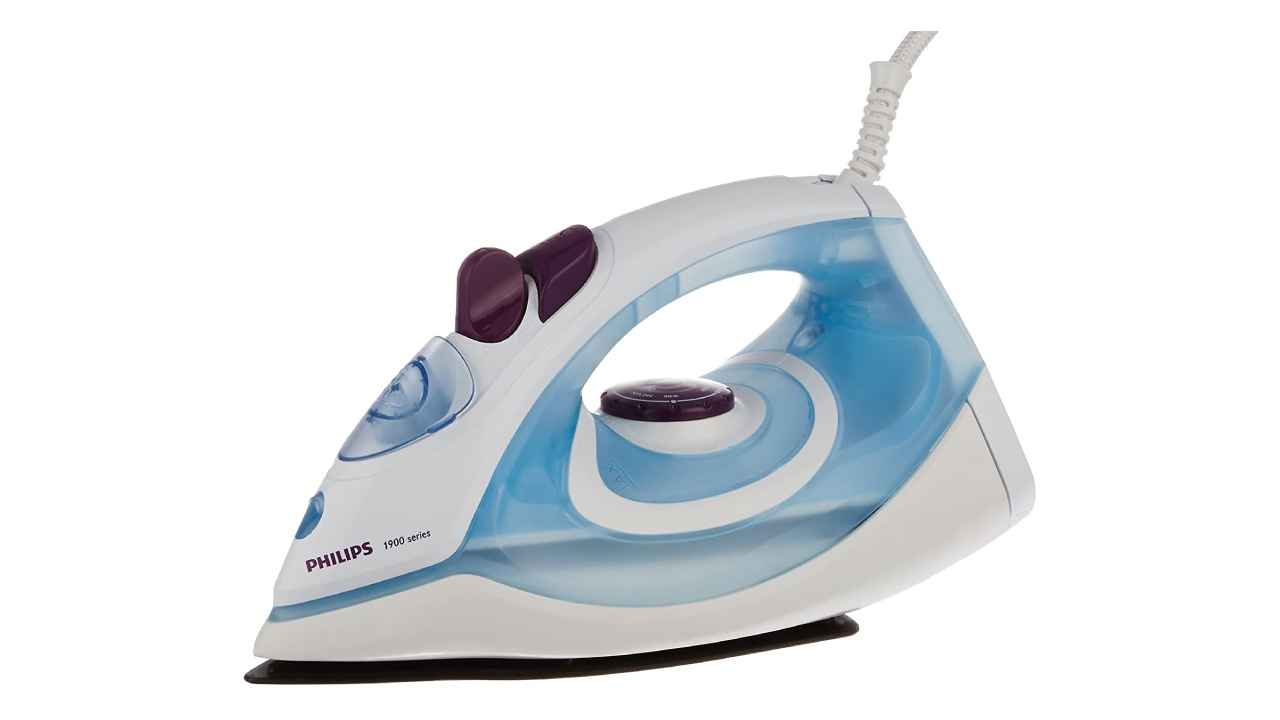 Whether it's a professional meeting or a casual gathering, looking presentable is always necessary to make a good impression. It is pretty obvious that wearing clean and nicely ironed clothes makes you look more presentable, and in turn, leaves a lasting impression on people. Having a good iron that will help you keep your clothes crease free is a must, but choosing one is not always easy given the plethora of choices out there. To make life easier for you, we've listed some of the best and most popular irons available on Amazon.
Philips GC1905/21 Steam iron
The Philips GC1905/21 steam iron operates at a power of 1400W, which should result in a constant steam output. Philips claims this iron can give a continuous steam up to 17g/min with 120g steam boost to help you remove even the most stubborn creases from your clothes. The American heritage black linished soleplate provides even distribution of heat and gives a good gliding performance on all types of fabrics. The fine spray of steam evenly moistens the fabric and ensures better ironing performance.
Usha EI 1602 Dry iron
Usha has been a trusted brand in clothing appliances for many years and the Usha EI 1602 dry iron lives up to the expectations. This iron comes with a thermostatic control dial that you can use to set the desired temperature as per the fabric you're ironing. There are five fabric settings to choose from, so most of your wardrobe should be crease free in no time. The iron comes with a 1.8 m long cord, so you can move about your ironing table with ease, and not run out of cord. The iron's ergonomic design ensures that it's not going to slip out of your hands when you attack a crease aggressively, and it's light enough to glide about easily, yet heavy enough to smoothen out creases in your shirts.
Bajaj DX-7 Dry iron
Another well known household electronic appliance name in India is Bajaj. The Bajaj DX-7 dry iron comes with a non-stick coated and antibacterial soleplate which prevents the iron from sticking to your clothes while also keeping the bacteria away. This iron has a 360 degree swivel cord which allows flexibility and effortless movement while ironing. The lightweight design gives an easy and comfortable experience and the 1000W power makes the ironing process quicker. This Bajaj iron has a super clean finish and stylish look which gives it a pleasant appearance.
Crompton Instaglide dry iron
The Crompton Instaglide dry iron has a 14 percent larger soleplate to cover more area in a single glide which helps with quicker ironing. The curved soleplate design prevents bunching of your clothes from the constant back and forth action of the iron. This iron comes with 6 fabric settings for you to make the right choice for different fabrics like cotton, wool, nylon, rayon, linen and silk. The ergonomic design makes it a comfortable iron for regular use. This Crompton Instaglide dry iron has an American heritage soleplate coating, which ensures long durability and enhances the performance of the iron.