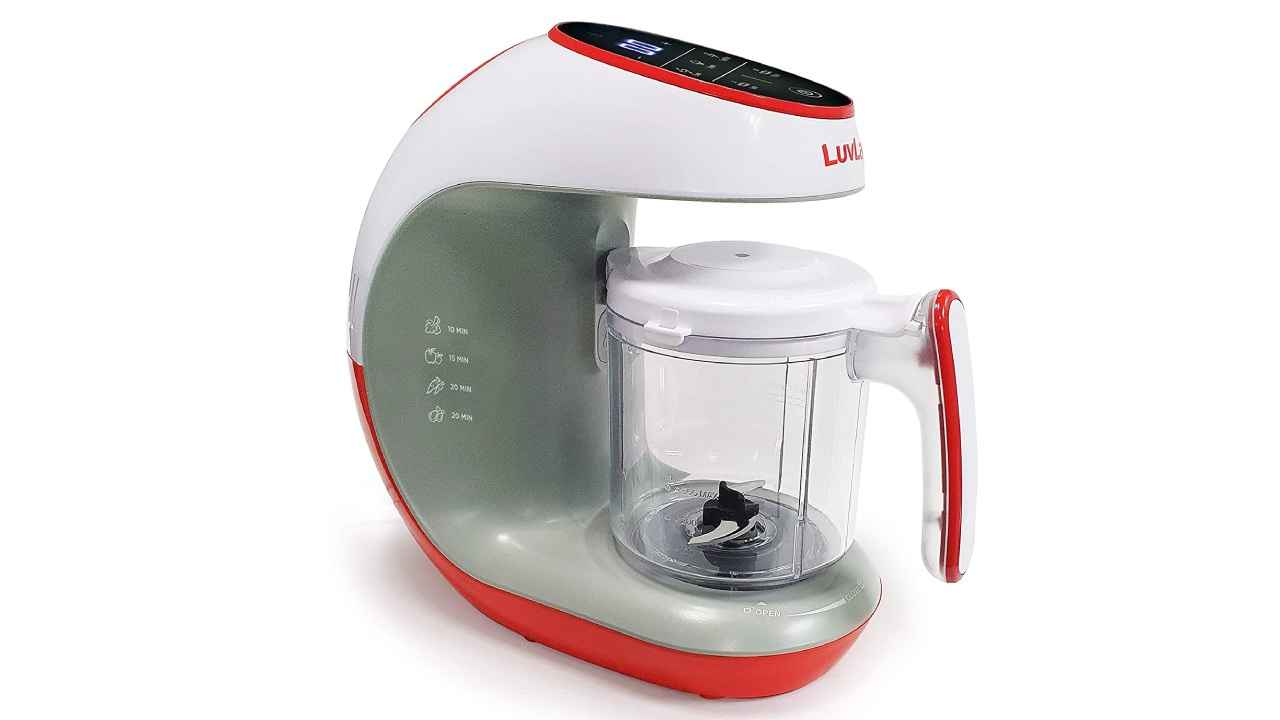 Your baby deserves only nutritious food that brims with natural flavours. But once you start making a fruit or vegetable puree, most of the nutritional value is lost in the cooking process. So, how to prepare baby food while making sure we retain the nutrients and natural flavours? The answer lies in BPA-free food processors. These cooking appliances can help you prepare food for babies using steam technology, enabling it to keep the flavours and nutrients intact. In case you are looking around for a food processor, make sure it is a BPA-free one so that it doesn't contaminate the food. Moreover, also make sure that it uses steam technology and offers multiple cooking functions, such as blending and steaming. Here are a few good options of BPA-free food processors on Amazon that would help you prepare baby food.
BEABA Babycook Solo
The BEABA Babycook Solo uses steam for its cooking that not only helps in preserving the nutrients in the food but also assists in keeping its natural taste intact. Its steam basket separates food from the steaming liquid, making sure the vitamins and minerals remain sealed inside the food. Featuring a one-touch and one-hand operation, you can easily operate this appliance without any effort. The BEABA Babycook Solo also has an auto shut-off function that powers down the device once the cooking is complete. Allowing you to prepare soups, purees, steamed vegetables, apple sauce, and more, thanks to its four-in-one functions (steaming, mixing, defrosting, and reheating), this food processor gives a lot of options! Apart from these, some of its other notable features are an XL capacity jar of 1,100 ml that enables you to prepare food in large quantities and a cyclone-effect blade that helps customise food mixing.
LuvLap Regal Advanced+ Baby Food Processor
The LuvLap Regal Advanced+ Baby Food Processor features a two-in-one steaming and blending function, combining the utility of conventional cookers and blenders. Its steamer is a healthier cooking alternative for your little one, the reason being it helps in the preservation of natural taste and flavours. The LuvLap Regal Advanced+ Baby Food Processor helps you be innovative when it comes to making purees for your child. It allows you to prepare the spinach, orange, potato, carrot, and banana purees conveniently. It comes furnished with an advanced digital display that lets you pick the various functions with ease. For blending, it offers the options of chunky, coarse or smooth puree, keeping consistency as per your baby's likings. Moreover, since it comes with an auto shut-off feature, there is no need for continuous monitoring. It also incorporates a sound and light indicator to tell you whether the cooking is complete or not.
Kiddale 5-in-1 Smart Baby Food Processor
The Kiddale 5-in-1 Smart Baby Food Processor is a holistic solution since it doesn't only help in cooking baby food but also assists in cleaning their utensils using steam. The appliance can sterilise and disinfect your baby's bottle, spoon, or teething toys with the disinfect button. It can steam both fruits and vegetables, making them soft and germ-free in little to no time. It also comes with a stirring function through which you can prepare delicious purees. Once you are done with cooking, you can clean the appliance using its auto-cleaning function, through which it cleans itself! The Kiddale 5-in-1 Smart Baby Food Processor is made out of Tritan material, which is BPA and lead-free. This ensures the device doesn't cause any form of contamination to your food.
LuvLap Regal Baby Food Processor
The LuvLap Regal Baby Food Processor has an efficient steam cycle that can cook your food optimally. Its steaming mechanism seals in the natural flavours and nutrients, making the food perfect for your baby's growth. Its steaming function is supplemented with a blending feature that ensures you can maintain the food's consistency as per your baby's requirements. Moreover, with its easy operations, clear markings, and robust dial, this appliance offers hassle-free operation to everyone. It also indicates to you once the food has been prepared with its food-ready sound and light indicator. The LuvLap Regal Baby Food Processor comes with an auto shut-off function that translates to no need for consistent monitoring.