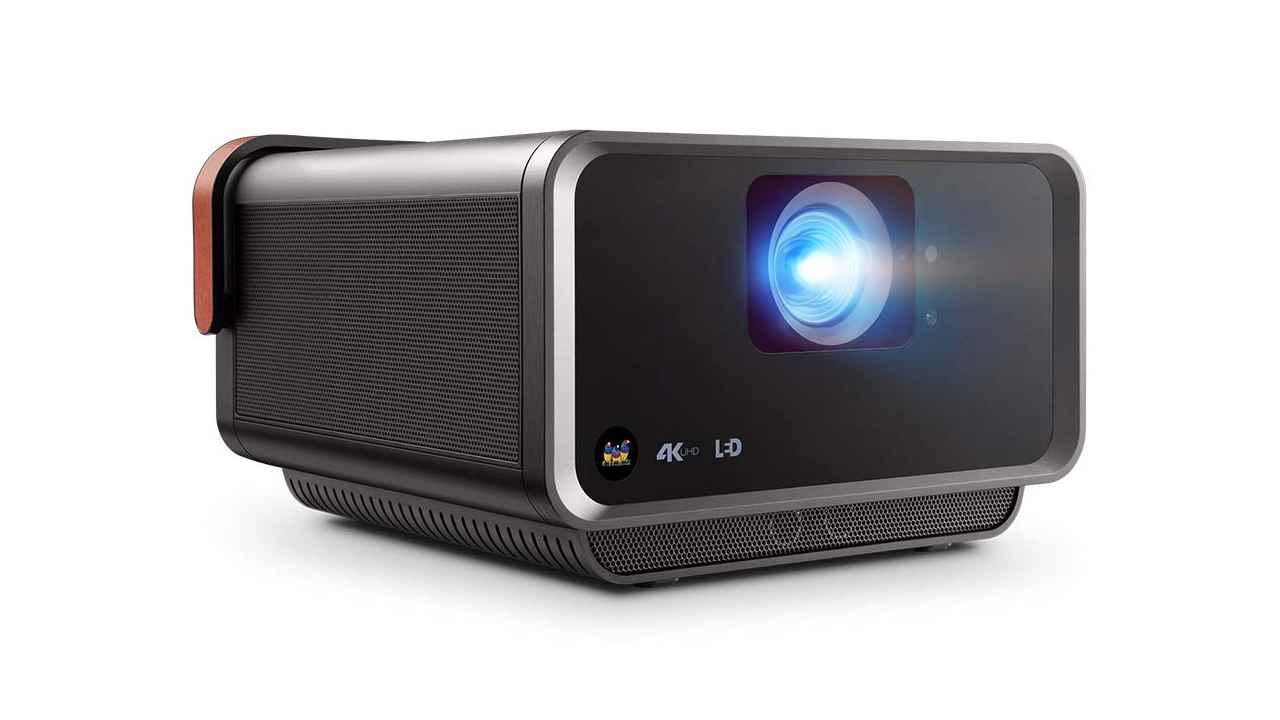 As a resolution, 4K is quite mainstream today. While there was a time when 4K content was hard to find, today, it is available on practically every streaming app and even YouTube. That's the reason why projectors supporting 4K resolutions are also increasing in number. Even if you're looking for one just to help you work better, a higher resolution can make your work more enjoyable as well. Here are some 4K projectors available on Amazon that you can pick for their impressive specifications and power features.
ViewSonic X10-4K
With a short-throw ratio of 0.8, the ViewSonic X10-4K can deliver great visuals even at a small distance from the projection screen. Its built-in Harman Kardon speakers ensure balanced and impactful audio for all your needs. Ensure the best clarity during your presentations with 4K UHD LED technology. The model also features voice controls for easy operations. It uses frame interpolation technology to reduce motion blur and deliver smooth transitions and more. With 12GB of available storage on the projector, you will have ample space to store your top movies and shows. The model promises a small input lag of 66ms, making all your actions reflect near-instantaneously.
BenQ TK850
The BenQ TK850 projector comes with HDR Pro technology for impressive colour performance. When combined with its large projection size, this makes for a highly immersive visual experience. Apart from your work, the model also packs features specifically designed for sports fans like custom sports audio and image modes. Using MEMC technology, it also aims for lag and blur-free action scenes. Its visuals are backed by features like Cinema-Optimized Tone Mapping with Dynamic Iris and Dynamic Black technology, leading to great contrast in its output. The design uses a 10-element, 8-group lens structure that aims for greater light penetration for higher visual intensity.
Optoma CinemaX P2
With Rec. 709 Color Gamut Coverage, the Optoma CinemaX P2 promises a wider colour range with more realistic results. Its six-segment colour wheel design also improves brightness and contrast, also aided by its HDR10 support. To ensure stutter-free scenes on low-framerate content, the CinemaX P2 uses PureMotion technology. Its short-throw capabilities allow you to enjoy a screen size of up to 120inches from a short distance. Dolby Digital 2.0 support certifies the model's sound quality for your audio content. The speaker setup includes two full-range speakers, two woofers, ported chambers and a combined output of 40W for powerful and detailed results.
ViewSonic PX747-4K
The ViewSonic PX747-4K features a high brightness of 3500 Lumens, making every scene vivid and clearly visible. It uses DLP XPR technology from Texas Instruments to upgrade your visuals to a quality that is UHD certified by the Consumer Technology Association in the United States. The model also features HDR compatibility, making it capable of projecting scenes with rich contrast and accurate colour reproduction. This is further enhanced by ViewSonic's SuperColour technology aimed at achieving a wider colour range for all content. The ViewSonic projector also allows for flexible installation with its 120% offset and vertical keystone correction. It utilises a pure glass lens for high volume light transmission, generating brighter visuals.