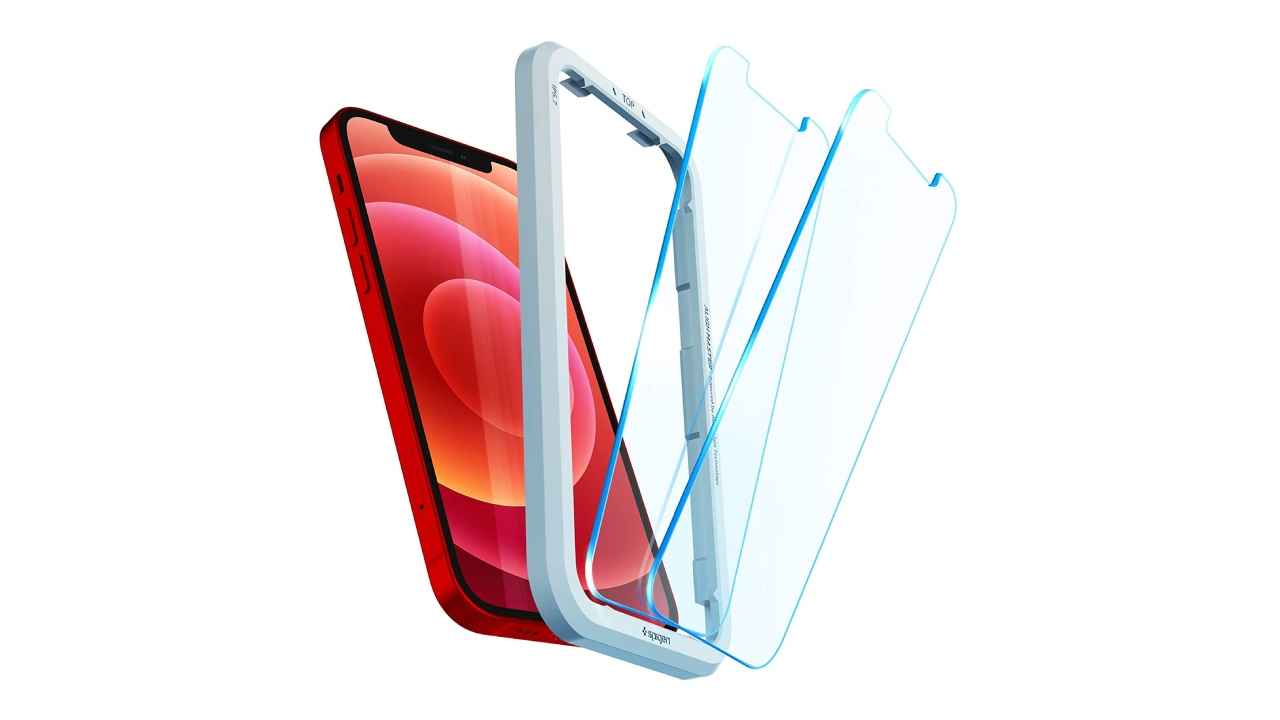 Every day, your iPhone's screen has to face dust, oily fingerprints, and more. As long as your iPhone's screen remains exposed to the outside environment, it will always stay susceptible to damage, and worse, breakage! To ensure your iPhone's screen is safe from every form of damage, you must consider equipping it with a tempered glass screen. Why? Well, by adding an extra layer of protection, your iPhone's screen would always remain safe from damage. Plus, most of them have multiple layers of coating, making them resistant against scratches and fingerprints. Since buying an accessory for any iPhone is always a big decision, you need to ensure that the tempered glass screen you buy for your iPhone 12/iPhone 12 Pro has the following features – stellar durability, easy installation, and crystal-clear clarity. Following are a few good options of tempered glass screens for iPhone 12 and iPhone 12 Pro on Amazon.
Spigen AlignMaster Tempered Glass
The Spigen AlignMaster Tempered Glass delivers exceptional durability, thanks to its 9H-rated hardness. Engineered with the latest auto-align technology, this tempered glass can be installed easily without any hassle. It features an additional oleophobic coating and ensures optimal resistance against scratches and oily fingerprints. Coming along with a total of 6 reinforced layers (release film, silicone resin, PET base, OCA layer, tempered glass, and anti-dust nano-coating), the Spigen AlignMaster Tempered Glass has been crafted for maximum protection. Plus, it has been designed to be compatible with all Spigen cases, eliminating the chances of bubbles. Apart from these features, it also boasts a responsive touch, crystal-clear precision, and fail-proof installation.
Affix Glass Screen Guard
The Affix Glass Screen Guard comes along with an auto-align technology frame, wet and dry wipes, and a dust absorber, making sure that you have an easy installation experience. Its outermost layer is covered with an advanced oleophobic coating. This means resistance against oily fingerprints and dust! It has achieved a rating of 9H in terms of hardness, which makes it tough enough to withstand daily wear and tear! The most common problem with the self-installation of tempered glass was the occurrence of bubbles. The Affix Glass Screen Guard has eliminated this problem once and for all, making it virtually bubble-free. In addition to these specs, it also provides seamless compatibility with most cases.
Popio Tempered Glass
The Popio Tempered Glass is available with a nano primer coating that provides excellent adhesive strengthening and chemical resistance against scratches and corrosion. With 99.9% transparency, it paves the way for a natural viewing experience. It has been designed with Japanese glue, which helps ensure a clean and bubble-free installation. Featuring 2.5D round edges at every corner, the Popio Tempered Glass can attach itself perfectly along the curve of your iPhone. This tempered glass offers superior strength, thanks to its dual force aluminosilicate armour glass, which can endure rough conditions. It also comprises bending efficiency, which makes sure full coverage takes place.
OpenTech® Tempered Glass
The OpenTech® Tempered Glass has a stellar hardness of 9H for optimal protection against any possible damage. It comes furnished with high-precision, laser-cut, 2.5D rounded edges. This translates to a perfect fit! Moreover, as it has HD clarity, you would be able to use your iPhone without even realising that there is an added layer on your screen. With an oleophobic screen coating, the OpenTech® Tempered Glass would also protect your iPhone against sweat, oil, and water. This tempered glass can also be installed without any hassle, owing to its cutting-edge adhesive that prevents bubbles.