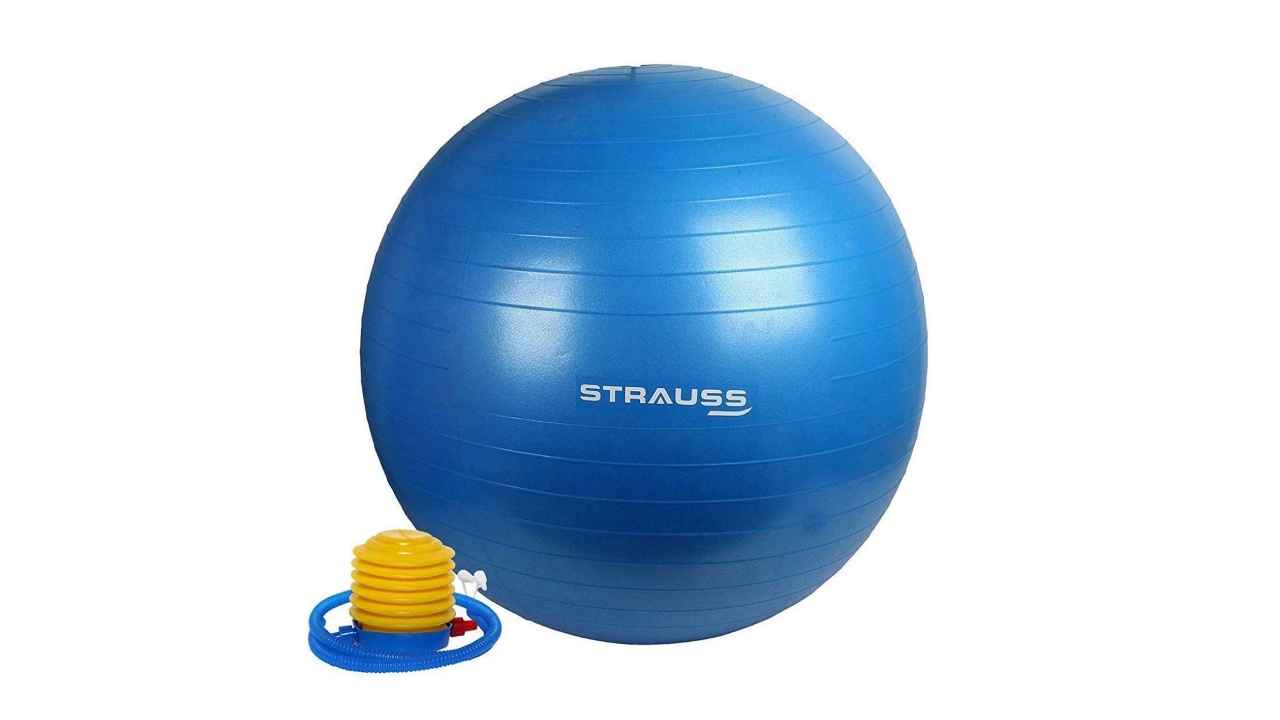 Over the past few years, stability gym balls have become really popular, and all for the right reasons! They expose your body to a wide range of movement, paving the way for enhanced flexibility, improved balance, and a strengthened core. So, if you are looking for ways to elevate your workout, stability gym balls should definitely be a part of your fitness regime! In case you are shortlisting the best stability gym balls, you might want to keep a couple of things in mind. This includes going for only those variants that offer a foot pump for relatively easier inflation. Plus, finalizing only that model that comes with great stability and superior-quality rubber. Following are a few good options of stability gym balls on Amazon that you can use to elevate your workout:
Strauss Gym Ball
The Strauss Gym Ball has been designed using explosion-proof technology, which means if the ball gets pierced by a sharp object, it won't explode. Instead, it would deflate slowly, ensuring optimal safety and protection. The ball's surface comes with an anti-slip material that makes sure you don't slip while working out. It is extremely versatile as it can be used for multiple reasons, including improving your strength, balance, posture, flexibility, or stamina. Coming with a foot pump, the Strauss Gym Ball is easy to inflate and use. Apart from these features, the stability ball also boasts a durable PVC material and an extra-thick surface for added comfort.
KWT Exercise Gym Ball
The KWT Exercise Gym Ball would be a great addition to your home exercise equipment since it would help improve your core, sculpt your shoulders, arms, hips, and other muscle groups. Featuring an extra-thick, professional quality, and non-toxic material, this stability gym ball provides a lot of comfort. Moreover, as it has horizontal ribs contoured all around it, you could easily hold it without slipping! Equipped with high-density material and anti-burst technology, the KWT Exercise Gym Ball has a weight tolerance of up to 270 kilograms! It also helps you save time and energy, thanks to its quick inflation foot pump that comes along with it. The ball can be used for a plethora of activities, such as pilates, yoga, back, and abdominal training, making it a versatile piece of equipment.
ZOSOE Exercise Gym Ball
The ZOSOE Exercise Gym Ball has horizontal ribs throughout its body, which make it easier to hold the ball while tossing, bouncing, or squeezing it. Since it is made of high-density and BPA-free materials, this gym ball isn't only great for your workout but also for the environment! It has a great weight tolerance of up to 270 kilograms, making it suitable for most fitness freaks out there. As you can inflate it seamlessly with the provided foot pump, you won't have to spare a lot of effort in preparing it for your workout. In addition to these features, the ZOSOE Exercise Gym Ball also offers anti-burst technology and an anti-slip surface.
Boldfit Gym Ball
The Boldfit Gym Ball has a slip-free textured surface that increases your stability and helps prevent workout failures. This is supplemented with an anti-burst technology that further promotes safety and protection. Coming along with a thick material that enhances its overall durability and comfort, the Boldfit Gym Ball has left no stone unturned to make your workout pleasant and comfortable! With a broad base of 65 cm, the Boldfit Gym Ball can seamlessly adjust to heavy body weights, making it perfect for heavy exercises. Its other noteworthy features are a high-quality, PVC-based body, a resistance of up to 150 kilograms, and easy inflation.