The Samsung Galaxy S8 was one of the most stylish smartphones of 2017. The phone was launched with a 5.8-inch edge-to-edge AMOLED display and a thin design. Exactly after a year, the Samsung has launched its successor the Galaxy S9, which carries almost the same design as the Galaxy S8 but brought some improvements in compared to its predecessor. So, let's just start with a quick spec comparison to see what's different and the new company came up with, this time.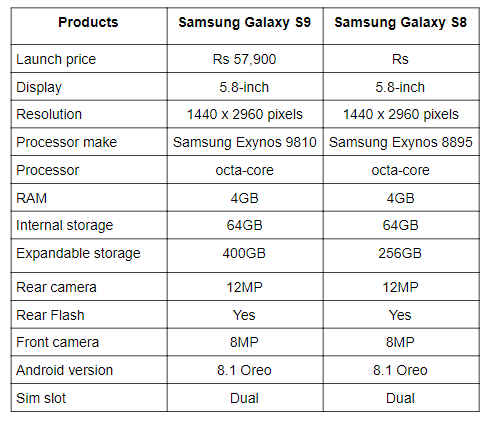 Display
Both Samsung Galaxy S9 and S8 sports a 5.8-inch AMOLED display that offers a resolution of 2960 x 1440 pixels. The display is quite impressive as it would be a great experience for users to watch videos or movies in their smartphone. There is no difference between the two when it comes to a resolution or size but there is a bit of difference in their brightness level as the Galaxy S9 display is brighter than its predecessor.
Processor and memory
The Samsung Galaxy S8 is powered by an Exynos 8895 octa-core processor, which is coupled with 4GB RAM and 64GB internal memory that is expandable to up to 250GB via a microSD card. On the other hand, the Samsung Galaxy S9 is powered by an Exynos 9810 octa-core processor, which is faster than the Exynos 8895 in Galaxy S8. The phone packs 4GB RAM and 64GB internal memory, same as the Galaxy S8. However, its internal memory can be expanded to up to 400GB via a microSD card, wherein the Galaxy S8 it is expandable to up to 250GB only.
The Samsung Galaxy S9 is available in three storage models - 4GB/64GB, 4GB/128GB and 4GB/512GB variants.
Cameras
The Biggest and the most crucial update is according to me made by the company in the rear camera.
The 12MP "dual aperture lens" in Galaxy S9 allows you to shift from F 2.5 to F 1.5, which automatically adapt to different lighting conditions as well. As per the company, it helps in clicking better photos in low light conditions. It also has a Pro Mode that lets you set everything manually and comes with a super slow Mo that lets you shoot videos at 720P till 6 seconds.
At the front, the phone has an 8MP sensor same as the Samsung Galaxy S8. on the other hand, the Samsung Galaxy S8 comes with a 12MP unit at the back with an 8MP sensor on the front.
Key differences
Samsung has fixed its mistake and placed the fingerprint sensor right below the back camera like any other smartphone in the market.
The Samsung has finally caught up with Apple's "Animoji" feature as the company introduced "AR Emoji" in its Galaxy S9, which allows you to create an avatar of yourself and send people for fun.
Price
The Samsung Galaxy S9 base 4GB/64GB model is available for Rs 57,990 in India, while you can get the Samsung Galaxy S8 at Rs 39,709 on Amazon. The Galaxy S9 is also available in 4GB/128GB, and 4GB/256GB model