Today, we are comparing the RealMe C1 with the RealMe 2 too see the difference between the two.
A few months back, Oppo's sub-brand RealMe has launched two new budget smartphones in India, the RealMe C1 along with the RealMe 2. The RealMe C1 features an HD+ display and comes with a Qualcomm Snapdragon 450 processor. The smartphone is priced at Rs 7,999 in India. On the other hand, the RealMe 2, which was launched at the same time as the RealMe C1 and is powered by the same Qualcomm Snapdragon 450 processor comes at a slightly higher price. So, let's start with a quick comparison between the two devices.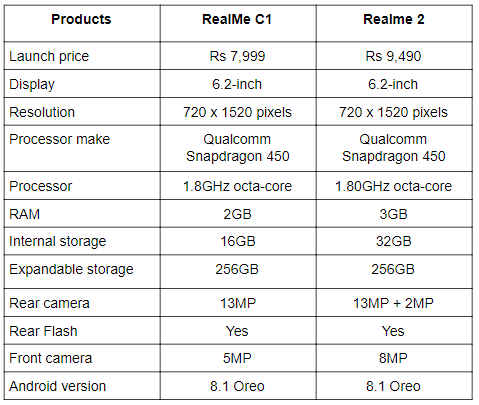 Starting with comparing the display of these two smartphones in detail. The RealMe C1 sports a 6.2-inch display that offers a resolution of 720 x 1520 pixels. On the other side, the RealMe 2 also comes with a 6.2-inch display and offers the same resolutions as the RealMe C1.
When it comes to the processor, both the RealMe C1 and the RealMe 2 is powered by a Qualcomm Snapdragon 450 octa-core processor. However, the RealMe C1 packs a 2GB RAM and 16GB internal memory, while the RealMe 2 is equipped with 3GB RAM and 32GB internal memory.
As far as the cameras are concerned, if you're particularly looking for a smartphone that should have a dual camera setup then the RealMe 2 might fit the bill. The RealMe 2 comes with a dual 13MP + 2MP rear camera along with an 8MP unit on the front. Coming to the RealMe C1, it has a 13MP sensor at the back along with a 5MP unit on the front.
The RealMe C1 is available in India at a price of Rs 7,999, while the RealMe 2 is available on Flipkart for Rs 9,490.