The Meizu is all set to launch its Meizu C9 on December 5 at Amazon. The smartphone features a face unlock and 5.45-inch HD+ display. The phone is equipped with a 13MP camera at the back with an 8MP unit on the front. On another side, we have the RealMe C1, which comes with a Qualcomm Snapdragon 450 octa-core processor and features an HD+ display. The smartphone is available in India at Rs 7,999. So, let's do a quick specification comparison to see which smartphone offers the best value for your money?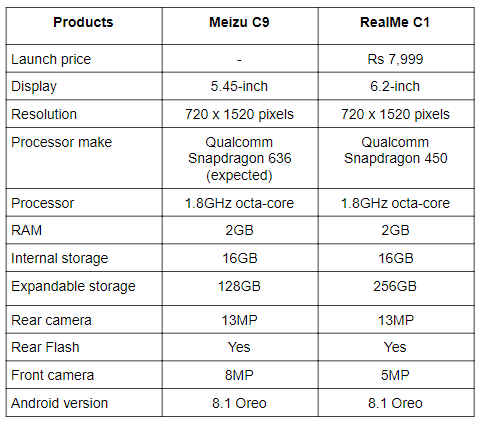 Let's begin with comparing the display of these two smartphones. The Meizu C9 sports a 5.45-inch display that offers a resolution of 720 x 1520 pixels. On the other hand, the RealMe C1 sports a slightly bigger 6.2-inch display that offers the same resolution as the Meizu C9. so, if you're looking for a smartphone that should have a bigger screen then the RealMe C1 might fit the bill.
When it comes to the performance, the Meizu C9 is expected to feature a Qualcomm Snapdragon 636 processor. However, it has not been officially confirmed by the company yet. On the other hand, the RealMe C1 is powered by a Qualcomm Snapdragon 450 octa-core processor.
As far as the cameras are concerned, both devices come with a 13MP rear camera. At the front, the Meizu C9 sports an 8MP unit, while the RealMe C1 comes with a 5MP sensor.
The Meizu C9 will launch in India on December 5 and will be an exclusive Amazon product. On the other side, the RealMe C1 is priced at Rs 7,999 in India.