Is the Apple's latest base variant iPhone XR an upgrade over the iPhone X or is it better to stick with what you have? Let's find out.
This year, Apple has launched three new smartphones iPhone XS, iPhone XS Max and iPhone XR among, which the iPhone XR is the most reasonable variant. The Phone carries almost the same design as the last year's Apple flagship device iPhone X. Apple has made several changes in its high-end models such as iPhone XS and XS Max. However, it would be interesting to see whether the new iPhone XR is worth spending money on if you already own an iPhone X or in case you are not sure which one to buy?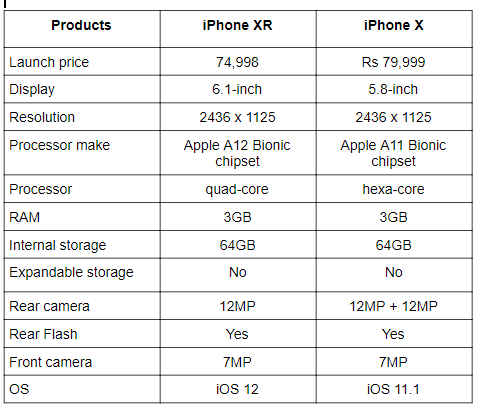 The iPhone XR sports a slightly bigger 6.1-inch display that offers a resolution of 2436 x 1125 pixels, while the iPhone X comes with a 5.8-inch display that offers the same resolutions as the iPhone XR.
When it comes to the processor, the iPhone XR is equipped with the latest Apple A12 Bionic chipset, while the iPhone X is powered by an Apple A11 Bionic chipset. Talking about the RAM, both smartphones come with 3GB RAM. However, both smartphones are available in 128GB and 256GB variant.
When it comes to the cameras, the Apple is offering only a single 12MP unit at the back with a 7MP sensor on the front in iPhone XR. On the other hand, if you opt for an iPhone X then you'll get a dual 12MP rear camera with a 7MP front shooter.
The iPhone XR 3GB/64GB variant is available in India for Rs 74,998, while the iPhone X 3GB/64GB model is now available on Amazon for Rs 79,999 down from its MRP of Rs 91,900.