Vostro 3501
Popular tech to stay connected anywhere. Save more on exciting Dell PCs.
Click here to know more
Advertisements
The Huawei has finally launched its Mate 20 Pro in India on November 26. The smartphone features a triple 40MP + 20MP + 8MP rear camera and comes with a 6.39-inch display. On the other hand, we have the P20 Pro, which was the first smartphone by Huawei to feature a triple camera set up at the back. So, let's begin with a quick specification comparison to know which one is the best buy for you?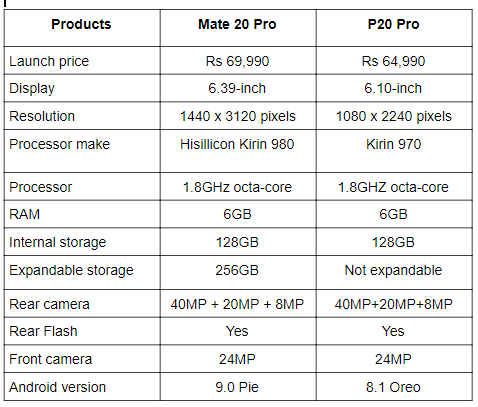 Let's begin with comparing the display of these two premium devices in detail. The Huawei's Mate 20 Pro comes with a 6.3-inch display that offers a resolution of 1440 x 3120 pixels. On the other side, the Huawei P20 Pro sports a 6.10-inch display with a resolution of 1080 x 2240 pixels. If you're looking for a smartphone with a bigger screen size then the Huawei P20 Pro is the one, which comes with a slightly bigger display. However, the Mate20 Pro offer better resolutions than the P20 Pro.
When it comes to the performance, the Huawei Mate 20 Pro is powered by a Kirin 980 octa-core processor, while the Huawei P20 Pro is backed by a Kirin 970 processor.
As far as the cameras are concerned, both devices come with a triple camera set up at the back. Both Mate Pro and P20 Pro features 40MP + 20MP + 8MP triple camera set up at the back along with a 24MP unit on the front.
The Mate 20 Pro runs on the latest Android 9.0 Pie, while the Huawei P20 Pro comes with Android 8.0 Oreo. The Mate 20 Pro is starting from Rs 67,999 in India, while you can get the P20 Pro for Rs 69,990.