Today, we are comparing the Nokia 5.1 Plus with the Motorola One Power to compare which Android One device has better specifications than the other?
Recently, The Motorola has launched its first ever Android one smartphone in India Motorola One Power. The smartphone comes with a 6.2-inch FHD+ display and has a dual rear camera setup as well. On the other hand, the Nokia 5.1 Plus, which is also a part of Google's Android one Program comes with a notch on top of the display and is priced at Rs 10,999. Let's compare the specification of these devices to see which Android One device packs a better hardware under its hood.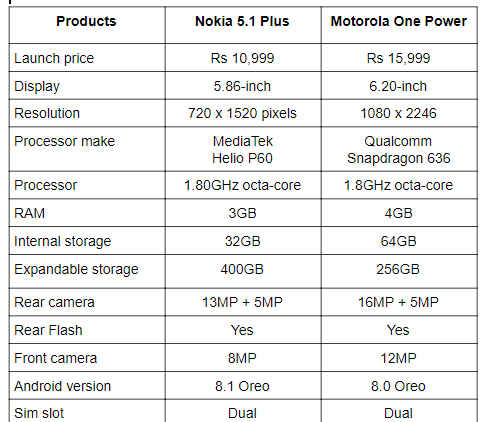 The Motorola One Power sports a bigger display as it has a 6.20-inch screen, while the Nokia 5.1 Plus comes with a 5.80-inch display. Besides that, the Motorola One Power also offers a better resolution as it comes with a 1080 x 2260 pixels in comparison to the Nokia 5.1 Plus, which offers a resolution of 1560 x 720 pixels.
Coming to the processor, the Nokia 5.1 Plus is powered by a MediaTek Helio P60 octa-core processor, which is paired with 3GB RAM and 32GB internal memory. On the other hand, the Motorola One Power is backed by a Qualcomm Snapdragon 636 processor with 4GB RAM and 64GB internal memory. When it comes to the cameras, the Motorola One Power features a dual 16MP + 5MP camera set up at the back with a 12MP unit on the front. The Nokia 5.1 Plus also have a dual 13MP + 5MP rear camera with an 8MP on the front.
Overall, the Motorola One Power looks better on paper in comparison to the Nokia 5.1 Plus. However, one should keep in mind that the Nokia 5.1 Plus is pretty much cheaper than the Motorola One Power as the device is priced at Rs 15,999 in India, while the Nokia 5.1 Plus is priced at Rs 10,999