Working from home?
Don't forget about the most important equipment in your arsenal
Click here to know more
Samsung has confirmed two separate battery defects as the cause for the infamous Galaxy Note 7 catching fire. The company confirmed the announcement in a press conference earlier today.
Samsung announced the Galaxy Note 7 flagship smartphone back in August, 2016 as an attempt to get a head start over Apple's iPhone 7 launch in September. The smartphones started overheating, and eventually the batteries caught fire. Samsung says the cause for the Galaxy Note 7 fire issue was due to a design flaw in the battery. The company says the external casing for the battery was too small to accommodate the components leading to a short-circuit.
Post that issue, Samsung stopped sales of the Note 7 and announced a replacement Galaxy Note 7 smartphone with green battery indicators. The batteries were sourced from different supplier this time, but even the replacement Galaxy Note 7s starting overheating and catching fire. The company says the second battery didn't have design flaws but had a manufacturing defect. In an infographic, Samsung notes that some of the second batteries had missing insulation tape.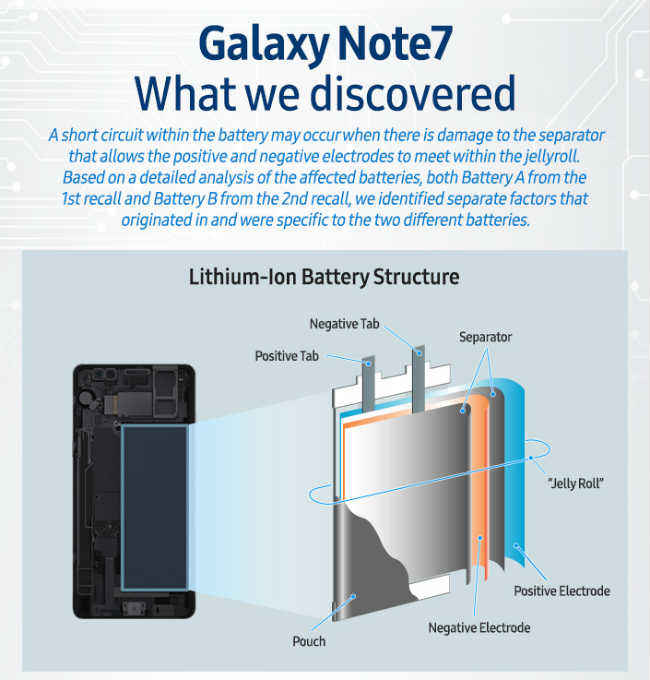 "For the last several months, together with independent industry expert organizations, we conducted thorough investigation to find cause to the Galaxy Note 7 incidents. Today, more than ever, we are committed to earning the trust of our customers through innovation that redefines what is possible in safety, and as a gateway to unlimited possibilities and incredible new experiences," Koh said, DJ Koh, President of Mobile Communications Business, Samsung Electronics said in a press statement.
In order to ensure the issue is not repeated with future smartphone launches, the company is introducing "multi-layer safety measures and 8-Point Battery Safety Check" as part of its product evaluation. In the press conference, the company said it aims to detect faulty batteries early on and deploy new computational methods for detection of failure.
With this announcement, Samsung has put the mystery behind Galaxy Note 7 issue to rest but the company will have to earn the trust and confidence of consumers all over again with its next big product launch. Samsung is also delaying the launch of the Galaxy S8 in order to ensure the batteries are thoroughly tested for safety and usability.