Realme confirmed the launch of Realme Pad, its first tablet. The tablet is expected to come with a 10.4-inch AMOLED panel & a 7,100 mAh battery. Realme is expected to launch the tablet in the coming month.
Realme gave us our first official look at its upcoming Realme Pad during the launch of the Realme GT series phones and the Realme Book laptop here in India. While the company didn't share much info about the tablet or the launch date, it did confirm that it will come with an AMOLED panel.
Now, a tipster has confirmed a few key specifications of the tablet, giving us a better understanding of what to expect. According to the leak coming out of China, the Realme Pad will feature a 10.4-inch AMOLED panel and it will be powered by a 7,100mAh battery. Additionally, the tablet is said to be equipped with a single camera on the back.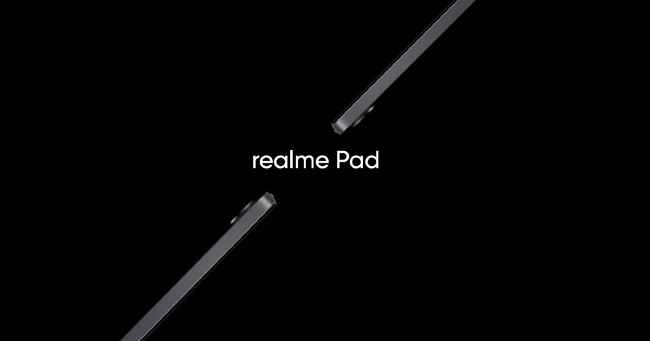 Similar to Apple's iPad Pro tablets, the Realme Pad is said to come with a quad-speaker setup. The design of the tablet also seems to be heavily inspired by the iPad, but we'll reserve judgments for later.
The Realme Pad tablet is shaping up to be a very interesting tablet. Some previous reports had also suggested that it will come with an 8-megapixel camera at the back and will have at least 6GB of RAM along with 64GB of storage. We don't know what kind of processor Realme is planning on using here, so it's hard to tell if the tablet will support 5G connectivity.
It's also being speculated whether the Realme Pad will come with support for the stylus. So there's a lot that we still don't know about the Realme Pad tablet, but we think we'll find out more about the tablet in the coming month. Realme hasn't shared any info about a possible launch date for this tablet too, but rumour has it that they're planning to bring this to the market next month.
We'll try to bring a detailed comparison of the Realme Pad with other tablets in the market when it comes out but in the meantime, we suggest you take a look at their new Realme GT series smartphone and the new Realme Book (Slim) laptop.
Tags:
realme
realme pad
realme pad launch date
realme pad specifications
realme pad price in india
realme pad display
realme pad leak