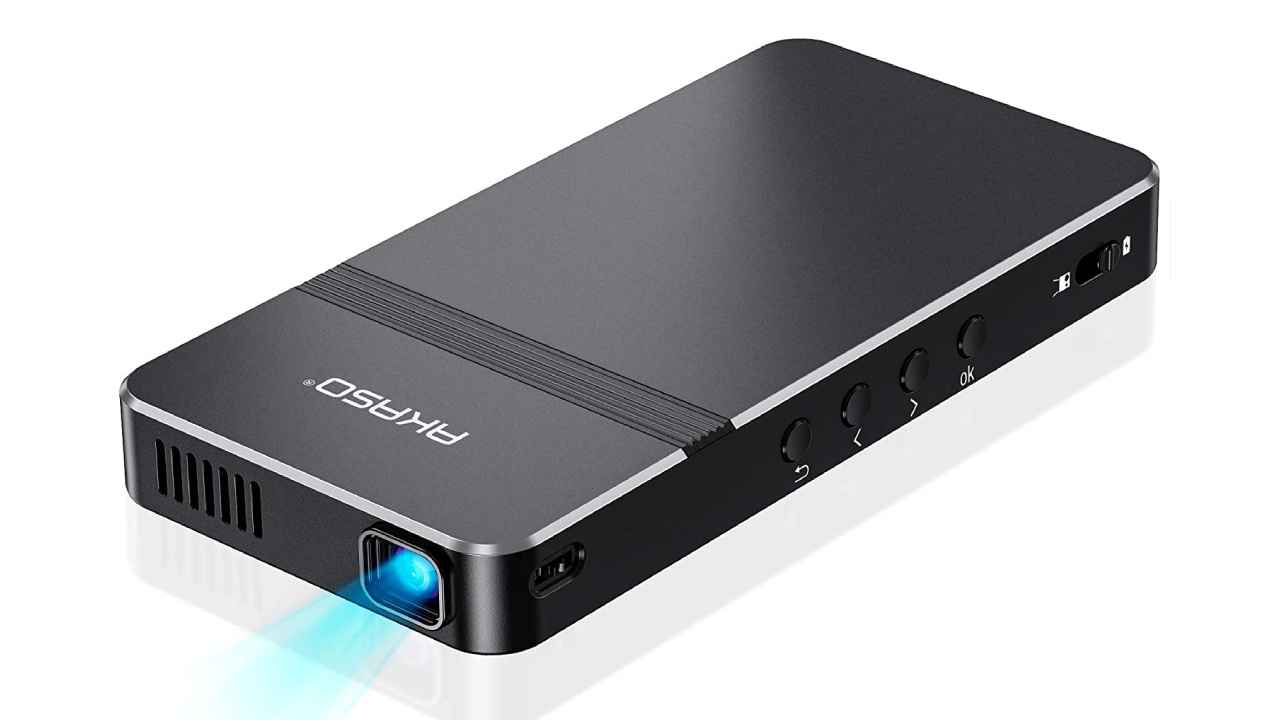 No matter where you are located, being deprived of your daily dose of entertainment is cruel. A mini-sized projector will help you overcome this hurdle as it is portable and convenient to use. Check this list of pocket-sized mini projectors that can substitute small TVs and are available on Amazon.
Kodak Ultra Mini Portable Projector
Kodak Ultra Mini Portable Projector can reproduce 16.7 million colours and has 1 W speaker. The product is compatible with most popular entertainment devices, namely, PCs, laptops, smartphones, etc. Connectivity options include a 3.5mm audio jack and integrated HDMI, USB and MicroSD ports. It works on a simple plug and play principle that requires no prior instalments. It offers a maximum screen size of 100 inches, a contrast of 1300:1, a 640 x 360 resolution and a two-hour playback on a single charge. It has a compact digital design and is a decent performer.
AKASO Portable Pico Projector
AKASO Portable Pico Projector is compact and lightweight, tipping the scale at just 0.46 lb. It is ideal for outdoor activities, as well as indoor presentations and gatherings. The product has a wireless and wired screen sharing option and a built-in 4000mAh battery that allows for 150 minutes of playtime on a single charge. This movie projector is compatible with various devices such as smartphones, PS3 and 4, Xbox One and others. Connectivity options include USB, HDMI, AV, and Micro SD connectivity. The RGB LED lights have a service life of up to 30,000 hours, offering a long use time. It is a reliable product with good audio and video quality.
ASUS 55W LED Projector
Weighing nearly 2 lb, the ASUS 55W LED Projector is an energy-saving and environmentally friendly projector that will be easy on the eyes. The high-resolution LED Projector has 1000 lumens LED light source and a 1000:1 contrast to offer a rich visual experience. It is a multi-purpose projector as one can enjoy a movie or play a game or view some pictures using it. The mini projector is suitable for travelling, camping, outdoor parties, family gatherings, etc. It supports MHL Input. It supports both manual and automatic keystone adjustment. It has an in-built speaker and a decent set of connectivity options. The projector can be easily scaled up or down from its 120-inch true to life projections.
ViewSonic M1 Mini Portable Projector
ViewSonic M1 Mini Portable Projector measures only 4 x 4 inches, can project in WVGA (854x480p) resolution and has 1080p support to deliver good picture quality. Additionally, swappable projector panels are included, letting the users change the colour of the projector. It has an integrated JBL speaker that delivers good sound in a small package. The smart stand enables easy placement of the projector in a variety of positions and angles. The smart stand also doubles as a lens cover. It has a plug and play model as a USB port can be connected for wired connections with other devices. The projector has a battery life of 2.5 hours and can be easily charged using power banks. The product has a brightness of 120 Lumens, and the optical zoom is fixed.