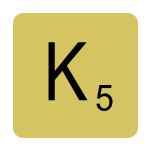 Whether you use "badware," "vlog," and "pharm" in real life, rest assured they're words - in Scrabble. As are "MySpace" and "Facebook," defying the traditional rules of the game.
The most recent edition of the Collins Official Scrabble Words dictionary was released this week, and the 3,000 words added to the new edition contains several entries from the tech world, including those that don't get used all that often.
What's a "blook"? A book serialized on a blog roll, according to Collins. I had to look up "splog" (a spam blog, which the author uses to promote affiliated Web sites, according to Wikipedia) and double-check that "scrobble", the term that Last.fm uses to report to the service the names of the songs you're listening to. "Pharm" isn't a nickname for "pharmaceutical," but a hack to redirect a Web site's traffic to another for purposes of profit.
Other generic tech terms include "wiki" and the already-approved "blog," plus a derivative, "vlog". "Badware," "fansite," "webzine," "inbox," and "darknet" all made it, too.
And then there are the two social networking firms: MySpace and Facebook, which are now approved terms as well.
Collins claims it's the authority on Scrabble, serving as the "essential reference for all Scrabble players". But the
official rules
, of course, prohibit the use of capitalized words.But that comes with a caveat.
"Before the game begins, all players should agree upon the dictionary that they will use, in case of a challenge," Hasbro, the owner of the license to Scrabble within the U.S., writes. "All words labeled as a part of speech (including those listed of foreign origin, and as archaic, obsolete, colloquial, slang, etc.) are permitted with the exception of the following: words always capitalized, abbreviations, prefixes and suffixes standing alone, words requiring a hyphen or an apostrophe."
[RELATED_ARTICLE]Also joining the ranks: "grrl," or "grrrl," describing a rough-and-tumble female or female punk; "thang," "innit," "biach," "blingy" and - believe it or not - "punanny," which you can look up yourself.
"Qin," a Chinese zither, was also added, adding another word (besides "qi" that includes a "q" but does not require a "u". Other words that had previously been excluded but have now been added include "heatwave," "catflap," and "pushbike".
Not sure if a word is legitimate or not? Check it yourself, with the Collins widget below - which at press time, needed to be updated with the new dictionary! Copyright © 2010 Ziff Davis Publishing Holdings Inc.