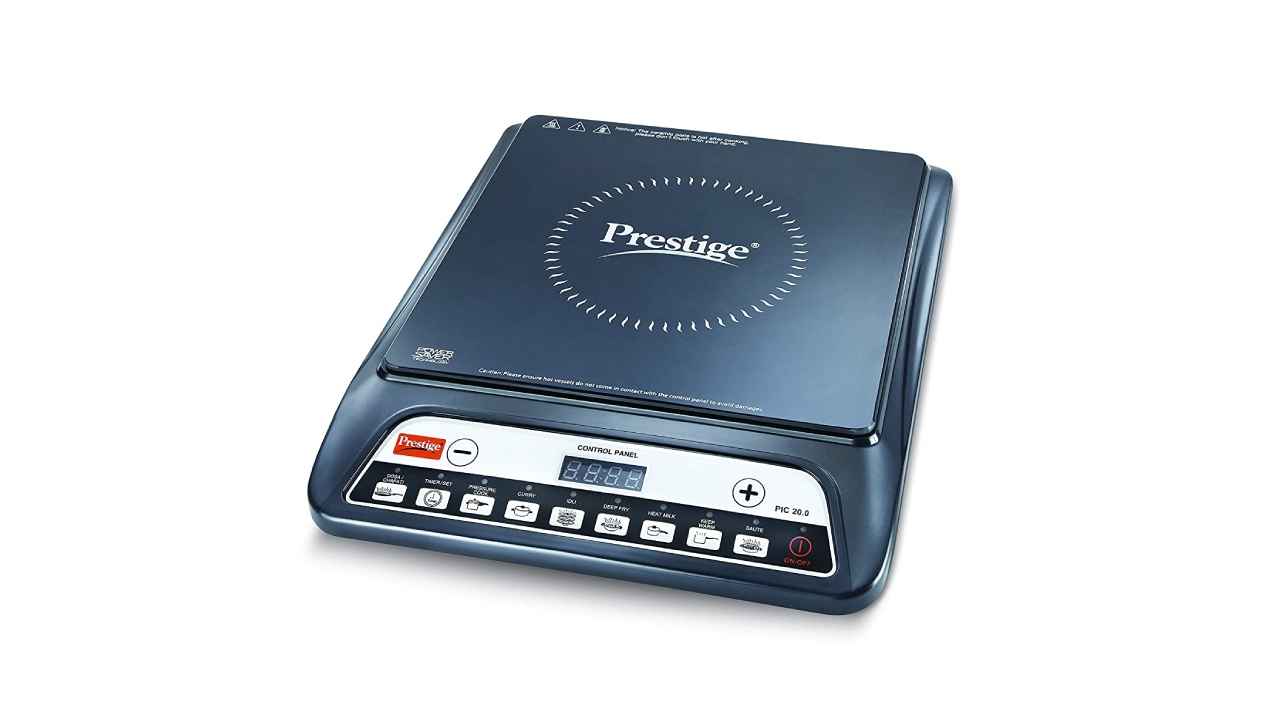 The beauty of Indian dishes is the different flavours in food items along with the techniques used in making them delicious. Idlis and dosas are among such popular Indian dishes that are often used as breakfast snacks or even in lunch and dinner by many. You must already have your favourite food joint that sells the best idlis and dosas, but what if you can make them effortlessly at your home? It is very much possible with the help of induction cooktops that come with the preset idli and dosa menus so that you can cook your favourite snacks at home. With preset menus, these cooktops allow you to set the right temperature and timing required to cook these dishes. Below are some of the top induction cooktops with idli and dosa presets that you can find on Amazon!
AmazonBasics Induction Cooktop
This AmazonBasics Induction Cooktop operates at a low sound of 62 dB and allows you to cook in complete peace. It has a Micro Crystal Glass induction surface and comes with a push-button operation that makes it easy and convenient to use. With multiple safety features like auto standby when there is no pan on the cooktop, residual heat indicator, and fan for auto cooling, this induction cooktop gives you a completely safe experience while cooking. It has six preset options that can handle versatile Indian cooking styles to cook dishes like dosas and idlis at home.
USHA cook joy induction cooktop
One of the important aspects to consider when buying an induction cooktop is the safety features that are important to ensure safe use, and this USHA cook joy induction cooktop comes with just that. It is equipped with a pan sensor technology that detects incompatible vessels and stops the heat automatically for a completely safe experience. Another safety feature that the cooktop includes is the overheat protection that allows the induction cooktop to automatically shut off if the cooktop heats too much. It comes with anti-skid feet that give this cooktop a stable base and prevent it from slipping or skidding. The 5 preset Indian menus include idli, dosa, curry, tea, and deep fry, allowing you to have your favourite snacks at home.
Prestige PIC 20 Induction cooktop
This Prestige PIC 20 Induction cooktop comes with anti-magnetic walls that block magnetic radiations and keep your food healthy and free from any hazardous radiations. It comes with Indian menu options that assist you in cooking authentic Indian food of your choice with a touch of a button. The cooktop features intelligent power and temperature adjustments based on the food being cooked. As the cooktop offers direct heating, it makes for an energy-efficient product and prevents the wastage of energy. The flame-free heating makes it environmentally friendly. It also comes with a lightweight and portable design that makes it travel friendly so that you can carry it anywhere with you. The cooktop has a flat and smooth surface that can be easily cleaned and thus makes the cooktop easy to maintain.
Pigeon By StoveKraft ABS plastic Acer plus induction cooktop
This Pigeon By StoveKraft ABS plastic Acer plus induction cooktop comes with a feather touch control that makes it easy for you to operate the cooktop and makes it convenient to use. By operating at a power of 1800 watts, the cooktop gives a faster and more powerful performance. It comes with a preset timer that allows you to set the time of the cook and get a hands free cooking experience. This induction cooktop is an energy-saving product that saves up to 35% more energy than LPG cooking. It comes with preset idli and dosa menus which you can use to cook perfect idlis and dosas at home and have a fun snack time.