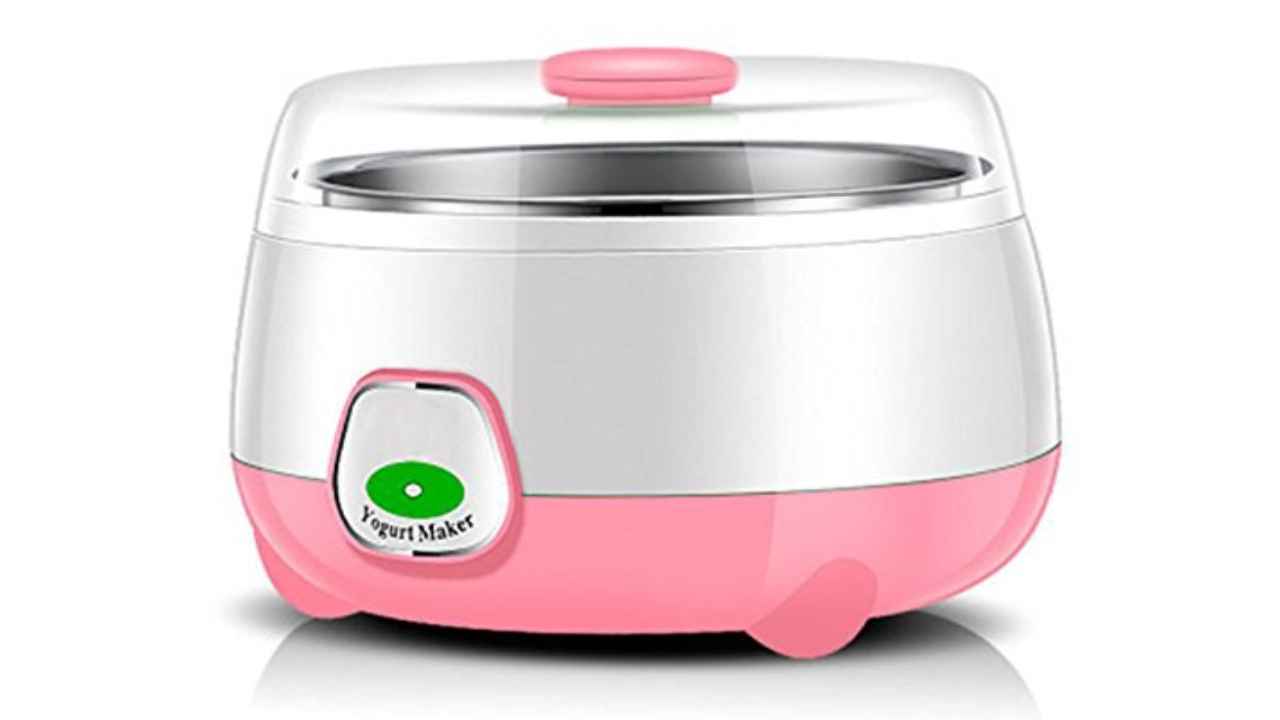 Yoghurt is a powerhouse of micronutrients, and that's without question. However, when you buy yoghurt from the shelves of retail stores, most of these nutrients are lost in processing. This is a primary reason for people shifting to making yoghurt at home. If you are planning to shift to homemade yoghurt and are looking for electric yoghurt makers, make sure that the one's you shortlist have a sturdy build. Moreover, only go for those models that come with robust temperature control. Following are a few good options of electric yoghurt makers on Amazon that can help you get delicious yoghurt in any weather conditions.
EuroCuisine Top Tier Yogurt Maker
The EuroCuisine Top Tier Yogurt Maker can help you make twice as much yoghurt at a time, making sure you never run out of it. Its second tier is a time-saving feature as it lets you create two batches quickly and efficiently. Each batch turns out to be firm and smooth with no water, ensuring you get quality yoghurt every time you operate it. Its non-electrical components are dishwasher-safe, which means you won't have to spend any time or effort cleaning it. Since it allows you to whip up yoghurt in multiple flavours at a time, the EuroCuisine Top Tier Yogurt Maker is a versatile appliance.
HSR Automatic Yogurt Maker
The HSR Automatic Yogurt Maker allows you to enjoy yoghurt in every weather. This temperature-resistant appliance comes with a milk bottle holder that enables you to warm milk for your kids quickly. Consuming only 15 watts of electricity and boasting a holding capacity of 1 litre, the HSR Automatic Yogurt Maker is both fashionable and practical. It features a unique seal-tight lid that allows you to store your yoghurt in the refrigerator for more than three weeks. Its body is PVC and BPA-free, which means it preserves the natural flavours and nutrients of the yoghurt. Moreover, as this electric yoghurt maker has dishwasher-safe components, you won't need to worry about cleaning them manually.
EuroCuisine Yogurt Maker
The EuroCuisine Yogurt Maker would enable you to enjoy your favourite yoghurt flavour at home with little to no effort. It can prepare up to seven different types of yoghurt in a single go, which makes this appliance both versatile and efficient. Its operational panel comes with an on-off switch, along with a light indicator unit that shows whether the appliance is working or not. All of its glass jars are dishwasher-safe, making sure you don't have to spend a lot of time and effort cleaning and maintaining them. Its body is BPA-free that prevents any additions of toxins, and ensures that the nutritional value of the yoghurt remains intact.
Dash Bulk Yogurt Maker
Thanks to its state-of-the-art technology and mechanism, the Dash Bulk Yogurt Maker can prepare probiotic-rich yoghurt at home. Featuring a compact and lightweight design, this electric yoghurt maker can adapt to any kitchen, even with limited countertop space. It allows you to prepare yoghurt from any kind of milk, making sure anyone and everyone can use it. All of its non-electrical components are dishwasher-safe, which means no need to clean them manually. With the Dash Bulk Yogurt Maker, you can make up to 1 litre of yoghurt at a time. This means you won't have to operate the appliance frequently, allowing you to get an uninterrupted supply of yoghurt!