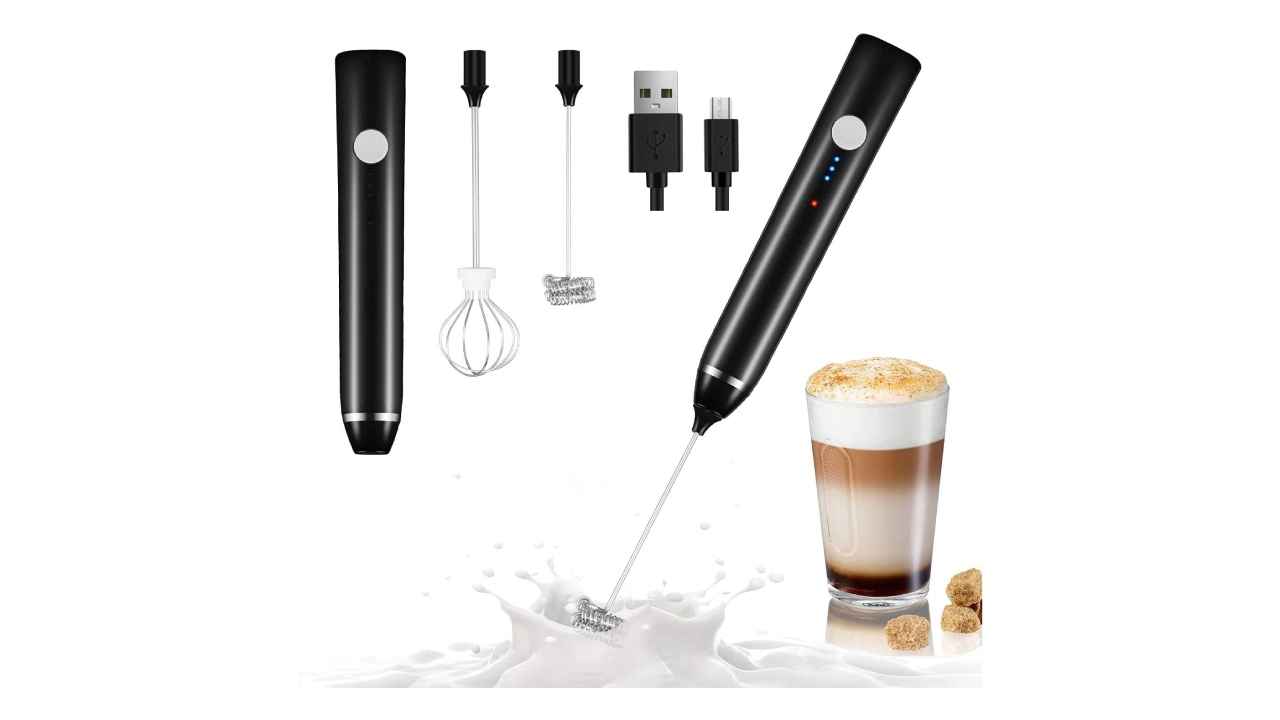 Since the pandemic, we have all grown used to making cafe style food and drinks at home. No matter where you reside, you must've tried making Dalgona coffee and cakes and realised the importance of owning the right kitchen tools. One such tool is a whisker, which can not only froth but also whisk eggs and lassi, thereby making it a great assistant for most of your kitchen adventures! Refer to the list below to lay your hands on some of the best electric whiskers available on Amazon!
WideWings Electric Whisk
This efficient whisker by WideWings can help you make a refreshing cup of coffee in no time! Its balloon whisk comes in handy when you want to bake a cake but don't have much time. Apart from making batter for cakes and other delicious desserts, the whisk can also be used to mix smoothies, milkshakes, or salad seasonings. With a click of a button, you can switch between the three speeds (low gear for eggs, medium to whip baby food and high to whip cream) available to get the desired amount of foam. It comes with a frother wand, a spring whisking head, a balloon whisking head and a USB charging cable. It is quite easy to clean the mixing heads, and these are quite durable, making this whisk a great investment!
InstaCuppa Electric Coffee Beater
This beater by InstaCuppa can come in handy if you love to drink coffee but don't have time to mix and froth for endless hours. It is a rechargeable beater (it has an in-built lithium-ion battery), so you don't have to head out to buy batteries now and then. You can connect it to a power bank or any other power source using a USB cable for charging. You can use this froth to make cafe style coffees at home and impress your guests in no time as it can produce creamy froth within 15 to 20 seconds (as claimed by the makers)! It comes in an elegant stainless steel design that adds to the beauty of your kitchen and makes this product durable. The beater is quite compact, trendy and travel-friendly, so you can enjoy your favourite latte, espresso or cappuccino without any restrictions!
RYLAN Handheld Electric Whisk
Here's yet another electric whisk that can help you froth milk, whisk eggs and do much more in a matter of minutes! The Rylan handheld electric whisk can create a creamy froth within 20 seconds (as claimed by the makers). It is a battery-operated gadget so that you don't have to run around to find a cord or a socket for a quick frothing or whisking session. The whisker features an elegant design and has a stainless steel stand which adds to its stylish looks and durability. It is quite easy to clean and use, ensuring a safe and smooth user experience.
Shoppostreet Electric Handheld Beater
This compact handheld beater operates on a battery and is quite easy to handle and control. It is powered by 2 AA batteries and has simple operation steps. All you need to do is power it on, and you'll get a frothy drink within 15 seconds (as claimed by the makers). It can be used to whisk eggs, make coffee art, make smoothies or any other drink that involves light blending. It has a food-grade stainless casing which is easy to wash and is highly durable. The handles frother is also BPA free, and its makers claim that it is safe to use in the kitchen. You can use it to make a quick drink or prepare batter for your favourite desserts like cakes. All you need to do is pour the batter or milk in the respective container or cup, put the frother halfway down and power it on. As you slowly move it up and down, it will thoroughly beat and mix the contents, and you can stop once the consistency has reached your desired level.