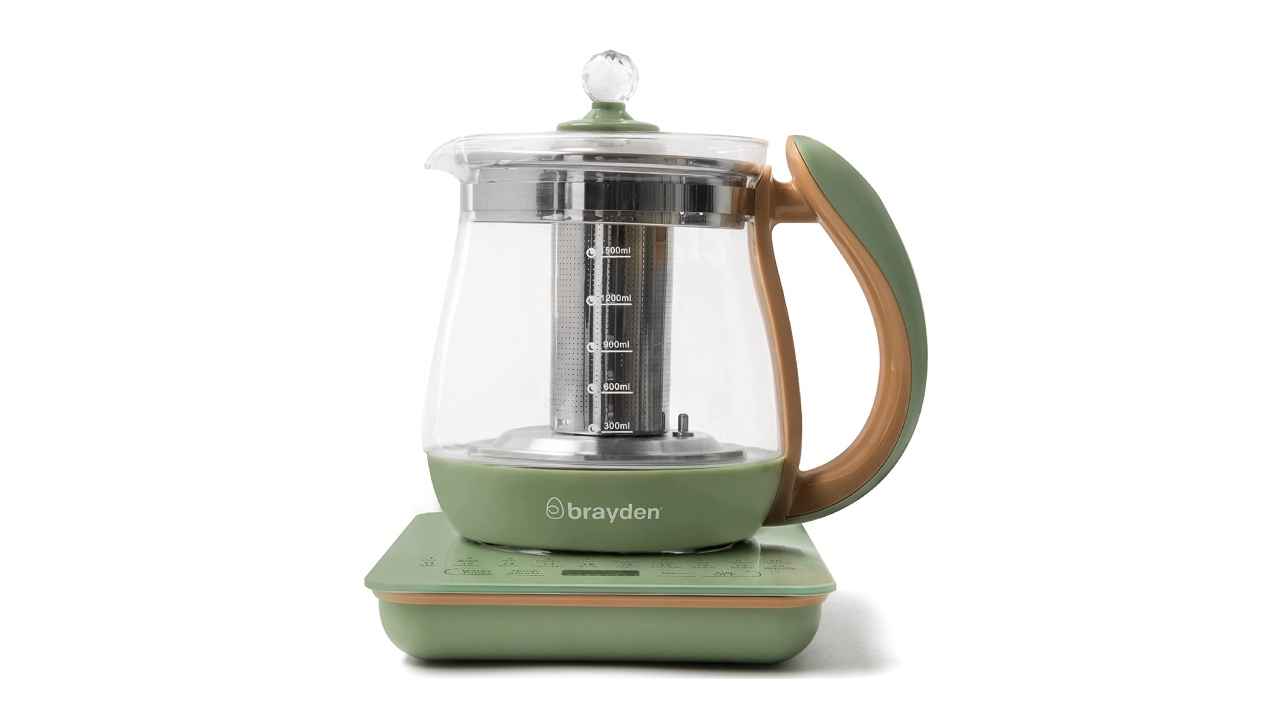 An electric kettle has a convex shape and compact design to help the user prepare hot beverages. Check this list of the best electric kettles with tea infusers available on Amazon so that can you brew the ideal cup of tea or coffee.
Brayden Aquo 11 Smart Electric Glass Kettle
Brayden Aquo 11 Smart Electric Glass Kettle has premium borosilicate material and an SS304 heating plate. The product comes with a smart LED panel and soft-touch menu buttons. It is preloaded with 20 programmes that make the process of cooking simple. One can use added functions such as delayed timer, temperature control and menu to make the desired beverage of their choice. The product has Boil Dry protection, preventing any sort of damage to this 1.5-litre kettle. The Auto shut off feature stops water from boiling over, whereas the cool touch handle saves the user from any kind of minor burns. It has a 360-degree swivel base.
InstaCuppa Electric Kettle
InstaCuppa Electric Kettle gives the user a chance to brew a good cup of tea. The temperature control feature ensures that the tea is brewed precisely and the LED display shows the temperature. It can be used to make a variety of tea such as green tea, black tea, oolong tea etc. in no time. it is easy to use and several cups of tea can be made in one single brew. The product has a Fast Boil function that makes it convenient to use. Since the kettle has transparent borosilicate glass, the user can easily gauge the status of the tea that is being brewed. It is also very easy to clean.
Upscale Digital Electric Glass Kettle
Upscale Digital Electric Glass Kettle works with a power output of 1850-2200 watts for precise boiling of water in little time. The product has a 1.8-litre capacity and the kettle has convenient digital handle controls. The product comes with simple buttons and a blue LED temperature display. It will ensure that the safety of the device is protected and that there is boil dry protection for greater safety. The product comes with a tea strainer filter that can be used for making Scented Tea, Green Tea, White Tea, Oolong Tea, Black Tea or Coffee. The product comes with a safety locking lid.
Octavius Borosilicate Glass Teapot/Kettle
Octavius Borosilicate Glass Teapot/Kettle is made out of heat resistant material that is ideal for longleaf teas or blooming flower teas. The teapot has good mechanical strength and a good performance to withstand the rapid temperature change. The product is durable and dishwasher safe. It is simple to use. It comes with a detachable grill that is made out of aluminium alloy. The brewed tea can be left in the infuser and kept there for hours. The teapot has a base of 11.5 cms and a diameter of 12 cms.