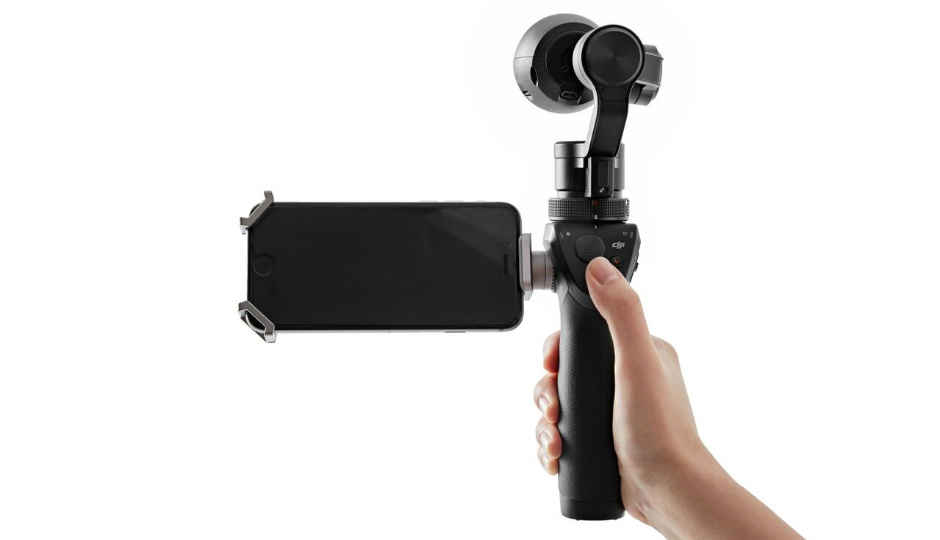 HIGHLIGHTS
The DJI Osmo is a handheld camera that comes with a 3-axis stabilisation technology and records video in 4K resolution
DJI has launched the Osmo camera in India and has priced it at a whopping Rs 69,990. The camera is priced at $649 in the US, which makes it almost Rs 26,000 (approx) more expensive here in India. Osmo is an integrated camera and handheld stabiliser that makes use of DJI's three-axis gimbal stabilisation technology. It removes the shake of traditional handheld devices and helps create cinematic shots.
In India, the DJI Osmo will be available for purchase scross 10 cities and will retail exclusively with SSTPL, the official distributor of DJI products in India.

The Osmo handle is also available separately without a camera. It comes in a modular format that makes it fully compatible with DJI's Zenmuse camera series. It has a 12MP camera, a 1/2.3" sensor with a 94 degree field of view and can record 4K videos. Intelligent controls are built into the handles. These help make the transition between shooting angles, capturing photos, or recording videos simpler. Osmo handle also comes equipped with an on-board stereo microphone along with a 3.5mm audio jack for recording professional-quality sound. It also comes with a universal mount that works together with a smartphone holder as well as additional optional accessories like a tripod, bike mount, and an extension arm.

Last year, DJI had launched a drone called the Inspire 1 at a price of $2,800. It has a transforming design as it can lift its carbon fiber arms after lift-off so that the user gets an unobstructed 360 degree view. The Inspire 1 comes with a 12MP camera and a 9 element lens that is capable of shooting 4K videos at 30fps. The camera also has a 94 degree wide-angle view and is mounted on an auto-leveling gimbal for stability.