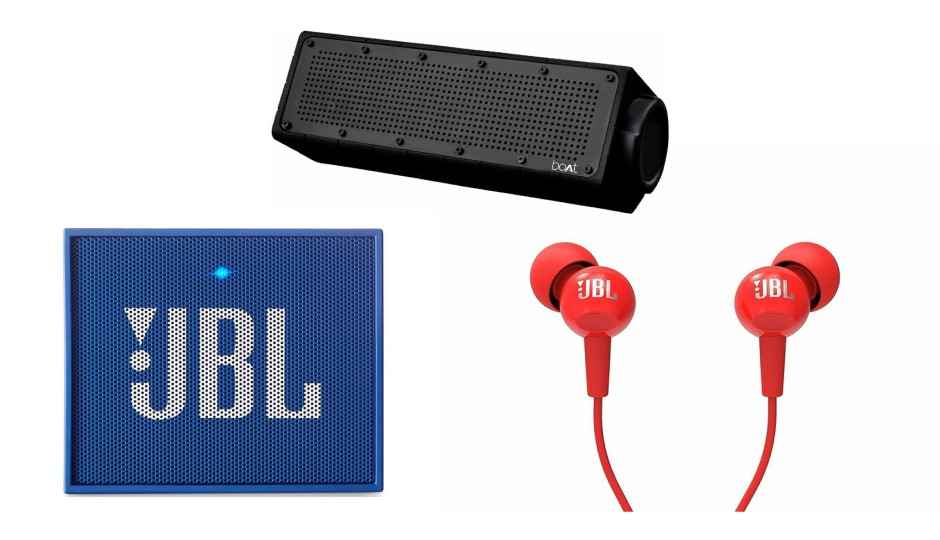 HIGHLIGHTS
For today's deals roundup, we have put together some of the best tech deals of the Amazon. The list features products such as earphones, portable speakers and more.
Whether you're looking for a portable speaker or an earphone, we've got you covered. Today's liat features gadgets from brands like JBL, Sennheiser and more.
JBL C100SI in-Ear Headphones
Price: Rs 1,299
Deal price: Rs 699
The JBL C100SI In-Ear Headphone features an in-line remote with a mic that lets you pick up calls and manage audio tracks conveniently. The earphone box includes three sizes of ear tips small, medium and large. The headphones has a frequency range of between 20Hz to 20KHz and has an impedance of 16 ohms. Click here to buy.
Sennheiser CX 180 Street II
Price: Rs 990
Deal price: Rs 749
The Sennheiser CX 180 Street II is an in-ear headphone which is compatible with iPod, iPhone, smartphones and more. The headphone does not feature an in-line remote or microphone. The Sennheiser is also providing two years of warranty that does not include physical damage. Click here to buy.
JBL Go Portable Wireless Bluetooth Speaker
Price: Rs 2,499
Deal price: Rs 1,699
The JBL Go Portable Bluetooth speaker features a built-in speakerphone that allows you to pick up calls and talk when the phone is connected to the speaker. As per the company, the speaker can provide up to five hours of music playback in one go. Click here to buy.

House of Marley
Price: Rs 1,990
Deal price: Rs 949
The House of Marley in-ear headphone features an in-line microphone and remote. The headphone comes with three sizes of ear tips and sports a tangle-free cord that won't let the wires get knotted. Click here to buy.
boAt Stone 600 Portable speaker
Price: Rs 3,990
Deal price: Rs 1,899
The boAt Stone 600 is a waterproof Bluetooth speaker which features an IPX6 rating. The device is Bluetooth 4.0 enabled and equipped with an AUX port and USB port. It also has a built-in microphone and buttons to pick up calls without touching the phone. Click here to buy.