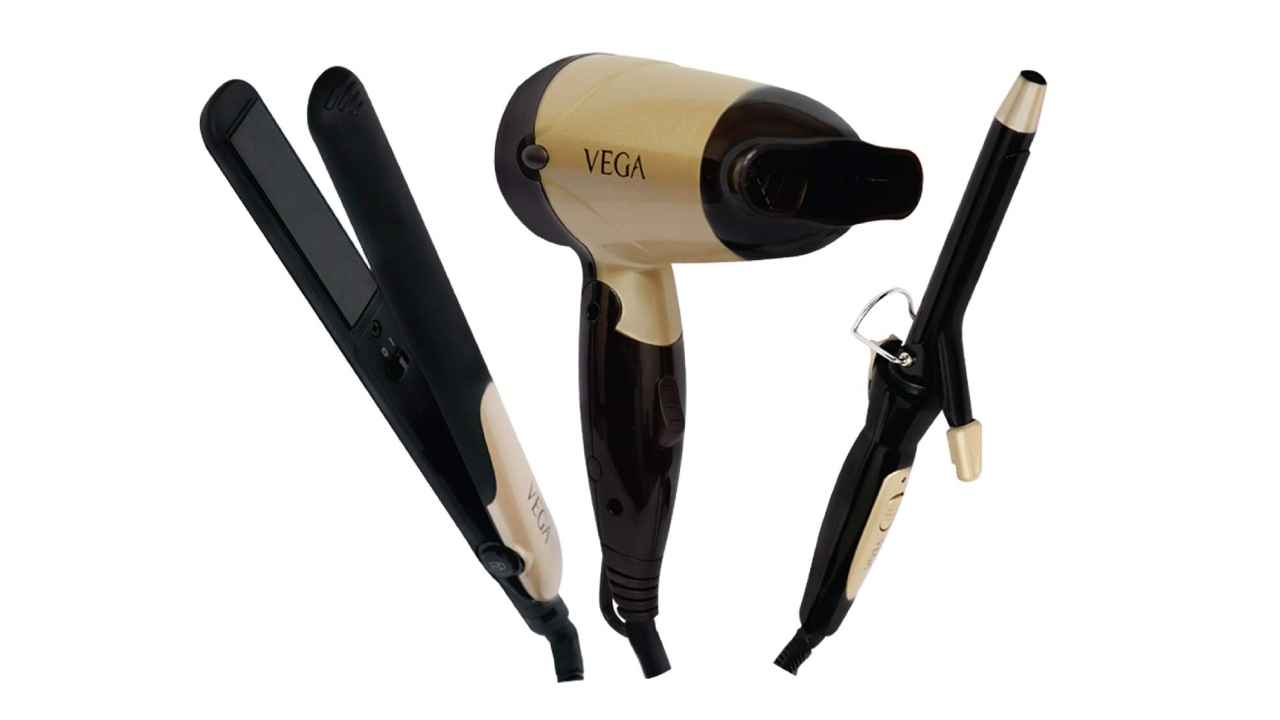 If you are a party animal or the occasional attendee at social gatherings, you still need to dress right and flaunt it well by styling your hair appropriately. If you don't have the time to visit the salon to style your hair, then you're in luck as we have shortlisted some of the best straightener and dryer combos that you can buy from Amazon and try different hairstyles at home!
Philips Straightener & Dryer Combo
No list of the best grooming products can be complete without mentioning Philips, which is immensely popular for its grooming products. This straightener and dryer combination by Philips can prove helpful to people who don't have the time to visit the salon regularly for styling and grooming their hair. The straightener has ceramic plates and can achieve temperatures up to 210°C. With a heat-up time of 60 seconds, it can be used for quick styling, while the dryer's narrow concentrator can enhance the hair volume and lock in moisture in minutes. The dryer has a compact design and has a rubber hook at the base for easy storage. It also has a narrow concentrator for focused airflow to ensure precise styling faster, making it a great addition to your travel and grooming kit!
VEGA Miss Versatile Styling Set
If you are a fashion enthusiast or happen to follow the latest trends and styles, you must have heard of VEGA. This brand is known for its quality products, and this straightener and dryer combo is a case in point! The straightener can operate up to 200°C and has ceramic coated plates (90mm x 25mm) to protect your hair from damage by distributing the heat uniformly. The dryer has a cord guard with a hanging loop, and the plates of the straightener can be closed together using the easy lock feature for easy storage. You also get a hair curler (9mm barrel diameter and 125 mm barrel length), so you can flaunt tight and soft curls at home. Features like two heat/speed settings of the dryer, power indicator light, and decent power consumption make it worth the bucks.
Nova 840 + 8105 Styling Kit
Yet another styling kit you can rely on to tame your hair and create your favourite styles is the Nova 840 + 8105 styling kit. The Nova hair dryer has a high-torque motor that delivers powerful airflow so you can dry faster. You can use its two-speed and temperature settings to customise the airflow and heat delivery to create enhanced curls or sleek hairstyles with ease. Moreover, it also includes a concentrator for taming the stray wild hair and retaining the moisture so that your hair isn't damaged. Nova claims that these products can heat up within 30 seconds and the ceramic plates ensure uniform heat distribution so you can get smooth and shiny hair without slogging for hours. Last but not least, the hair dryer's foldable handle makes it easy to store, thus making it a perfect addition to your travelling kit!
Syska CPF6800 Female Combo Pack
Syska is credited with many premium grooming appliances, and this styling combo pack for women is a case in point. With a quick 60 seconds rapid heat-up feature, the straightener is a boon for those who hate waiting for the straightener to heat up to the right temperature. Its ceramic-coated plates evenly spread the heat to prevent hair damage. The temperature control switch ensures that it operates at the right temperature ( it can be heated up to 230°C to achieve all kinds of looks). It has a 1.8-metre long cord for ease of use. The combo also includes a hairdryer so you can add some extra volume to your hair and set them in the desired manner. The straightener comes in attractive colours, so choose the one you want to flaunt while getting ready with the girls!