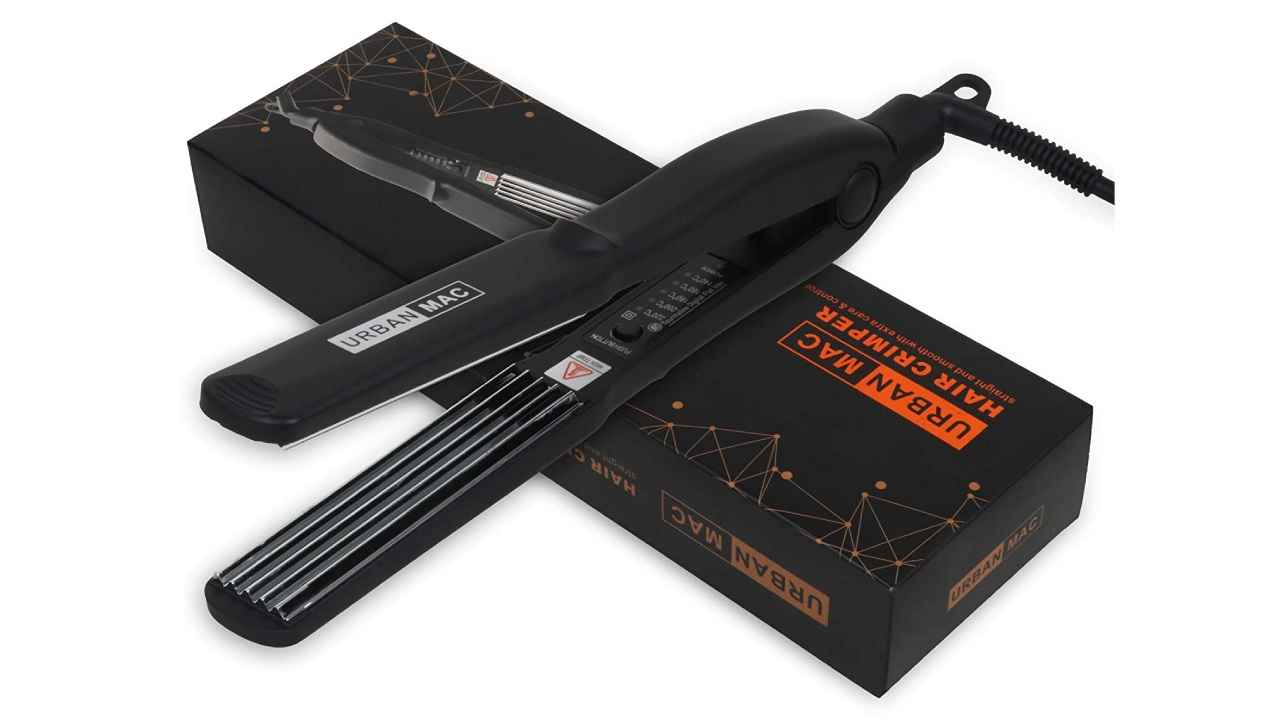 Tired of wearing the same hairstyle day in and day out? Are hair straighteners just not doing the trick for you? Well, it is time to get a hair crimper for yourself. These used to be popular back in the 2000s, but now, the style seems to be making a comeback. Stay ahead of the wave by getting your hands on one of these crimpers from Amazon, which will make your hair fuzzy and voluminous in no time, making you the belle of the ball. Crimped up hair has a funky zig-zag pattern to it that just can't be achieved with ease at home, but with the help of these hair crimpers, it should become a lot easier to fashion your hair.
VEGA Classic Hair Crimper With Quick Heat Up & Ceramic Coated Plates, (VHCR-01)
Hair crimpers, unlike hair straighteners, are slightly more tricky to use. While that may be the case, this crimper aims to simplify things and protect your hair from damage if you're a newcomer. It has ceramic coated plates for a smooth experience and can easily move the hair around without damaging or burning it. The ceramic coating also ensures that your hair doesn't stick to the appliance, making it easy to remove it once the operation is over. It has a maximum temperature of 220 degrees and features quick heat up, which helps save time. The high temperature ensures that hair is evenly crimped under layers and top layers to create more volume.
IKONIC MINI CRIMPER
This crimper will leave your hair wavy and shiny looking. It is compact, making it very easy to take with you anywhere. Even though it is a mini crimper, do not take the performance and results lightly. It is as good as any full-sized professional crimper. The company claims that the ceramic plates heat up in less than 60 seconds making for quick touch-ups and on the go hair styling. The best part is that it makes shiny and defined textures in your hair. As for the plates, they have 4 grooves for optimal crimping and the best possible texture. These plates are well designed to distribute heat resulting in great hair texture and style.
V&G 8212 Hair Crimper For Professional No Damage Styling
If you're new to crimping hair on your own, then it can potentially damage your hair. However, this is a crimper that promises to be friendly towards new users. It aims to do no damage while styling your hair. This is achieved by the temperature control knob, which, when low, does not damage hair. You can hone your skills before moving to higher temperature settings. Not just that, it also has a range of other high-end features for advanced users. The crimper comes with 5 grooves to treat more hair at once. The plates are ceramic coated and dissipate heat evenly across the plate. This treats your hair with care and keeps the natural texture of your hair.
URBANMAC Micro Crimper Hair Straightener Styler
Want customisable style on the go, without the hassle of a large crimper taking up space in your luggage? This crimper from URBANMAC is the way to go. It is compact and promises high-quality results. It has a temperature control button that ranges from 140 degrees to 220 degrees. Depending on your proficiency with the appliance, you can set a temperature to get the exact results that you desire. In fact, not only can you style dry hair with this, but it works flawlessly on wet hair as well. The company also claims it is 3 times faster than the competition, which should be a handy feature when on the go. Overall, this is a crimper that's very easy to use. The grooves are also quite wide and spread heat evenly so that the texture is even.