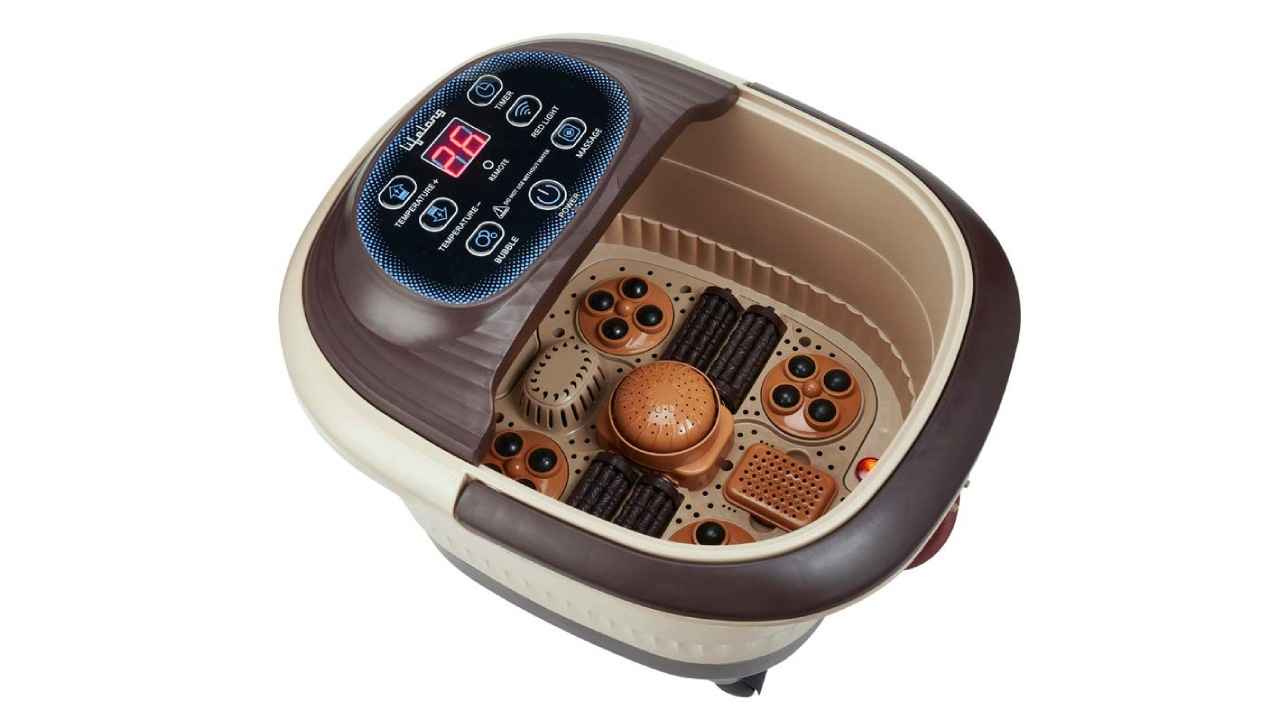 If you are a huge fan of relaxing pedicures and foot massages but don't have the time to go for countless expensive salon appointments frequently, then you can probably invest in a foot massager that not only gives you a nice pedicure but also rids you of tiredness. So read on to know more about the best foot massagers you can find on Amazon.
MaxKare Foot Spa/Bath Massager
MaxKare is known for its quality products, and this foot massager is no different! It has tons of features to provide you with the ultimate comfort so that you can sit back and relax. It has a good quality heating element that maintains the water temperature at the desired level and allows you to pamper your feet with the jacuzzi-like bubbles and vibration! You can rub your feet on the four pairs of massage rollers or remove them whenever necessary. It has 16 massage rollers with mini acupressure massage points and a sleek display with indicator lights so you can track settings and modes easily. You can change the settings using the 4 buttons provided on the massager, and it also comes with an auto shut off feature, so you don't have to worry about switching it off after use.
JSB HF37 Foot Spa Massager
JSB has emerged as a leader in the health and fitness industry, thanks to its 35 years of experience in offering a wide range of high-quality products like massagers, health and fitness equipment and much more. Like its other products, this foot massager also aims to provide the users' with maximum comfort and at a reasonable price. You can use it to massage your feet while enjoying a pedicure, using the auto-reflexology rollers and also control the temperature via the temperature controller while viewing it on the LCD display for easy readability. It weighs 2.4kg and has dimensions 26.4 x 41 x 46.6 cms, making it easy to move around and use. So bring home this foot massager with a deep tub (for larger water capacity) and enjoy spa-like foot massages and pedicures at home without spending tons of money for spa appointments repeatedly!
Lifelong LLM279 Foot Massager
Lifelong has made a place for itself in the market by offering premium quality health, fitness, grooming and kitchen equipment, and this foot massager is a classic example of the same. If you are looking for a foot massager that is not only inexpensive but also helps you massage your feet like a professional spa massage, then this foot massager by Lifelong can be your perfect buy! You can heat the water in this massager as per your preference and set the temperature (up to 48-degrees) using the temperature control or go with the default temperature of 35 degrees. It is equipped with four manual rollers and four automatic rollers, which help regulate blood circulation and acupuncture. It also generates bubbles that help keep stiffness at bay so you can enjoy the perfect foot massage without stepping out of your home or spending your hard-earned cash on spa appointments every week!
iBELL FTM500A Foot Massager
This foot massager by iBell can help you pamper your feet and treat them to a long and relaxing massage and spa session after a tiring day without leaving the comfort of your home. It has an LCD display for easy readability and a deep water tub so you can massage your feet comfortably. It is equipped with powerful motorised auto rollers which improve blood circulation in the feet. It can also generate bubbles that help reduce muscle stiffness so you can refresh and relax after hours of work. Its Infrared Water heat and Timer function allows you to set the temperature as per your liking, while the digital panel helps in easily monitoring the temperature and controlling the heating and timer function. So go ahead and invest in this massager to soothe your feet after long work hours without worrying about salon appointments.