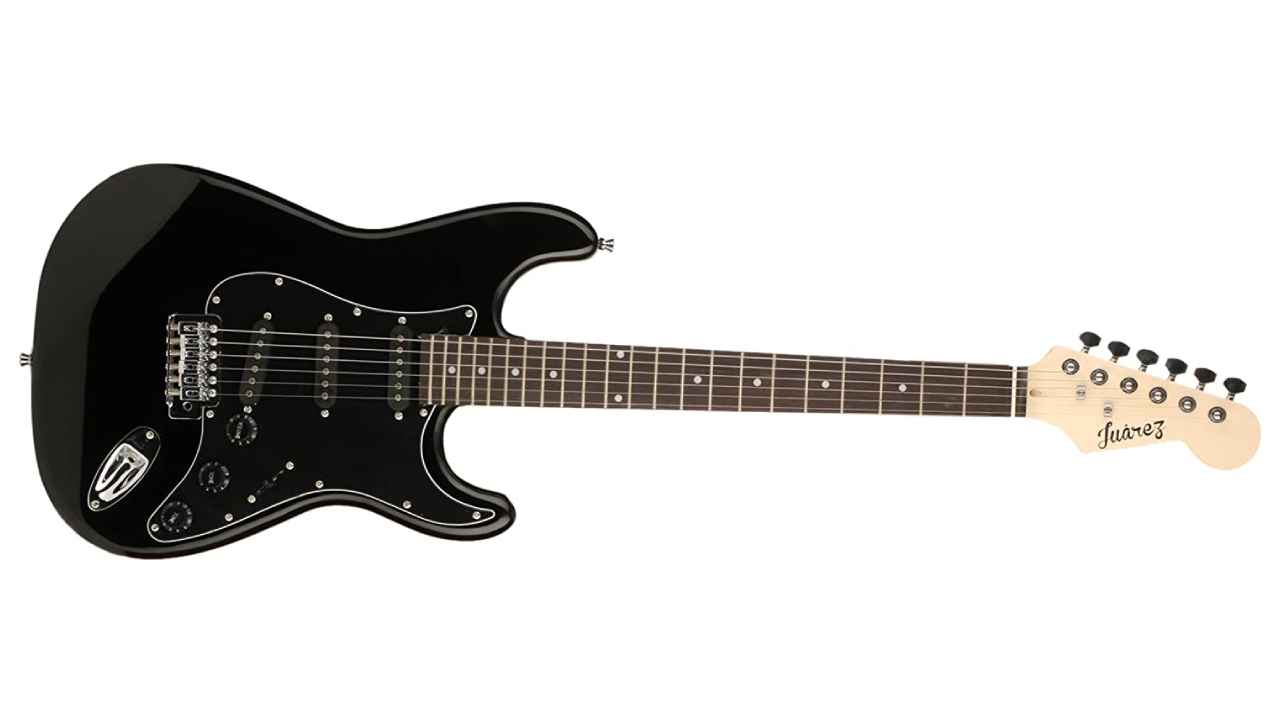 If you're planning to learn how to play an electric guitar, then you need to pick the right one for a smooth start to your musical journey. If you don't have the required knowledge about what kind of guitar would be most suitable for you, then we are here to help you out. Read on to find out more about some of the best and most affordable electric guitars that can help you kickstart your musical journey in style!
Juarez JRZ-ST01
If you have done some research, you must be aware that Juarez is one of the best guitar brands in India and aims to manufacture premium quality guitars for beginners. The Juarez JRZ-ST01 is an intro-level guitar that is not only affordable but also feature-packed. It's a solid-body guitar and has a glossy finish which adds to its stylish looks. It has 18 frets, steel strings, a linden wood fingerboard with geared tuning and a fretboard made of Ebony wood. This 38 inches cutaway guitar has a 5-way PU selector and volume control along with 2 tone controls so you can flaunt and play it in style.
RockJam RJEG02-SK-BB Electric Guitar Starter Kit
RockJam has been making electric guitars for over 15 years now, so it's bound to have something for beginners as well. This guitar set by RockJam can prove to be a blessing in disguise for any beginner out there! The full-size burst electric guitar comes with spare strings, guitar picks, strap, 10-watt amplifier (with headphone output) and much more! It has been designed keeping the needs of beginners in mind and can provide great value, style and substance if you are learning to play an electric guitar. The company has made no compromise on the quality or style of the guitar, which is evident from the iconic ST design, high-gloss finish, metal gear heads and basswood body which help produce refined sounds. The 3 band equaliser lets you choose the bass, middle and treble settings, while the nylon bag makes it easy to carry it around for gigs and travelling without hassles.
Fender Squier Bullet Electric Guitar
This electric guitar by Squier ticks all the right boxes for people looking for a stylish, versatile and affordable instrument to start their musical journey. It has a classic look and a lightweight body along with an easy-to-play "C-shaped" neck profile so you can play for longer hours without any discomfort. Its single-neck coil, humbucking bridge, middle pickups with 5-way switching for sonic variety and a vintage-inspired tremolo bridge for more expressive string-binding effects make it a favourite of most beginners. It has 21 frets and comes with 3 single-coil strat pickups for ease of use.
Yamaha PACIFICA012
Every guitar enthusiast has eyes on Yamaha guitars, and you can lay your hands on one even as a beginner! This entry-level model has an eye-catching design that speaks volumes about the quality of craftsmanship and produces a sound that can give its competitors a run for their money! It sports a solid Agatha body with a maple neck, 25 ½ inch strings scale, along with a Rosewood fingerboard with 22 frets. You can easily tune and adjust to rock your favourite tunes, and it also has a 5-position level which helps in switching the H-S-S pickup configuration in 5 ways. So if you are on the lookout for a branded electric guitar with stellar looks and the ability to produce mesmerising tones, then this one might be the ideal choice!