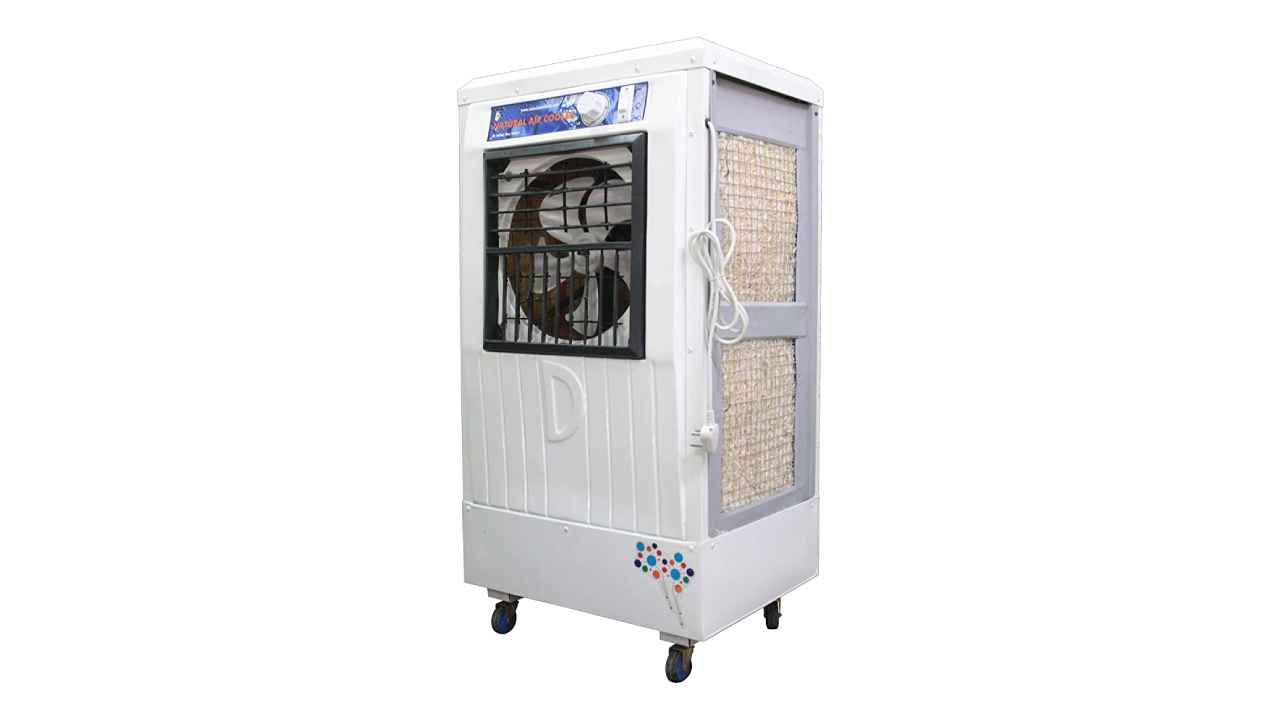 If you are used to breathing fresh and cool air, then air-conditioners might not make you so comfortable, and that's when desert coolers come to your rescue. Air coolers help in proper ventilation by circulating cool and fresh air in the room. With so many brands out there, it might become challenging to pick one, so here's a list of some of the best and affordable coolers you can find on Amazon right now.
Natural Air Cooler Combo 30-30
This 20-litre cooler is best suited for small and medium-sized rooms as it provides better cooling and air circulation when compared to fans. Not only is it more economical than air conditioners, but it is also durable, thanks to its fibre/metal body and four caster wheels which allow easy movement and portability. It is equipped with a single-phase A.C. motor with a speed of 2400 RPM and a water/ice chamber so you can enjoy cool air even on days when temperatures soar higher than normal! Its ability to rotate 360 degrees and the cooling pads installed on three sides coupled with a 5-wing fan ensure proper cooling and uniform air circulation to every corner of the room. Last but not least, it has a unique design that allows noise-free operation, making it an ideal choice for your home!
Hindware Snowcrest ARCTIC 90L Desert Cooler
Hindware has become a household name due to its quality products, and this cooler should show you why. The Hindware Snowcrest Arctic might be a great choice for you if you are looking for a sleek, stylish and modern cooler with advanced features like a water level indicator, 3-speed control and the ability to run even on an inverter. Weighing merely 18.5kg, this air cooler ensures high air delivery while the massive 90-L water capacity and auto-fill function save you countless trips to fill water on hot summer days. The 4-way air deflection coupled with the honeycomb structure of the anti-erosive cooling pads fixed at the back ensures longer durability and cooler air. Last but not least, its smart design prevents insects from entering it, thus preventing breeding and the spread of diseases during other seasons.
V-Guard AIKIDO F70 Desert Air Cooler
When it comes to manufacturing good quality coolers, then V-Guard is the first name that comes to mind. The V-Guard AIKIDO F70 is a 70-litre desert air cooler with an air delivery rate of 4700 m3/hr, resulting in cool air throughout the room. It is equipped with antifungal cellulose pads that are 40% thicker than conventional pads resulting in better cooling and low maintenance even in the long run. V-Guard has packed in some powerful fans that provide an air throw distance of 15.2-m, and it also has five strong casters for easy mobility and high performance. Its motorised vertical louvre movement, easy to open cooling pads, thermal overload protection, cord winding provision and high capacity tank make it a perfect choice to keep your mid to large-sized rooms cool even during the hot and dry Indian summers.
Mccoy 70 L Desert Air Cooler
If you are looking for a desert cooler with a big tank from a reputable brand, then you should definitely check this one out. This 70-litre desert cooler from McCoy is designed to keep the temperature in a mid to large-sized room under control without the need to refill the tank every now and then. It has an air delivery rate of 3600 m3/hr with 3 different fan speeds while consuming just 195 watts. The cooler's body is made from high strength engineering plastic resulting in high durability as well as a corrosion-free and shockproof cooling experience. This McCoy air cooler has many special features like inverter friendly performance, water level indicator, motorised vertical louvre movement and a high capacity tank, making it a dependable and hassle-free desert air cooler.
V-Guard Whiz Air VGD65H Desert Cooler
V-Guard has been contributing to the Indian electronics goods industry ever since its foundation in 1977, so adding its product to the list was a no-brainer. The V-Guard Whiz Air cooler is equipped with several advanced features like Tetra Air Flow cooling (for uniform cooling), Unidrip flow water distribution and much more, which make it a great buy if you want to stay cool on extremely hot days. It has a capacity of 65 litres and anti-fungal cooling pads, which sport a honeycomb structure to ensure better cooling. The cooler also has an ice chamber, corrosion-resistant fan blades, auto-fill float valve and an aerodynamically balanced body for greater stability, efficient cooling and longer durability, making it a great addition to your medium-sized room at home or office.