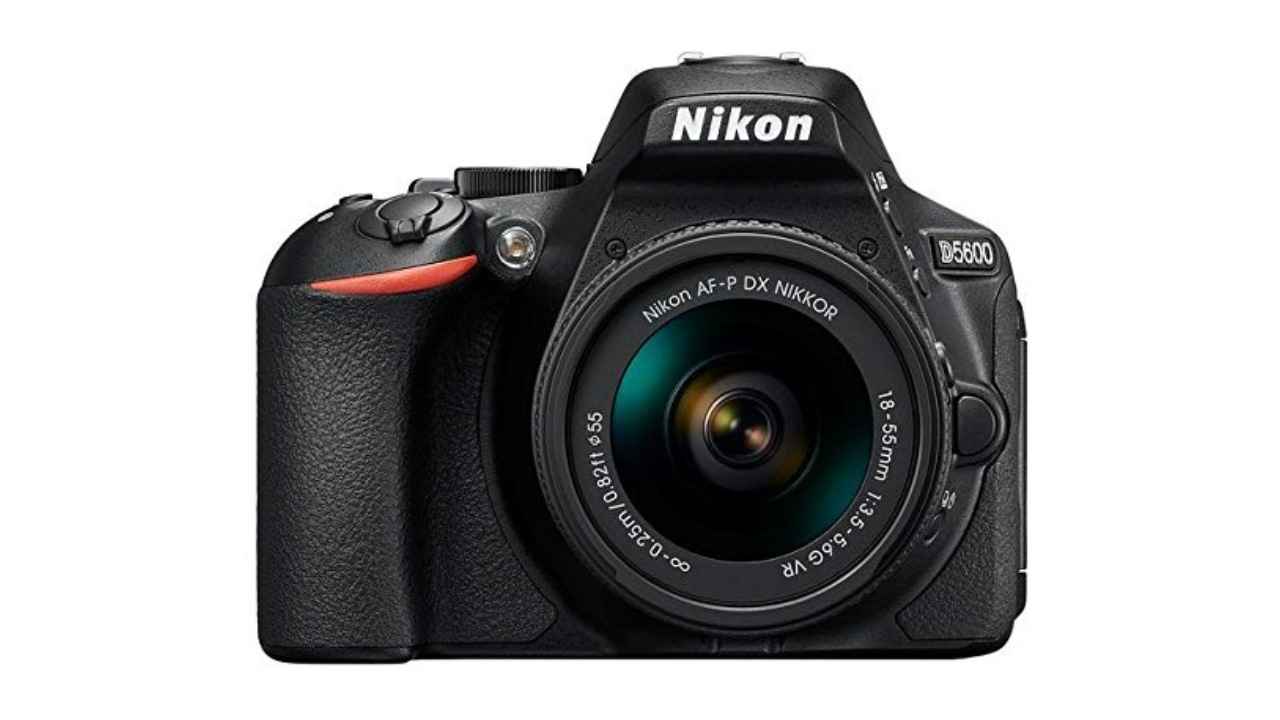 If you're a photographer, you know that a good camera can burn a hole in your wallet. However, there are quite a few budget-friendly options that you can choose from, and they offer great functionality and usage. These cameras on a budget not only get you high end looking professional results but also provide ease of use. If you're new to photography, they are a great stepping stone into the creative process of taking pictures. So, if you're in the market for a camera, check out some of these best affordable DSLRs in India on Amazon.
Nikon D5600
If you're in the market for an affordable DSLR camera, chances are you're still a beginner. The Nikon D5600 is a good pick for such users as it blends professional-looking photos and colours along with ease of use and a simple learning curve. The camera packs in an APS-C CMOS sensor with a 24.2 MP high resolution for large prints and image cropping. Apart from that, it has all the high-end features you would expect of a DSLR, such as impressive image quality, lifelike colours, impressive low light performance, and high-resolution images for further editing and tweaking. It also comes with WiFi, NFC and Bluetooth built-in, which are useful for remotely controlling your camera and transferring pictures wirelessly as you shoot.
Sony Alpha ILCE 6000L
Mirrorless DSLRs are the way to go these days. They are compact and offer the full functionality of a DSLR camera. The Sony Alpha is no different and can be the best travel companion if you love taking photos. The camera is really small and handy and comes with a Zeiss 16-50mm lens, which is good for a range of occasions. It has a 24.3 MP Exmor TM APS HD CMOS sensor that can capture large amounts of light and detail in every single shot, giving you professional-looking results, even on a budget and despite the small size. It has up to 11 FPS continuous shooting, which is great for capturing wildlife and other moving objects without missing out on any movement.
Nikon D3500
A good companion for your photography needs, the Nikon D3500 24-megapixel (18-55mm Lens) DSLR Camera is not only feature-rich but also ergonomically designed and lightweight. The Nikon D3500 is designed to be as flexible and intuitive as possible while still offering the imaging capabilities you expect from a DSLR. Utilising a DX-format 24.2MP CMOS sensor and EXPEED 4 image processor, the D3500 provides a native sensitivity range from ISO 100-25600 to suit working in a variety of lighting conditions without making images noisy or packed with grains. It also comes with Wifi and Bluetooth connectivity to transfer images on the fly.
Canon EOS 200D II
EOS 200D II is Canon's lightest DSLR with a vari-angle Touch Screen LCD. Weighing only a little more than a bottle of water, the camera slides right into your bag for that everyday photography. Packed into its petite body is Canon's 24.1-megapixels APS-C CMOS sensor, DIGIC 8 processor and a bunch of features that would make snapping your everyday life seamlessly easier. Since it uses Canon's EF mount lenses, you can attach a host of lenses and get professional quality photos from this compact offering. The camera itself also houses 9-AF points, which is useful for getting in-depth with certain subjects.
Panasonic LUMIX G7
The professional-grade Panasonic LUMIX 4K Digital Camera DMC G7K accepts over 24 compact lens options built on the next-generation interchangeable lens camera standard by Panasonic. Its "mirrorless" design enables a lighter, more compact camera body while also offering cutting edge video, audio, creative controls, wireless, intelligent focusing and exposure technologies not possible with traditional DSLRs. With the exclusive LUMIX 4K PHOTO, simply pause that perfect moment from video to produce printable, high-resolution photos. A high resolution 17.5mm, 0.7x OLED eye viewfinder (2,360K dot) matches up exactly how you intended to see the image even under direct sunlight.