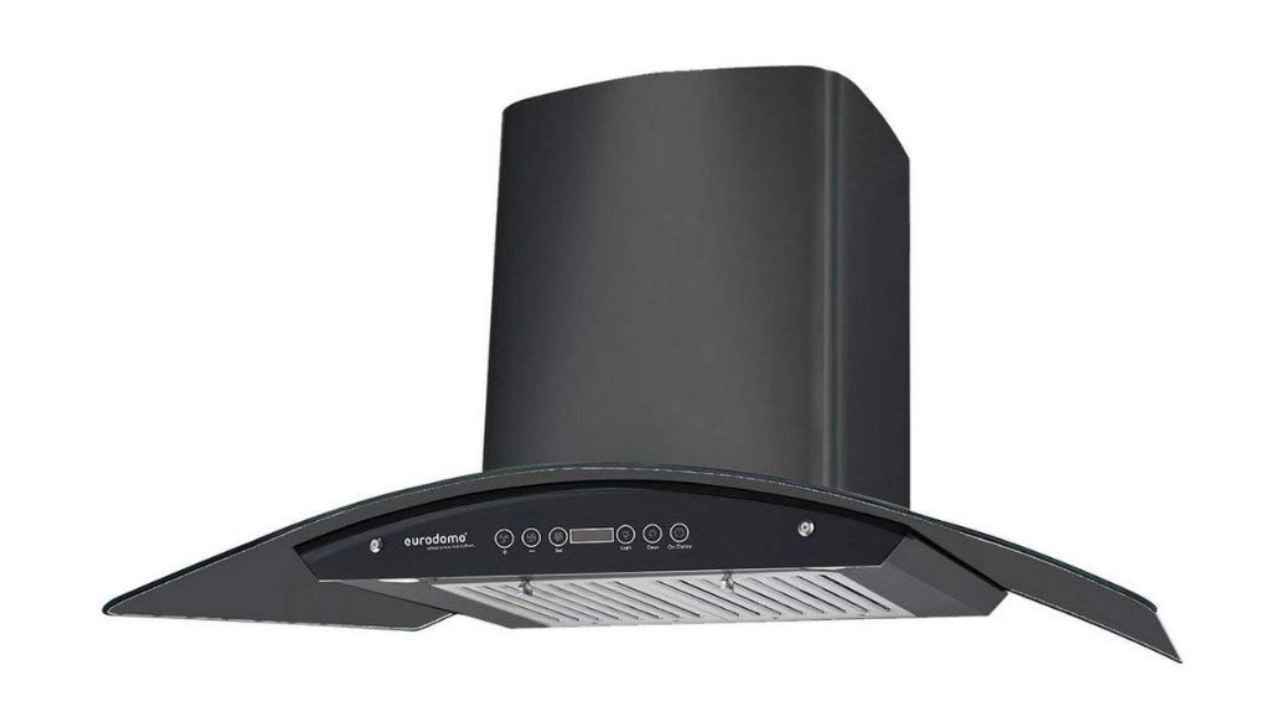 Chimneys add style to your kitchen, making it look more aesthetic and futuristic. However, apart from giving your kitchen a makeover, its primary utility lies in its ability to absorb smoke, fumes, and grease, giving way for a smoke-free kitchen! If you are looking around for a kitchen chimney, it is recommended to go for only those variants that match your kitchen size. For instance, if your kitchen is greater than 200 square feet, a 90 cm chimney would be ideal. Another crucial aspect to keep in mind is to go for those models that have a sturdy build. Following are a few good options of 90 cm kitchen chimneys on Amazon:
Eurodomo Kitchen Chimney
The Eurodomo Kitchen Chimney comes with a high-quality stainless steel baffle filter that helps drag down all the oil, smoke and residue particles. Requiring minimal upkeep, this filter ensures optimal suction performance! Equipped with heat auto-clean technology, the Eurodomo Kitchen Chimney can help clear the entire appliance without any effort. With 2 LED lights, the chimney ensures that it can also aid you in your cooking. The chimney has a power capacity of 1200 cubic meters per hour, allowing for smoke and dust-free cooking. For easy and quick operation, this kitchen chimney accompanies a touch control panel and a digital display.
Faber Kitchen Chimney
The Faber Kitchen Chimney has a thermal auto-clean feature that helps in cleaning the oil and other residues without any manual intervention. This is coupled with an oil collector cup that can accumulate the waste oil, making it easy to keep the chimney clean. Since it has no filters, this filter-less chimney has minimum maintenance costs. Powered by a strong motor that can produce a suction of 1100 m3/hr, the Faber Kitchen Chimney maximises airflow and eliminates smoke. The appliance also comes with push buttons, allowing you to switch between three convenient speeds and hob light. In addition to these features, the chimney also has a metal blower and a curved glass design.
Whirlpool Kitchen Chimney
The Whirlpool Kitchen Chimney is your ticket to a hassle-free cooking experience, as it can remove the pungent odours and give way for strong aromas! Fitted with motion-sensing technology, the appliance can be easily operated by a simple wave of your hand. To turn on the appliance, you need to wave towards the right and vice versa, giving seamless accessibility! With a suction capacity of 1100 cubic meters per hour, the chimney can keep your kitchen fresh. It also has a baffle filter that keeps smoke and oil at bay. The Whirlpool Kitchen Chimney boasts the Heat Auto Clean technology that enables you to clean your chimney at the push of a button. Apart from these, some of its other features are an LED lamp and a touch control panel.
Hindware Nadia Kitchen Chimney
The Hindware Nadia Kitchen Chimney runs on a powerful motor that can provide a suction capacity of up to 1200 m3/hr, making it suitable for heavy frying and grilling. It comes equipped with a screen that prevents direct contact of the motor with blower assembly, ensuring optimal suction. The Hindware Nadia Kitchen Chimney has auto-clean technology and an oil collector that eliminates manual cleaning. Where the auto-clean technology helps in cleaning the oil and residue formed inside the motor with just one touch, the oil collector, on the other hand, stores additional residue. It also comes with motion-sensing technology that enables easy operation. The chimney comprises a user-friendly 3-speed touch control panel, allowing you to operate it conveniently.