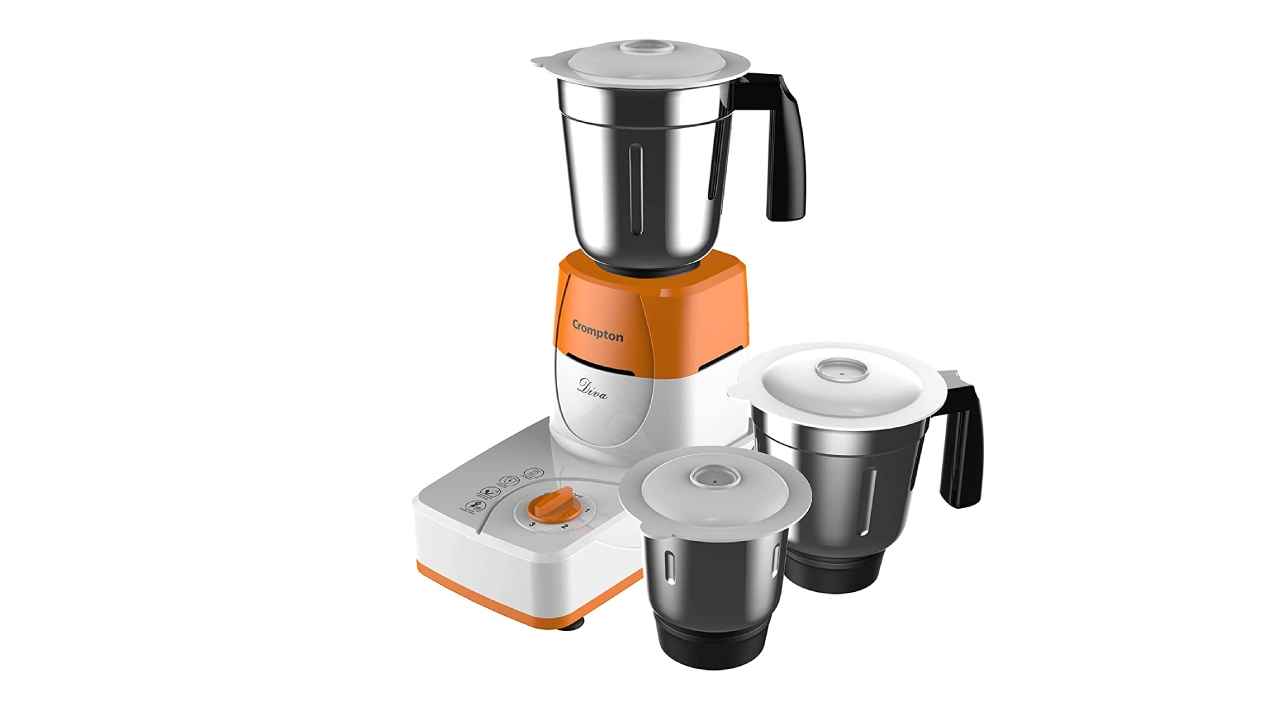 Mixer grinders are indispensable to your kitchen – it is nearly impossible to make do without them unless you prefer ordering all your chutneys and curries from stores. Given below is the list of the Best 500-watt mixer grinder with three separate jars for your kitchen that will make your cooking experience pleasant and complete! Go check these out on Amazon!
Bajaj Glory 500-Watt Mixer Grinder
The Bajaj Glory 500-Watt Mixer Grinder works with an efficient, performance-ready motor and a 2-in-1 functional blade. The mixer grinder comes with three different stainless-steel jars, including a grinding jar with a capacity of 1-litre, liquidising jar with a capacity of 1.5-litre, and a chutney jar with a capacity of 0.3-litre. The stainless- steel jars are all washable. As a result, it should be able to meet your different needs. It has easy-grip handles too.
Philips HL7505/02
The Philips HL7505/02 is equipped with a 500W motor that can be used to grind the toughest of ingredients to make different kinds of masalas, chutneys and purees. As a result, it should be suitable for people who love cooking different dishes. The jars are leak-proof and spill-free, and this should help prevent your kitchen from being messy after a cooking session. The jars are multipurpose and made out of premium stainless steel that should keep them from rusting and corrosion.
Havells CAPTURE
The Havells CAPTURE has three different jars – a 0.4-L chutney jar, 0.8-L Dry/Wet grinding jar, and a 1.5-litre blending jar. It has a 304-Grade stainless-steel blade that should ensure good grinding results, and it works on a 500W. Its 3-speed control comes with a pulse function, and the 21000RPM blade speed should offer good grinding results. The flow breaker in the jars should enhance the results. It has a built-in overload protector that auto-shuts down to protect the motor from overheating.
Crompton Diva DS51 Mixer Grinder
The Crompton Diva DS51 Mixer Grinder is equipped with a shockproof ABS body and a flow breaker technology. It offers a decent amount of grind control and motor ventilation. It also has a high-quality, multifunctional blade system that can be used for mixing, wet/dry grinding, liquidising, whipping and chutney making. The mixer has anti-skid feet and an overload protector.
KENSTAR Spice
The KENSTAR Spice comes with three jars to meet your different needs, and the SS Ultima blades claim to guarantee good performance. It comes with a 500W motor and weighs 2.6kg. Its low noise operation is a feature to look out for as it won't cause a racket in the kitchen. The product comes with overload protection that will automatically turn off the motor in case of overheating.