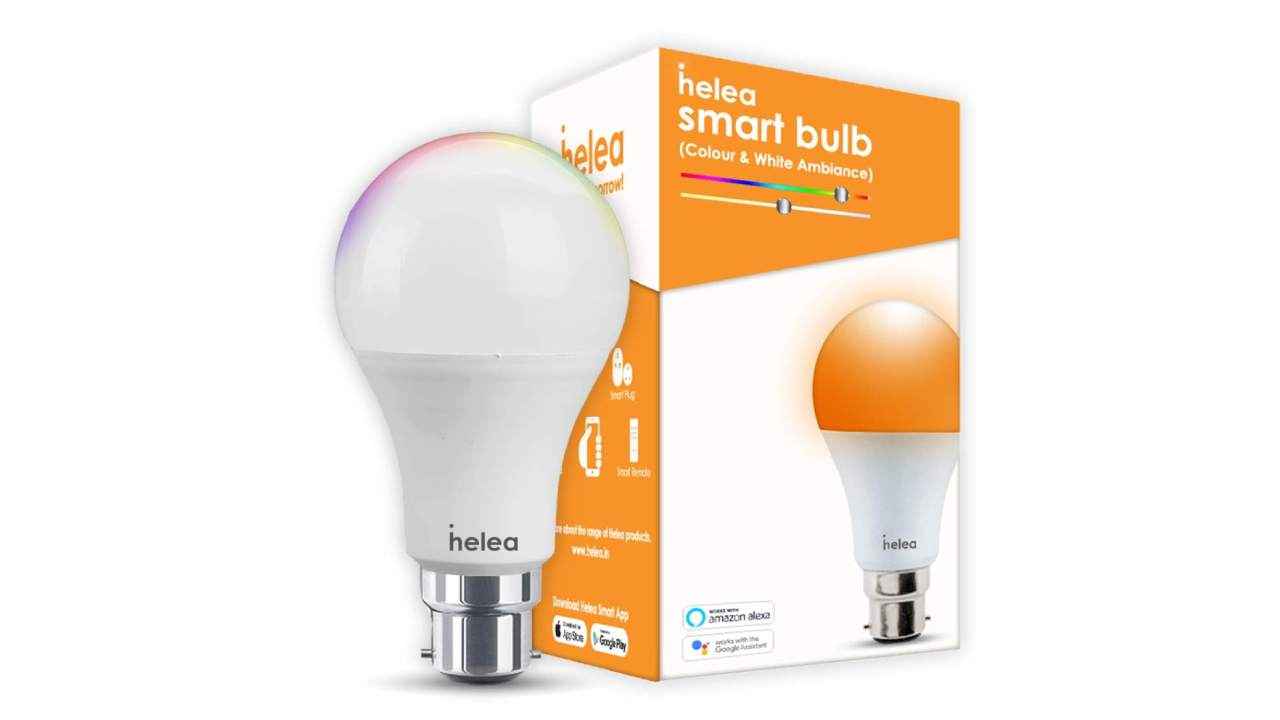 As one of the most budget-friendly ways to smarten up your home, the smart bulb has seen a lot of popularity in recent times. There are several great options available to choose from, each offering a great range of features and capabilities. Opting for a 9W smart bulb can be just right for a lot of small to medium rooms. You can even go with several units for a larger room, which gives you more granular control over the ambience in your home. To help you choose smart bulbs for your home, here are some options we've shortlisted from what's available on Amazon based on their specifications and features.
Wipro Wi-Fi Enabled Smart LED Bulb B22 9-Watt
If you're looking for a hassle-free setup with your smart bulbs, the Wipro Wi-Fi Smart Bulb offers a great option to go with. As long as you use the Wipro Next Smart Home app and keep the bulb in range of your router, you don't need any gateway or hub to operate the bulb. You can choose from a range of 16-million colours for the light, attaining the ambience you seek. However, if you just want greater control over standard white lighting, the bulb can also tweak the white colour temperature between warm and cool.
Philips Smart Wi-Fi LED bulb B22 9-Watt
The Philips Smart Bulb offers great compatibility with smart assistants. In addition to easy voice control via Alexa, the bulb is also controllable via Google Assistant and Siri, bringing home automation at your command. In addition to millions of colours, the bulb also lets you pick between preset static and dynamic scenes to create a great atmosphere at home. The ability to use light schedules and vacation mode adds a sense of security to your home. Its 3-star energy efficiency rating also ensures that electricity consumption is never a concern.
Helea 9W Wi-Fi Smart Bulb (B22)
If it's durability you're looking for, the Helea 9W Smart Bulb comes with a BIS certification that speaks for itself. It also packs an advanced heat sink optimised for Indian weather conditions. As long as you have a 2.4GHz router there shouldn't be any problems connecting as it doesn't require a hub or a mesh. For regular white lighting, the bulb offers a choice of shades from 2700K to 6500K for a truly customised white light experience. Along with support for smart assistants, the Helea offers the ability to control and connect with the bulb from anywhere in the world as long as you have your phone and access to the internet.
Syska B22 9-Watt Smart BLE Mesh LED Bulb
With B-22 connectivity available on the Syska smart bulb, you can use it with most existing bulb sockets around you. The body is made of polycarbonate that adds to the durability and longevity of the bulb. The millions of colours and their shades to choose from help you achieve a customised ambience for each part of the day and special occasions as well. Additionally, the smart scheduler feature allows you to set a particular time for the light to turn-on and turn-off, which is great to simulate that someone is home even when you're on vacation, or just helps you save electricity if you're the type to fall asleep with the lights still on!