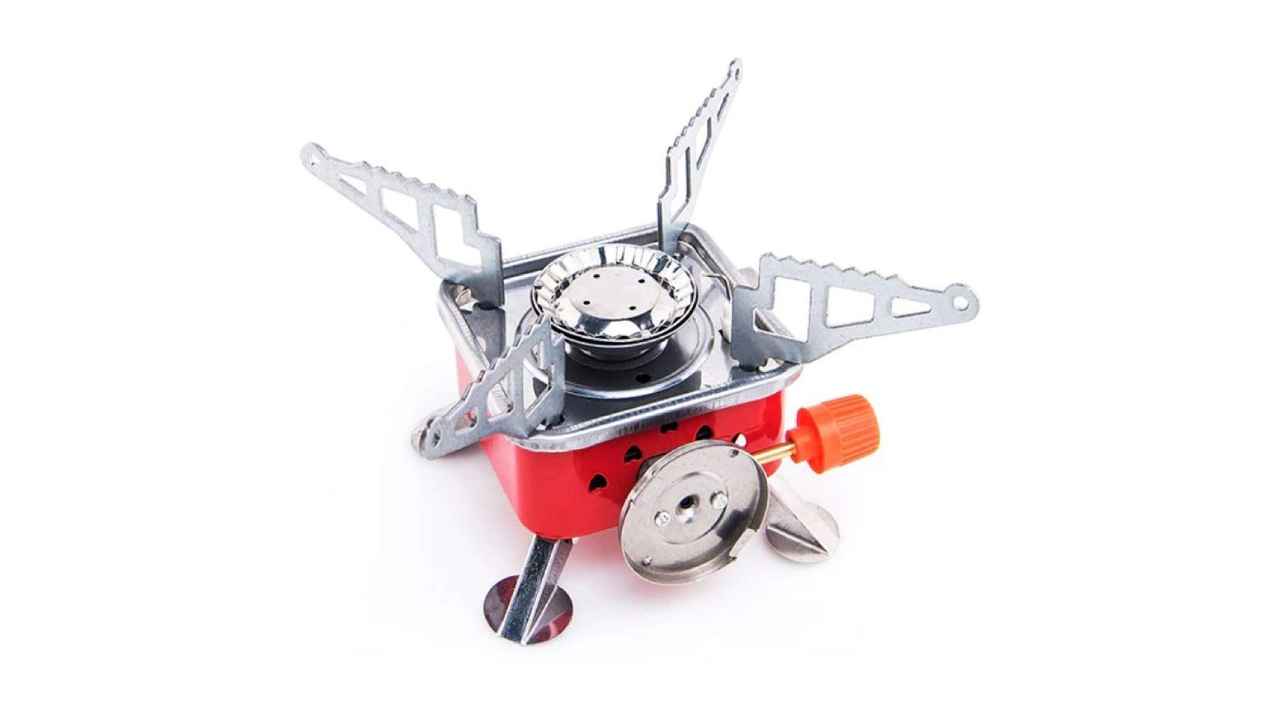 When fed up with the daily hustle and bustle, every once in a while, we yearn to spend some time in the wild. And what better way of spending time in the wild than camping! Camping helps reduce stress, fosters a healthier lifestyle, and, most importantly, exposes you to new adventures! However, if you don't have the right cooking equipment by your side, camping can turn into a nightmare! To prevent such mishaps, you must ensure that you have proper cooking equipment whenever you go out camping. But what does outdoor cooking equipment consist of? Well, in short, it must comprise a foldable campfire grill, a portable gas stove, a camping water kettle, and a cookware set to meet all of your basic needs. To help you find all of these in one place, we have compiled a list of these products after deep deliberations. Here is an overview of these items that can find on Amazon:
AmazonBasics Campfire Grill
Thanks to its breakfast-tray-like design, the AmazonBasics Campfire Grill allows you to make sensational meals under the stars. Since it is made of high-quality welded steel, this heavy-duty campfire grill provides rugged and reliable performance. It can withstand high temperatures and can hold its shape for years, making it your favourite camping companion. Featuring a steel-mesh grill top, the AmazonBasics Campfire Grill allows heat to flow through from the campfire below. Plus, its diamond-shaped metal mesh can support the heaviest of cast-iron cookware, including multiple pots and pans. The campfire grill boasts two side legs that flare out at an angle to ensure stability. You can also easily carry this grill from one place to another, owing to its foldable legs!
Geniyo Portable Gas Stove
The Geniyo Portable Gas Stove is made of high-quality stainless steel, which means it offers stellar resistance against rust, corrosion, and normal wear and tear. Offering built-in baffles around the gas burner, this appliance makes sure that heavy outdoor winds don't affect the stove's flame. As it comes equipped with a flame control button, you can easily adjust its intensity from high to low. This means there is minimal gas wastage! Coming furnished with a 4-arm base support system, the Geniyo Portable Gas Stove gives a stable and safe platform for cooking. Moreover, to enable you to carry it easily from one spot to another, the stove comes along with a mesh carry bag. Some of its other notable features are a lightweight design, a sturdy build, and a smooth finish.
Docooler Camping Water Kettle
The Docooler Camping Water Kettle is available in an aluminium alloy construction and has an oxidation film coating inside and out. They don't only help in improving the strength of the kettle but also assist in enhancing its resistance against heat and damage. With a total capacity of 1.6 litres, this camping water kettle is ideal for multiple people. It has a collapsible handle that is covered in a rubber coating. This helps give an anti-scalding effect, protecting you from accidental burns. The Docooler Camping Water Kettle also has a mesh bag for convenient storage and mobility. Plus, since it can get heated quicker than other kettles, you would get quick results within little to no time.
RedCamp Camping Cookware Set
The RedCamp Camping Cookware Set contains a total of 9 pieces of cookware, including pots and pans. As each pot and pan is made of non-stick aluminium, you won't have to worry about your food getting stuck at the bottom of the vessel. Moreover, as the cookware set is primarily made of aluminium, they are resistant to rust, making it ideal for outdoor camping. The handles of the pots and pans in the RedCamp Camping Cookware Set are cool-touch, which, in other words, mean that your hands would be protected from accidental burns. In addition to these specs, the cookware set also has a lightweight and compact structure.