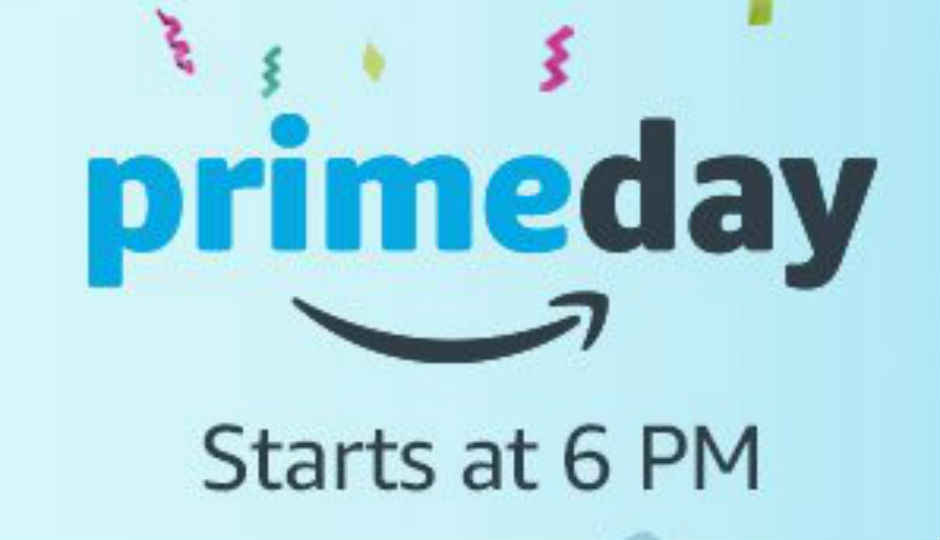 HIGHLIGHTS
Amazon's Prime Day is exclusive to Prime members and the sale kicks off at 6PM today and will go on for 30 hours
Amazon's Prime Day sale kicks off today at 6PM and users will have 30 hours to shop. While the deals are exclusively for Amazon Members, anyone can sign up and become one. Besides deals, Amazon will also be launching new products and new shows on Amazon Prime Video.
There are also special offers available during the sale. Members topping their Amazon Pay balance can get 20 percent cash back up to Rs. 200 . Prime shoppers will get Rs 750 instant discount on flight booking and Rs 2,500 instant discount on hotel bookings made via Makemytrip.com. 10 users can win a fully sponsored trip for 4 nights and 5 days for couples. Further, Prime members get Rs 200 off on ticket booksing made via Bookmyshow.com and Rs 150 off on food deliver made using the Swiggy app. Beside this, members using HDFC bank credit and debit cards can avail a 15 percent cashback of upto Rs 2,000 on a minimum purchase of Rs 5,000.
Here are some of the best deals you can check out during the sale.
Xiaomi Redmi 4
Xiaomi's newest device, the Redmi 4 will kick things off. The online retailer will be holding an early flash sale and the device will be available for Prime members at 5PM today.
Moto G5
Looking to purchase the Moto G5? The standard version of the phone as well as the G5 Plus will be available at discount of Rs 1,000.
OnePlus 3T
While OnePlus may have launched a new flagship in the form of the OnePlus 5, the OnePlus 3T is still a pretty good device. The phone will be available with a discount of Rs 2,000.
OnePlus 5
If you want the latest flagship from OnePlus then look no further than the OnePlus 5. The phone is available with an additional Rs 2,000 Amazon Pay Cashback on exchange.
Honor 6X
The Honor 6X offers a dual-rear camera setup consisting of 12MP and 2MP cameras. During the Prime Day sale, the device will be available with up to Rs 3,000 off.
Nubia smartphones
All Nubia devices will be available with a 15 percent cashback, while select devices will be available with an additional discount ranging from Rs 1,500 to Rs 4,000. The company's flagship device, Nubia Z11 will be available for Rs 24,999, while the Z11 mini will be available for Rs 9,999. Nubia M2 Lite and Z17 Mini will be available at Rs 10,999 and Rs 18,999 respectively.
Bose earphones
On the hunt for a pair of earphones? You will be able to get up to 40 percent off on earphones by Bose.
Bose Soundlink 3
If you are looking for portable Bluetooth speakers, then check out the Bose Soundlink 3. The speaker is available at 30 percent off.
Sennheiser HD 598 CS over ear headphone
Sennheiser HD 598 CS over ear headphones are available with a massive discount of Rs 13,990 during the Prime Day sale.
Apple Watch Series 2
If you are looking for a smartwatch, the newest version of Apple's smartwatch will be available at a discount during the sale. The Apple Watch series 2 will be available starting at Rs 27,900.
Fitness trackers
This one is for the fitness enthusiasts. Fitbit fitness trackers will be available with a minimum of 40 percent off.
HTC Vive
Virtual Reality seems like the next big thing in gaming and HTC Vive is one of the few VR setup that is available in India. If you have a rig that can support VR, you can pick up the device with a flat Rs 13,000 off.
Sony PlayStation 4
Console gamers will get a minimum of Rs 2,000 off on the Sony PlayStation 4. They'll even get a free copy of FIFA 17 that will surely sweeten the deal.
Amazon is also offering deals on its own devices. Users can get a 20% discount on the Kindle Starter Packs (KSP), which consist of a Kindle, a case and a 2-year subscription to Kindle Total Protection plan. The KSP Paperwhite will be available at Rs 9,499 with free benefits worth Rs. 6,998. The KSP Basic Variant will be available at Rs 5,750 with free benefits worth Rs. 3,448. Besides this, all new Kindle devices will be available with a discount of up to Rs 2,500. Further, those who sign up for 12-month Kindle Unlimited plan will get an Amazon Pay cashback of Rs. 400. The Amazon Fire TV Stick will be available with a discount of Rs 1,000, and Prime members will get Rs 499 back as Amazon Pay balance.
Besides all these deals a number of companies will be launching their products during the Prime Day sale, This includes the Honor 8 Pro, Infocus Turbo 5, and the Nubia M2. Besides phones, Salman Khan's Being Human will also be launching two new e-cycles.
Amazon Prime Video will also be debuting a new series called Inside Edge. There will also be six new titles available for viewers including Star Trek Beyond, Sully, Deepwater Horizon and more.
Apart from the above mentioned deals, Amazon Prime members can also expect discounts on the iPhone 7, iPhone SE (16GB), Google Pixel XL, Sony Xperia XA, Samsung On7 Pro, Coolpad Note 5 Lite, Lenovo Ideapad 110, Lenovo Yoga 510, UE Roll Bluetooth speakers and more.