Twitter user @Doug_DragoX has posted a picture of the front and the back of the prototype Xbox Series X. The images do seem believable simply because of the serial number at the back, and the fact that Xbox head, Phill Spencer has said that he has the console sitting under his TV. Since the look of the Series X was revealed at the Game Awards 2019 along with Hellblade: Senua's Saga, one can believe that the leaked images are real. From what we can see, the front looks in line with what was showcased. We have a slit for the disc drive above which is the sync button for the controller. There is also a USB port and the Xbox logo shaped power button on the front. Moving to the back, we have ample ventilation. For connectivity, there is the power port which looks like it will have the same power cable as the Xbox One X, an HDMI port, two USB ports, an optical port and a big slit which is presumably the service port. There is also a Kensington lock port at the back.
At the back of the Series X, we have the serial number as well as text which reads, "Xbox Product name placeholder" and "Prototype - not for sale". From the handle space at the back, it looks like one will be able to open the console as well, but whether this will be consumer accessible is yet to be seen.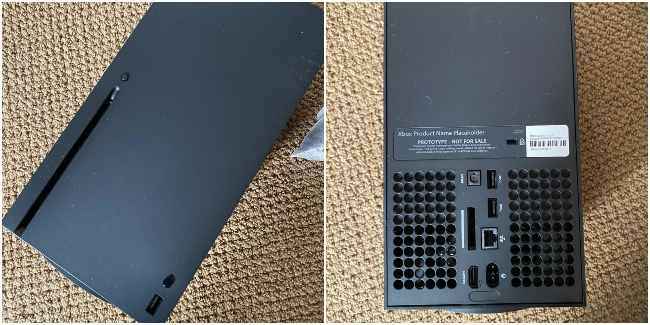 To recap, Microsoft will launch the Series X console in 2020 and Halo Infinite will be one of the launch titles for the console. The specific hardware specifications of the console are still unknown, but Microsoft has said that the console will support hardware-enabled Ray-Tracing, a new fast SSD and run on AMD hardware customized for the console. We can expect more details at E3 2020, as Microsoft has said that they will be present at the event.
The one company that is missing E3 2020 is Sony. This is the second time Sony is skipping E3. The company has revealed some information about the upcoming PS5 and you can read more about it here. PS5 dev kits have also leaked online along with the new redesigned PS5 controller, and you can check out the devkits here. Sony is still not calling the new controller Dualshock 5, and we think that the naming of the controller will happen at the rumoured Feb 12 reveal event.
All eyes are on Sony and Microsoft's every move as both companies plan to launch their next generations consoles in time for the 2020 holidays.