Calling PUBG Mobile a popular game would be a gross understatement. The game has won numerous awards, including the Best Mobile Game at this year's Golden Joystick Awards but it looks like not everyone is a fan of the title. The Chief of Wardens at Vellore Institute of Technology has reportedly sent out an email prohibiting hostellers from playing the game within the campus.
Reddit user, u/1ncr3d posted a screenshot of the email that states, "It has come to our notice that few students are playing online games like 'PUBG' which is NOT PERMITTED. Despite our repeated instructions by playing online games inside the rooms which disturbs fellow roommates and spoiling entire atmosphere of the hostel. It is strictly warned that playing online games and betting for such games are totally prohibited in VIT. Hence, the defaulters will be dealt seriously under VIT CODE OF CONDUCT. Students are asked to concentrate on physical games or sports and give more importance to their career growth."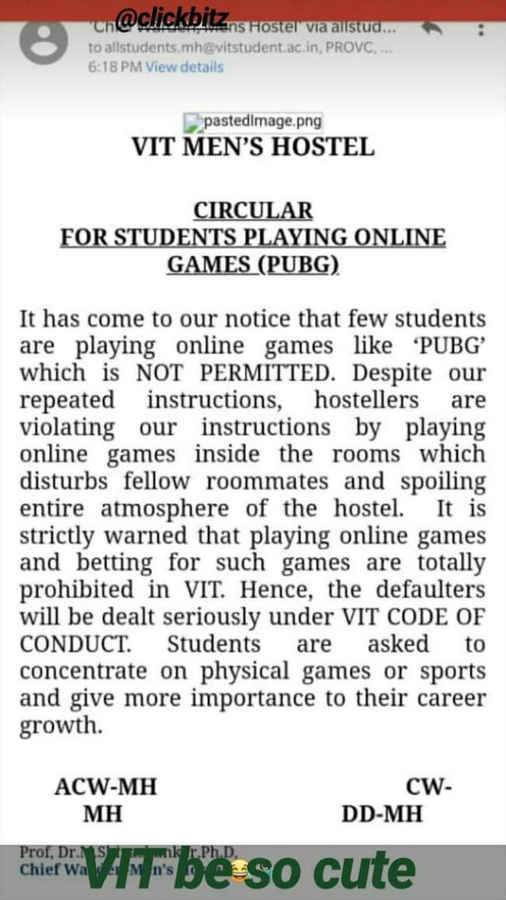 Of course, there is no information on how the college plans on enforcing this rule. It should also be noted that the emailer seems to be directed towards the Men's Hostel and it isn't known if the female gamers are subject to the game restrictions in their hostel.
Interestingly, the PUBG Mobile developers, Tencent targeted college gamers with the PUBG Mobile Campus Championship 2018 tournament as it was only open to college students from select colleges. The winners of the tournament were 'The Terrifying Nightmares' who took home a cash prize of Rs 15,00,000. 'PlayerUnknown' himself, Brendan Greene has stated his interest in turning PUBG into an Esport. He said that a five-year plan is in place for PUBG eSports. However, the developers will not immediately focus on eSports. The first year plan revolves around finding a working format for eSports while improving the core gameplay experience.