HIGHLIGHTS

PUBG Mobile Season 8 offers players the option to request Royal Pass Elite upgrades from friends

However, players have only until July 25 to do so

The upgrade can be requested via the Royal Pass section in the main menu
With the recent Season 8 update for PUBG Mobile, players got the option to request for a Royale Pass Elite upgrade from their friends. However, it turns out players have only until July 25 to ask for it. After that, players will no longer be able to ask for the same and any existing requests will become obsolete.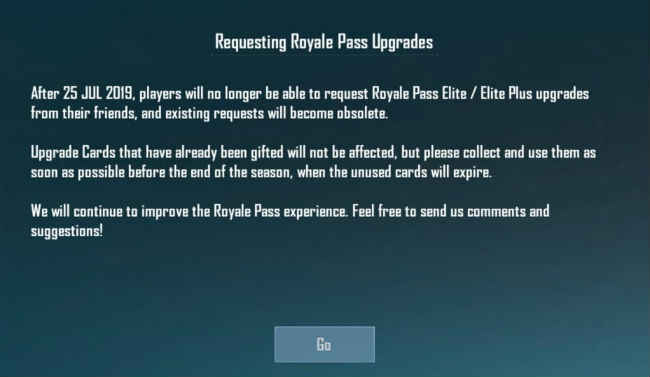 Asking for an Elite pass upgrade is pretty simple and straightforward. Head over to the Royale Pass section from the main menu and choose to 'Upgrade Pass'. Now, besides the Buy button, players should see a separate 'Request' button. Tapping on this will let you select your friend from whom you want to request the pass. However, you can't send the pass to just about anyone. Players would have to be friends for more than 24 hours and have a Synergy of 20 or more. Further, the character should be greater than three.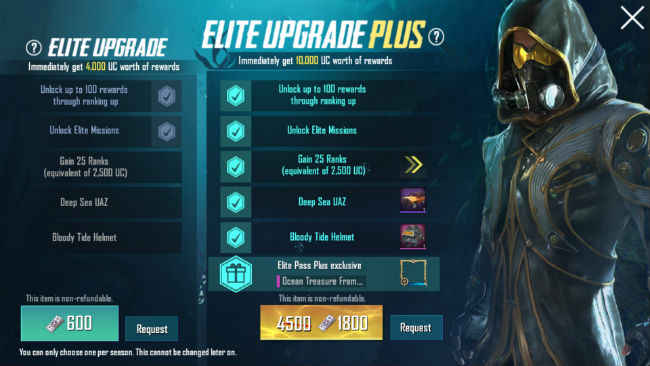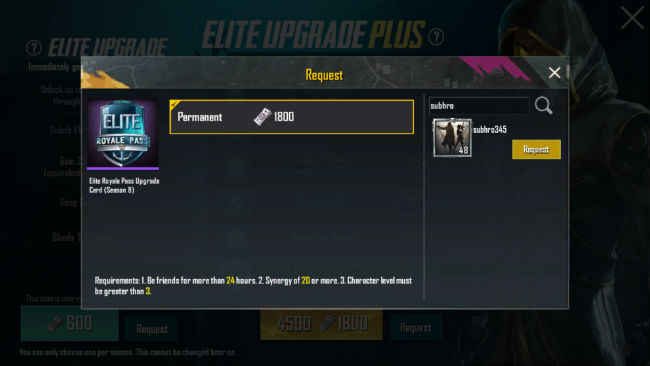 Once the request is sent, the other player should be able to see it in the 'Mail' section. More specifically, in the 'Requests' section of the 'Gift Center'. From there, he/she will have the option to either accept the request, or reject it. Players are also asked to confirm whether the player has already purchased a Royale Pass. If so, then the pass would be dismantled into point cards worth the same amount. Further, the player will need to have the required UC in their account in order to make the final purchase.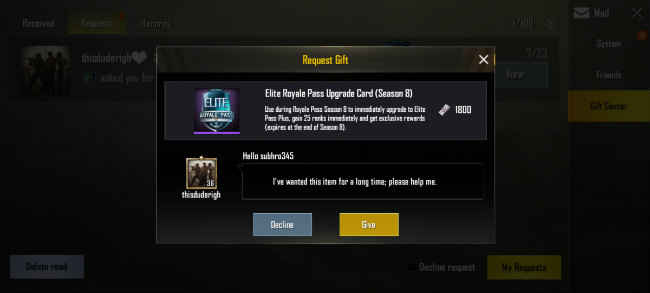 To recall, there are two different types of Elite Passes available to players. These include the standard Elite upgrade, which is priced at 600 UC and the Elite Upgrade Plus, which is priced at 1800 UC. The developers note that the with the standard Elite upgrade, players will get 4000 UC worth of rewards. This includes up to 100 rewards through ranking up, unlocking of Elite Missions, gain 25 ranks, the Deep Sea UAZ and the Bloody Tide Helmet. With the Elite Update Plus, players get the same rewards as the standard upgrade, along with the Exclusive Ocean Treasure Frame.