Highlights
A hoax image is circulating on social media stating PubG Mobile is banned by a High Court.
The image is riddled with grammatical and factual errors indicating the news is clearly fake
PubG meanwhile banned over 30,000 players including 15 professional players for cheating
An image of an alleged "High Court" order circulating on Facebook, WhatsApp and other social media platforms states PubG Mobile is banned in India. The order is apparently signed by a "Predjudge" at the "High Court of Maharastra..", K.SRINIVASULU. The order is riddled with grammatical and spelling errors, and there's no such thing as a prejudge in the Indian judicial system. Also, High Courts in India are named after cities, not states. Clearly, the image is a hoax.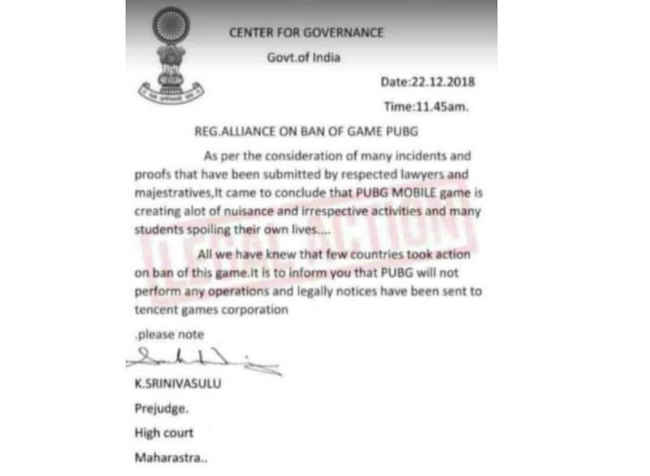 The order states that the court took "consideration of many incidents and proofs that have been submitted by respected lawyers and magestratives (sic" and concluded that "PUBG MOBILE game is creating alot (sic) of nuisance and irrespective (sic) activities and many students spoiling their own lives…"
Clearly, the news is fake. A Google search of the name of the "prejudge" revealed there's no one by that name serving as a judge in the Bombay High Court. The fake order goes as far as to say that Tencent has been served with "legally" notices. Looking through all court orders issued on December 22, 2018, we can confirm no such notices were sent out to Tencent, the Chinese internet giant that owns PubG Mobile.
If this fake news story temporarily affected you, we recommened you take a look at our Advanced Strategies Guide to get that Chicken Dinner on PubG.
It's unclear where the hoax originated from. However, there are multiple appeals on Twitter to ban the game. The hoax image has also been circulated wildly, with many seemingly believing it and celebrating it even. There's even a change.org petition doing the rounds that states "Indian government/law should ban this game in India if they want to save this generation." The game in fact, banned a lot of players over 30,000 players including 15 professional players for cheating on the platform.
The popular battle royale game indeed has many takers in India. A recent survey undertaken by Jana showed 62 percent of the 1027 respondents said they played PubG Mobile, primarily between the ages of 16 and 24. The game is three times more popular than the next most popular game in India, Free Fire.
Even globally, PubG Mobile has become nothing short of a phenomenon this year. With over 200 million downloads and 30 million daily active users, PubG Mobile is indeed the most popular video game in the world. The game is made to run even on low-end devices and the graphics and gameplay are radically ahead of other multiplayer mobile games right now. With regular updates like new guns, maps and skins and a wildly competitive feel, the game will likely to remain popular.
Related Links:
PubG Mobile: Advanced strategies to win like a pro
PUBG Mobile now rivals Fortnite with over 200 million users
PUBG bans 30,000 players, 16 professional players after new anti-cheating measures take effect: Report