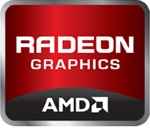 Usually when AMD or Nvidia announces a new video card, it's available integrated into machines from major PC manufacturers the same day it is as a standalone card. AMD is bucking that trend today, however, with the introduction of three new video cards in its 6000 series that may be purchased as part of pre-assembled PCs now from Dell, HP, and other major companies, but will not be available from add-in partners until next quarter.
The AMD Radeon HD 6450, 6570, and 6670 are all budget- to mainstream-level cards designed more for modest needs than for high-level gaming. (The four cards previously released in the 6000 series, the 6850, 6870, 6950, and 6970 can take care of that.) As such, expect to see them in machines at low- to midrange prices.
All 6000-series video cards support DirectX 11, as well as AMD's extra video technologies: Accelerated Parallel Processing, Eyefinity (for spreading video output across multiple displays), and EyeSpeed visual acceleration (for improved playback of HD content from online streaming video, Blu-ray 3D, and more).
[RELATED_ARTICLE]"Today more than ever, users' computing experiences need to be visually appealing, supporting compelling HD content and unparalleled realism in games," Matt Skynner, corporate vice president and general manager of AMD's GPU division, said in a statement. "In response, PC makers are including AMD Radeon HD 6450, AMD Radeon HD 6570 and AMD Radeon HD 6670 graphics cards in their latest desktop designs. With AMD Radeon graphics, including the industry's only second generation of DirectX 11–capable graphics and AMD Eyefinity technology, customers know they are getting the uncompromising premium experience they deserve."
A chart describing the specifications and capabilities of AMD's new line of OEM-only 6000-series cards is below. For more information, visit AMD's Web site.
AMD Radeon HD Card Model

6450

6570

6670

Engine Clock (in MHz)

625-750

650

800

Memory

DDR3

512MB-1GB

512MB-2GB

N/A

GDDR5

512MB-1GB

Memory Clock (in MHz)

DDR3

533-800

900

N/A

GDDR5

800-900

1,000

Memory Bandwidth (in GBps)

DDR3

8.5-12.8

28.8

N/A

GDDR5

25.6-28.8

Compute Power (in gigaflops)

200-240

624

768

Processing Architecture

Stream Processors

160

480

Texture Units

8

24

ROP Units

16

32

Color ROP Units

4

8
Copyright © 2010 Ziff Davis Publishing Holdings Inc.